8 Memorable Moments From Upfront Week 2015
The presentations and parties hosted by television networks didn't stray too far from the tried-and-true formula, but the four days of events still offered plenty of ideas that buzzed on social media.
May 20, 2015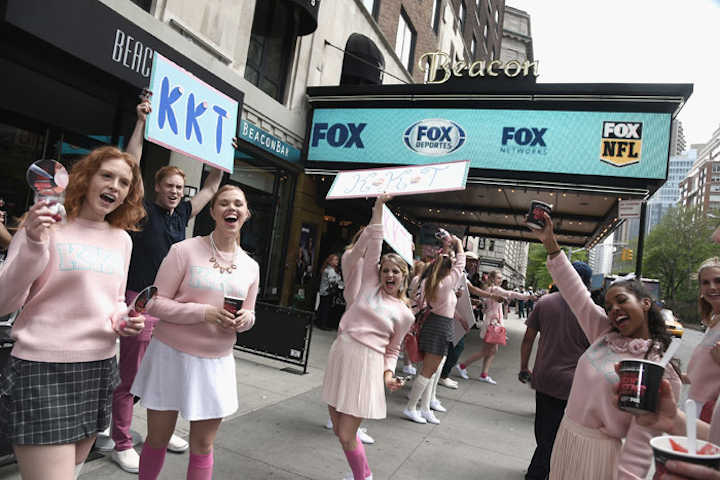 Photo: Courtesy of Fox
In a whirlwind of presentations, parties, and taglines summarized in hashtags, Upfront Week took over New York May 11 through 14. The events hosted by the broadcast television networks brought hordes of media buyers, ad agency reps, network executives, and TV stars to theaters and venues around the city to hear about new shows, partnerships, and initiatives. As is tradition, the affairs saw performances by big-name musical talent—from Dolly Parton to Miley Cyrus—and plenty of joking jabs at competitors.
But there were some unexpected moments too, captured via video, photos, and comments on Twitter, Instagram, and even new live streaming app Periscope. Here's a quick peek at what everyone at Upfront Week was buzzing about on social media.
Univision gets political with Clinton
Perhaps the most unexpected move of the week came from Univision, which opened its Tuesday-morning presentation at the Lyric Theatre with a live Q&A between former President Bill Clinton and Alicia Menendez, host of Fusion's AM Tonight. Clinton chatted about the importance—and power—of Hispanics in the U.S. as well as immigration reform, and called on ad reps and companies to practice "radical inclusion." Although his on-stage interview was cut short due to time constraints, Clinton earned a standing ovation from the audience.
"I'm well aware that I'm just the warm up act for Ricky Martin " - @billclinton #UnivisionUpfront pic.twitter.com/MlucZPBrfA

— liz myers (@thisbeliz) May 12, 2015
Dolly Parton performs with NBC Entertainment chairman
In addition to Jimmy Fallon's jokes and a stunt that promoted Neil Patrick Harris's new variety show, NBC's presentation on Monday morning at Radio City Music Hall made waves with a performance by Dolly Parton. The network is producing movies based on the iconic singer-songwriter's life, so Parton took the stage to belt out some hits, including "I Will Always Love You," with NBC Entertainment Chairman Bob Greenblatt accompanying her on the piano.
That's Bob Greenblatt, chairman of NBC Entertainment, accompanying Dolly Parton on the piano at the #nbcupfront pic.twitter.com/yJmCaMty7m

— Emily Steel (@emilysteel) May 11, 2015
Montell Jordan turns ABC's show into a dance party
For many commentators, ABC's upfront at Avery Fisher Hall on Tuesday was all about Shonda Rhimes, the executive producer behind Grey's Anatomy, Scandal, and How to Get Away With Murder. That idea was certainly illustrated by the "how to" theme that pervaded the event, including a step-and-repeat marked with #HowtoABC and signs emblazoned with phrases like #HowtobeCool and #HowtoHaveFun. So it was only natural the presentation ended with a surprise performance by Montell Jordan, singing an updated version of "This is How We Do It," which saw stars like Kerry Washington and Ellen Pompeo dancing on stage.
Scream Queens brings sorority sisters and ice cream
Music was also a big hit at the Fox upfront, which took over the Beacon Theatre Monday afternoon and included a live performance by the cast of Empire and singer Jennifer Hudson. And while much of the chatter on Twitter during the presentation was about the revival of The X-Files, Fox also gave people plenty to buzz about before the show with a stunt for Scream Queens, a new comedy-horror series from Glee creator Ryan Murphy. Crowding the sidewalk outside the theater, a troop of college-age women (provided by Julia Valler Staffing & Events) in pink sweatshirts handed out packs of bubblegum, while a branded ice cream truck offered treats to passersby.
#ScreamQueens is happening. Sorority Sisters stabbed in the back. Pure Ryan Murphy! pic.twitter.com/xymki3B0uv

— Jamie Lee Curtis (@Curtisleejamie) May 11, 2015
CBS is all about the Super Bowl (and hashtags)
The network had plenty to introduce at its outing at Carnegie Hall on Wednesday afternoon, including Stephen Colbert as the new host of the Late Show and an adaptation of DC Comics' Supergirl. But perhaps the biggest push was given to its upcoming broadcast of the Super Bowl, so much so that CBS brought eight Super Bowl M.V.P.s to the stage, each carrying a gold-colored football. Football also figured into the post-party at the Tent at Lincoln Center, where an area marked by grass-like turf and a shelf of helmets encouraged guests to pose with a #SB50 sign. Three-dimensional hashtag signs appeared elsewhere at the CBS event, with stars holding the tangible pieces up during photo ops.
Outtake from today with @EmmittSmith22 @JerryRice and @MarcusAllenHOF at #CBSUpfront #sb50 pic.twitter.com/SuLVFOtkZN

— JenniferKeene (@JenniferKeene) May 14, 2015
CW experiments with Periscope
There were Twitter mirrors at NBC and a Twitter vending machine at Fox's upfront party, but the CW took a bold move by streaming its Thursday-morning presentation at New York City Center on Periscope. The network also invited followers to tweet questions for a chance to have it answered at the event.
What are you wondering about our shows? Tweet using #AskCW and your question may get answered LIVE from #CWUpfront! pic.twitter.com/fndRYZD9jn

— CW Network (@CW_network) May 13, 2015
NBCUniversal Cable puts social at the forefront
Also looking to engage fans on social were NBC's cable networks, which, like last year, presented together at the NBC Universal Cable Entertainment upfront on Thursday afternoon. Maria Menounos and Ross Matthews held court on the red carpet, interviewing stars like Kylie Jenner, Christian Slater, and Ian Ziering for the live stream that appeared online as well as on the screens inside Javits Center North. Backstage, Bravo's Jenni Pulos hosted the first Social Lounge, which gave social media followers a behind-the-scenes look at the event.
Get ready for today's #NBCUCable Upfronts w/ a #behindthescenes tour from our Social Lounge host @Jennipulos! https://t.co/BQFxLBAPFM

— All Together NBCU (@TogetherNBCU) May 14, 2015
Miley adds—ahem—color to Adult Swim
The headliner is typically the focus of Adult Swim's late-night bash, and this year's act was Miley Cyrus. Clad in a skimpy outfit and butterfly wings, the "Wrecking Ball" singer performed from a stage marked by psychedelic decor and brightly colored balloons. According to reports, Cyrus smoked, swore, and took selfies whilst performing at the event at Terminal 5.
Featured Venues/Suppliers: