How to Thank Speakers in Ways They'll Really Appreciate
Forget about branded swag. Here's how top speakers prefer you show thanks.
February 11, 2016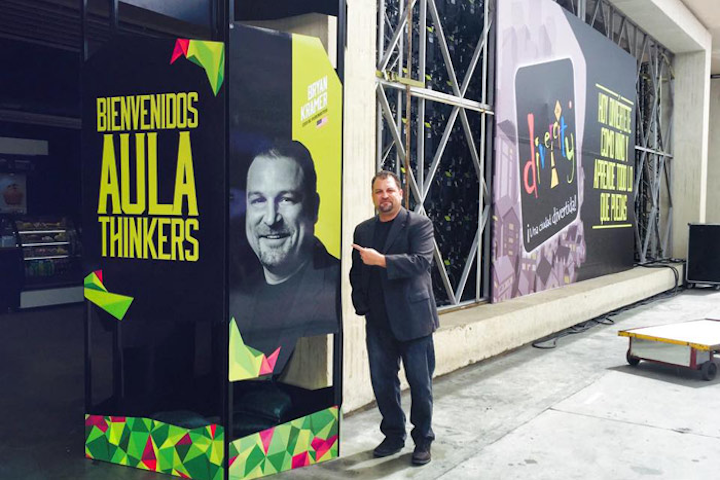 Photo: Courtesy of Bryan Kramer
Guest speakers and experts are an important element of conferences, fund-raisers, and other events. Their reputation and name recognition can be big selling points in pre-event marketing, and their performance at the event can make—or break—the attendees' experience. It's not uncommon for planners to give their presenters gifts or upgrades as a way to say thanks (beyond the contracted speaking fee, of course). But is that necessary? We asked several prominent speakers to share their preferred perks. Here's what they had to say.
"With every speaking opportunity I receive, I already feel like I've received a gift—the gift of attention. There's only so much of it, yet there are new speakers every day competing for attention. While I believe all event hosts and organizers are intentionally meaning to do well, speakers don't always want branded swag such as pens, bags, clocks, chargers, etc. Speakers do love a personalized experience such as a driver with their name at the airport, a handwritten thank-you note, and a special welcome when they walk into their room."
Brian Solis, author and principal analyst at the Altimeter Group
"One of my favorite conferences for how they treated their speakers was EXMA in Colombia. It was the before, during, and after that made it amazing. They picked me up at the airport with a sign. Also, because I was on a long flight they had snacks and soda and water in the car. At the hotel, they had decorated my room with my book Human to Human, stocked the fridge full, and even had a picture of my family by my bed (not sure about that one but I came to find out it's a cultural thing). At the event, each keynote was greeted with a larger-than-life photo of themselves. Afterwards, they took us out to see the town and have an amazing time. At the hotel the entire time, every person at the front door always knew our name because the conference had given them pictures of us. And finally, the conference owner, Fernando Anzures, made it a point to thank each speaker personally once we were back and ask how our experience was. He used a good old-fashioned email and asked what we thought. And I can honestly say, first class from door to door."
Bryan Kramer, C.E.O., PureMatter and author

"In all honesty, the greatest gift a company can give me when I speak is a genuine desire to make me feel at home. When I feel like a part of the team, that the organization wants to engage and hear my message, it really leaves me feeling as if I've created new friends for life."
Tamara McCleary, relationship and organizational culture specialist

[PULLQUOTE]
"The gift I remember most is from Founders, an invite-only conference in Ireland that brings people like Elon Musk, Jack Dorsey, and other leaders of the tech industry together. I remember coming back to my room after the second night of wining and dining, and sitting next to my bedside was a canister. Inside was a bottle of 12-year Jameson Whiskey with my name specially typed on the label. It stuck in my memory because it was an amazing, customized, and unique gift. It also fit the culture of Dublin and Ireland. I still have that bottle today. The best thank-yous from a conference to a speaker are always unique and useful in some way. I have enough T-shirts, water bottles, and keychains to last a lifetime. Think outside of normal conventions. It doesn't have to be expensive, but it should be something more unique than branded swag."
Ben Parr, author, venture capitalist, and former co-editor and editor at large of Mashable
"Just a personal note is a warm, wonderful gesture. Something like, 'Hope you had a painless journey. We're really looking forward to your talk! Chris will meet you at 8:15 a.m. in the lobby…' is a sweet, thoughtful, well-organized way to greet a weary speaker. On top of that, a well-thought-out conference that has engaged attendees is a priceless gesture. A speaker wants nothing more than to inspire and engage their audience."
David Pogue, founder, YahooTech
"Personally, I love receiving something that will remind me of my work with the organization. Wells Fargo gave me a glass stagecoach, Baylor gave me a replica of their old ambulance, Chick-fil-A—a cow (of course)—Heinz, a ketchup bottle, Fellowes gave me a shredder, a sailboat from Bahrain, etc. These gifts are fun and unique, and it gives me joy to have these items in my office on the bookcases behind me. When I see them, I smile and remember fondly my time with that company (rather than a certificate to shove in a drawer, a gift card to use, or yet another thumb drive or pen that gets lost or broken)."
Laura Stack, author and C.E.O., The Productivity Pro
"The most important perk I can receive as a speaker is to be treated with respect and anticipation of my needs. Respect for the fact I am probably traveling to get there [and] may be tired and have things I need to get done. Therefore, comfort and an easily accessible, knowledgeable point of contact is key."
Ted Rubin, social marketing strategist and acting C.M.O., Brand Innovators
"Some of the best ways to thank speakers actually leverage more value and visibility for the conference organization and attendees. For example, hosts can invite the speakers to submit three one-minute videos of tips (I use an app called Gloopt) and then post the videos on their conference page. Also ask speakers to submit three pithy tips (say 100 words or less) along with a photo and bio. Then use them to create an e-book with the name of the event plus a listing of key conference leadership, staff, and exhibitors. Give the e-book to all attendees via email as they are leaving the conference and place the e-book on the major book platforms to sell, thus leveraging visibility for all participants, including the speakers and meeting organizers."
Kare Anderson, columnist and co-founder, Say It Better
"My favorite [thing] is to be welcomed to my hotel room with some sort of gift. It's not so much what the gift is, but that the promoter took the time to prepare. I've received chocolates, wine, gift bags, portable chargers, etc. Of course, the cooler the gift, the greater the impact! But it makes me feel like they are really pleased to have me on their stage."
Joel Comm, author, consultant, entrepreneur
"The truth is gifts are incredibly unimportant to speakers. … They just want clients to pay full price and take care of them in a three-star hotel, at least. They also love the gift of a program running on time so their presentations don't get cut short and so they don't have to rush to the airport because of late timing at the event. If you have to give a gift it should be a donation in their name to their favorite charity."
Christopher Lee, president, CAL Entertainment