New York Comic Con 2016 Preview: How The Pop-Culture Event Manages Its Growing Popularity
The fest is adding new programming elements to accommodate more attendees and set itself apart from similar fan conventions.
October 4, 2016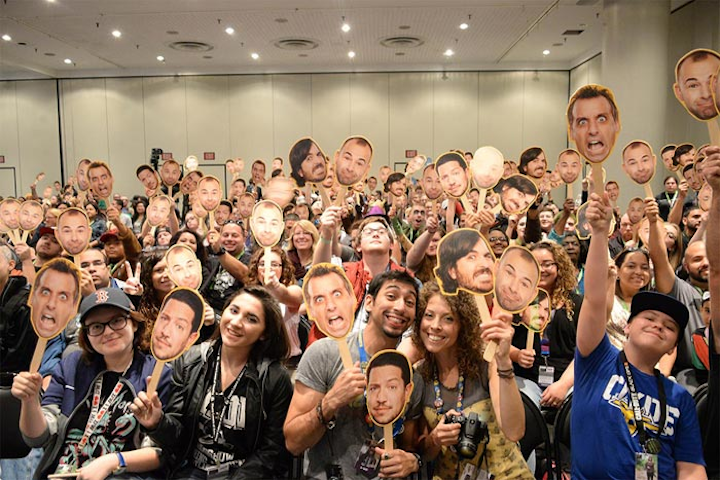 Photo: Courtesy of ReedPop
New York Comic Con—which takes place Thursday to Sunday—is making big moves to further its growing clout in the business of pop-culture fan events with the addition of more interactive features, a new registration system, and a 5,500-seat venue to accommodate the increasing demand for its programming. Since launching in 2006, the event has become a serious rival to Comic-Con International in San Diego. In 2015, attendance for the New York fest (which is produced by ReedPop, a subsidiary of Reed Exhibitions) reached a new high of 167,000 people, according to ReedPop—eclipsing the average Comic-Con International attendance of 130,000.
Attendance this year is expected to be even higher, in part because of the addition of NYCC Presents—ticketed activities that do not require a badge. The programming—which began Monday and continues through Sunday—includes "Game Grumps Live Episode," "A Shipwreck Fan Fiction Competition," "Stuff You Missed in History Class Live," "Doctor Who Costume Contest and Trivia," "Tales From the Toybox," "Rock Comic Con," and "One Trek Mind Live."
"We're going to have more fans than ever before," ReedPop event director Michael Armstrong says. "With the addition of our outside venues, we're now able to give more fans access to tickets than in years past."
The event's main hub is still at the 1.2 million-square-foot Jacob K. Javits Convention Center, but organizers have expanded to the 5,500-seat Theater at Madison Square Garden, which is about one mile from the convention center. The theater has about the same capacity as the San Diego Convention Center's Hall H, which is the site of Comic-Con International's biggest panels. Other venues holding Comic Con events in New York include Hammerstein Ballroom (which organizers began using in 2015), Hudson Mercantile, Rockbar NYC, and Littlefield.  
"So many TV and film studios were interested in NYCC in previous years, but we simply did not have the space or capability to host panels that would command a lot of attention," Armstrong says. "With this addition, we've been able to bring way more TV and film content to NYCC than we've ever been able to. In years past, our largest panel room was around 3,000 seats. With the Theater at Madison Square Garden we've been able to almost double that. More people than ever before will be able to see our largest panels."  
Major movie studios have taken notice. Universal Pictures and 20th Century Fox, which opted not to bring any panels to Comic-Con International this year, will present panels and showcases in New York for their expected blockbusters The Great Wall (for Legendary/Universal, at the Theater at Madison Square Garden) and War for the Planet of the Apes (for Fox, at the Regal E-Walk Stadium 13 & RPX in Times Square). Both movies will have U.S. releases in 2017. Also at the Theater at Madison Square Garden: Sony Pictures Entertainment's Screen Gems will present panels for Underworld: Blood Wars and Resident Evil: The Final Chapter, and Lionsgate will showcase Power Rangers and John Wick: Chapter 2. For television, the venue will be the site of several panels that will include AMC's The Walking Dead, Netflix's Trollhunters, and BBC America's programming showcase that will include Doctor Who.
Other new programming elements include a partnership with DirecTV that gives badge-holders a chance to win prizes—including seat upgrades, private invites, and collectible toys—every time they "tap in" and "tap out" their badges at electronic detection stations at the convention center. The grand prize is a trip for two to next year's event and a customized 18-inch Munny toy. Photos taken by attendees at the event will live on a new Comic Con XP Personal Page.
In addition, Comic Con has teamed up with First Look Festival, a gamer/comic-book event in Amsterdam, to do a livestream exchange of select programming from Friday to Sunday. Comic Con attendees will get to see First Look Festival activities on the livestream, and vice versa.  
Armstrong says, "With the rapid growth of NYCC, we're quickly turning into an international brand. Our partnership with FirstLook gives us an opportunity to expose fans all around the world to NYCC and the great content we host."  
This year, in an effort to prevent scalping and other fraudulent use of its badges, organizers introduced a Fan Verification system: Attendees who purchased badges had to create an account with contact information that could be verified in order to receive a badge. Organizers gave attendees the option to have their badges mailed in advance, unlike Comic-Con International, which requires that all badges be picked up on site.
The new system had mixed results, with some people complaining of complications for those who purchased badges for more than one person, not having enough time to create accounts, and a failure to prevent badges from being resold at sites such as Craigslist and eBay. Organizers responded by extending the deadline to create accounts from June to July, and Armstrong says some version of the system will return next year.
"Elements of Fan Verification will certainly be back in 2017, as we feel that it was incredibly effective in shutting professional resellers out of the opportunity to buy tickets," Armstrong says. "With one year under our belt, we're confident that we'll uncover efficiencies and our fans will be better versed in the process."
Armstrong says that Comic Con (whose sponsors this year include DC Comics, Marvel Entertainment, Chevrolet, Fandom, Autodesk, and Twitch) will also be closely watching fan engagement on social media: "Given all of the studios in attendance, I think our fans are going to be blown away by the level of talent they see on panels," he says. "When we see marked increases in media impressions delivered during the show, we know we've done a good job with talent and studio outreach."
Featured Venues/Suppliers: