Holiday Party Playlist 2016: What Top DJs Will Spin This Season
Notable DJs from across the country offer playlist picks for this holiday season, ranging from festive classics to current pop hits.
December 1, 2016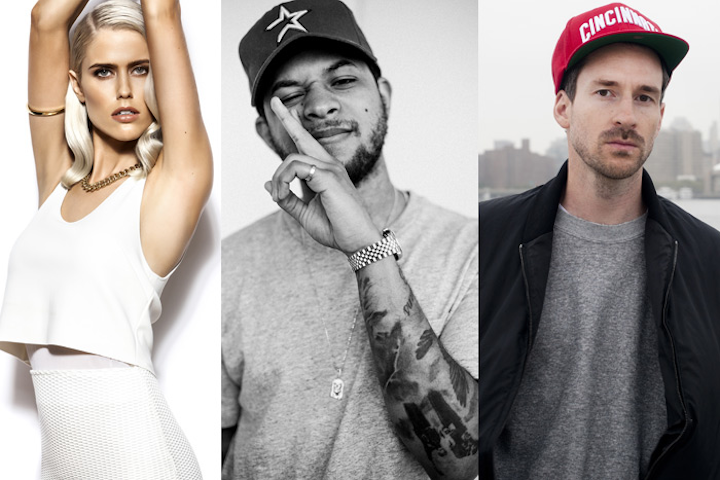 Photo: Nick Dale (Saint Clair), Courtesy of DJs (All Others)
Whether it's taking place in or out of the office, a holiday party isn't complete without a playlist to go along with the eggnog. As the holiday party season is in full swing, we asked 11 of the country's top DJs to give their picks for what songs they'll be playing at holiday and year-end events. Tracks for playlist-curator inspiration ranged from holiday classics such as Mariah Carey's "All I Want For Christmas Is You" and Jackson 5's "Santa Claus Is Coming To Town" to current Top 40 hits like Rae Sremmurd's "Black Beatles" (of viral mannequin-challenge fame) and Justin Bieber's "Let Me Love You."

The full list of tracks can be found after the Spotify playlist. (You can choose whether lyrics are appropriate for the company crowd).
DJ Saint Clair
"Black Beatles," Rae Sremmurd
"X," 21 Savage
"No Problem," Chance The Rapper
"Starboy," The Weeknd
"I Feel It Coming," The Weeknd
"24K Magic," Bruno Mars
"Let Me Love You," DJ Snake

DJ Captn20
"Turn Down For What," Lil Jon
"Closer," The Chainsmokers
"Black Beatles," Rae Sremmurd
"All The Way Up," Fat Joe, Remy Ma ft. French Montana, Infared
"This Is How We Do It," Montell Jordan
"Santa Claus Is Coming To Town," Jackson 5

DJ Flowfly
"Celebration," Kool and the Gang
"Could You Be Loved," Bob Marley
"24K Magic," Bruno Mars
"I Want You Back," Jackson 5
"Young & Rich," DJ Flowfly & Nyce Da Future
"All I Want For Christmas Is You," Mariah Carey

Fatman Scoop
"Christmas In Hollis," Run DMC
"Christmas Time Comes Once A Year x My Boo," Ghost Town DJs
"Party Up," DMX
"Be Faithful," Fatman Scoop

Jae Murphy
"24K Magic," Bruno Mars
"Starboy," The Weeknd
"Black Beatles," Rae Sremmurd
"OOOUUU," Young M.a.
"Money," Leikeli47
"Fake Love," Drake

Drumma Boy
"Look At My Dab," Migos
"Trap Holiday," Bay Bay The Ambassador and Young Greatness
"What It Do," Austin Mahone
"No Hands," Waka Flocka

DJ Neekola
"Winter Wunderland," Madison Park vs. Lenny B
"Xmas Party," ChrisControl ft. Nicole King
"Dance of the Sugar Plum Fairy Remix," Charles Afton
"New Years Eve Ultimate Countdown 2017," Beatport
"Young," Cosmos and Creature

Chase B
"Christmas In Hollis," Run DMC
"8 Days of Christmas," Destiny's Child
"I Saw Mommy Kissing Santa Claus," Jackson 5
"Let It Snow," Boyz II Men
"Jingle Bell Rock," Hall & Oates

DJ Turbulence
"All I Want For Christmas Is You," Mariah Carey
"Christmas in Hollis," Run DMC
"Santa Baby," Run DMC ft. Christmas All Stars
"This Christmas," Chris Brown
"Sleigh Ride," TLC

DJ Ross One
"Christmas Wrapping," The Waitresses
"All I Want For Christmas Is You," Mariah Carey
"Christmas In Harlem," Kanye West
"Christmas In Hollis," Run DMC
8ky
"What They Want," Russ
"Santa Claus Goes Straight To The Ghetto," Snoop Dogg
"Player's Ball," Outkast
"Jingling Baby," LL Cool J
"Motown Philly," Boyz 2 Men
"The Humpty Dance," Digital Underground
Featured Venues/Suppliers: