Rating Super Bowl LI: Producers Give Lady Gaga Halftime Show a B+
Event producers from across the country shared their thoughts on the Super Bowl LI halftime show, which was headlined by Lady Gaga.
February 6, 2017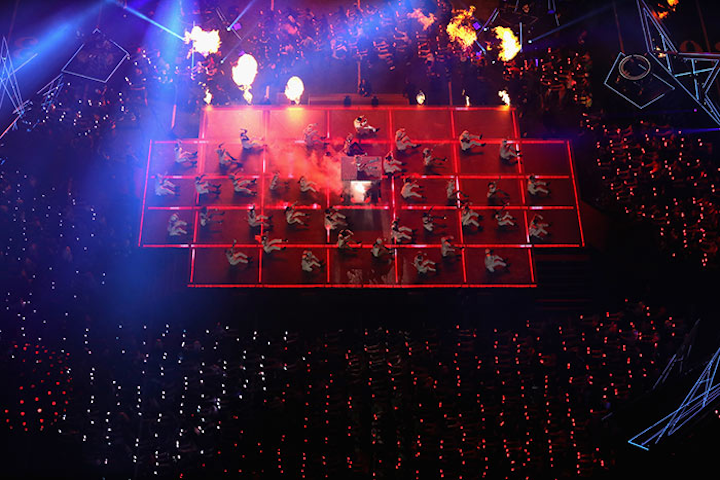 Photo: Tom Pennington/Getty Images
While the New England Patriots came back during the second half to beat the Atlanta Falcons at Super Bowl LI on Sunday, the game highlight that had event producers talking was Lady Gaga's halftime show. Kicking off on the roof of Houston's NRG Stadium, the pop singer performed renditions of "God Bless America" and "This Land Is Your Land" before descending onto the field with suspended wires to perform an array of her hits from the past nine years. While there were no guest performers this year, the inclusive show generally received positive reviews from producers.
Event producers from across the country told BizBash what they liked and didn't like about this year's show, including the use of 300 Intel drones, LED torches held by a choreographed on-field audience, pyrotechnics, and the lack of an unambiguous political statement. 
Aaron Mason
"Gaga and her production team nailed it. This must have been the most energetic, pure halftime concert in a long time. I'm not going to call it a show or performance since she didn't share that stage with anyone. She owned all of it like the diva she is, and gave us her concert and no one else's. She had one of the most unique and amazing openings to any live performance in my memory—what a beautiful opening shot of her singing 'God Bless America' on the stadium roof. It was such a powerful singular moment where she showed her class and her love of her country.
Obviously, you can't talk about the opening without mentioning the drones. They could have been so overused, but instead provided an elegant and simple backdrop to an otherwise boring skyline, while not overshadowing the power of the moment. This feels like the high point of using drones during a performance—and I can quickly see it going downhill fast in the similar way of projection mapping. 
Her descent into the stadium could have been so much better shot to be a truly dynamic entrance rather than how disparate it came off. It led to her performance on top of the tower feeling uncomfortable due to the flying apparatus restricting her and denying her the freedom to rock out. It would have been great if she could have ditched it when she landed on the tower and was free to really let loose.
After she came down from the tower, the show definitely picked up its pace. She moved through her standards in such a great live performance that I am sure was as exciting to watch in person as it was on TV, which is a rare feat. The clean, simple tech sounded and looked great, and once again proved that you can never have too much pyro or fireworks. The use of the on-field audience with color-changing torches was highly effective in creating an extra layer of canvas to the show while practicing true artistic restraint, which often is missing with the chaotic messiness that projection and video mapping typically bring.
The show didn't have to rely on any bad dancing sharks or lions that anticlimactically crawled in at 'slower than a snail's' pace. The show was just a straight up old-school, solid, rock-and-roll performance with a lot of great choreography, energy, passion, and heart."
Letter Grade: A-
Mason is a founding partner of NA Collective, a production company and experiential agency based in New York. Clients have included H&M, Casper, and Twitter. 
Cara Kleinhaut
"From opening with 'God Bless America' and 'This Land Is Your Land' to her closing mic drop and bedazzled football catch, Lady Gaga slayed her Super Bowl halftime performance. My top reasons why this was the best performance in recent memory: 
It was all Gaga—her songs, her moves, her voice. No guest stars, and just a reminder of why we have loved her these past 10 years as a brave, creative performance artist. The hit songs she co-wrote, the moves she choreographed, and the statement-making costumes that transport a show into performance art. 
In a departure from the high-tech LED floors and projections used the past few years, Gaga used the energy, passion, and 'woman' power of her choreographed audience on the field to deliver a massive visual impact. The last few years we have seen very high-tech projections and video programming to add spectacle and visual impact to overhead camera shots of the overall stadium. However, the waves of light created by interlocking arms seemed to fit perfectly and embody her themes of acceptance and embracing of each other. 
She doesn't have to try to be political or declare 'female power.' Her authentic stance for years has been to celebrate the creative, the one one who is different, the outcast, and the downtrodden, and to do that with boldness and individuality. With Mike Pence in the audience as she exploded with enthusiasm and energy during 'Born This Way', you can't help but feel the irony and beauty in not being afraid to be who we really are. She isn't trying to send a message. This has been Gaga, authentically, for years: tolerance, love, and acceptance. There could not be a more apt time to embrace her celebration of what makes us all different. 
In all, besides being a visually spectacular, high-energy, and engaging performance that had everyone dancing—even the non-Lady Gaga fans at the party—she showed her bravery to be her authentic self. She killed it."
Letter Grade: A
Kleinhaut is the founder and C.E.O. of AGENC, an experiential and digital marketing company based in Los Angeles and New York. Clients have included Target, L'Oréal, Samsung, and Hulu. 
Heather Salkin
"There was a lot to like about this year's halftime show, but less to love than I had hoped, speaking solely through a production lens.
The introductory aerial stunts took a new twist in using the whole stadium as a blueprint for larger-than-life theatrics—and this treatment surely added a little surprise. The drones floating above Lady Gaga during the intro were absolutely gorgeous—almost holographic. And the crowd-synched torch LED lights were integrated in a relevant, experiential, and beautiful way, but still—even with the 'human wave' of lit torches perfectly and artistically synched and choreographed during 'Born This Way,' (the highlight of the performance), the audience was left wanting a bit more.
I waited for Gaga to push beyond the comfortable and use this platform to subtly push forward—even with a clear understanding that her focus on inclusion was going to dial down her own political statements to embrace America as a whole and show that all hearts are the same. But there were zero altered lyrics and no surprise guest performers.
Instead, we enjoyed an artist who has delivered some of the biggest hits of the past 15 years rely on old-fashioned, overblown stage production and her most popular songs. She picked only one song from her latest album, Joanne, which she delivered on piano—and it was nice.
While the halftime show aftertaste was a very respectable vintage of authenticity, Gaga herself put it best: 'We're here to make you feel good.'"
Letter Grade: B
Salkin is the senior vice president of creative technology and integrated production for Momentum Worldwide, a global brand experience agency. Clients have included American Express, Xbox, and Coca-Cola.
Sean O'Keefe
"Lady Gaga started the half time show from the roof of the NRG Stadium with a sweet a cappella excerpt from 'God Bless America' before jumping off the roof and dancing mid-air as she descended to the Mad Max-inspired tower of lights and pyrotechnics.
The tightly choreographed compilation of her greatest hits seemed to be a happy cross between any Bob Fosse musical and Michael Jackson's 'Thriller,' complete with a crotch grab tribute to the king of pop. At times there seemed to be as many dancers on the stage as there were drones in the sky. I loved the inclusion of the on-field audience in the routine.
Her 13-minute performance was high-energy, but seemed to be executed cautiously and erred on the side of pedestrian. I guess that I have come to expect more than great costumes from Lady Gaga, and while I hate to say I was a little disappointed, I was. 
I always wonder how many people are actually involved with stage and lighting set-up at an event of this size, especially with a timeline as tight as the halftime show at the Super Bowl. Being an event professional, I have to salute the stage hands, lighting crew, and the technicians involved with creating and executing such an incredible set."
Letter Grade: A-
O'Keefe is the president of Sean O'Keefe Events, an Atlanta-based event planning, design, culinary, and floral company. Clients have included Delta Air Lines and The Recording Academy. 
Sammy Caban
"Whether you were cheering for Atlanta or New England, the Super Bowl halftime show reminded us that we are, above all, Americans. Lady Gaga presented a show with a positive message of unity and patriotism.  
In a Super Bowl full of many firsts, Lady Gaga added one of her own. It was the first time that Intel's Shooting Star drones have been used at a Super Bowl halftime show, and they added a unique touch to the opening of her spectacle. It's always amazing how much equipment is set up in such a short period of time. Lady Gaga's performance was entertaining, and very well-executed with powerful vocals and nicely choreographed dancers. The LED torches were a nice touch to enhance the performers around the stage. 
Aside from the light drones at the beginning, this was an average show without the dramatic moments that create a memorable experience."
Letter Grade: B
Caban is the president and C.E.O. of the Miami-based Innov8 Events Agency. Clients have included TedX and Hewlett-Packard.
Justin Lefkovitch
"Super Bowl LI's halftime show with Lady Gaga can be summed up in a word: professional. With a rooftop opening that alluded to Michael Jackson's 1993 performance, Gaga played off the crowd well, stuck to the hits, had smooth transitions, and didn't stray too far from her own dynamic comfort zone. 
The production itself was beautiful, with a galactic smoking LED stage and structural towers featuring musicians and pyro to look larger than life while still mobile. In my opinion, the tech stole the show, between the 300 dancing Intel Drones and the choreographed crowd light displays. 
I would have liked to see a better camera shot of the drones mid-show. Overall, Gaga could use a little aerial technique from Pink."
Letter Grade: A-
Lefkovitch is the founder and C.E.O. of Mirrored Media, a Los Angeles-based experiential marketing agency. Clients have included SyFy, Universal, and Acura.
Thad Somoza
"In my unofficial poll of the dozen party guests in my New York apartment, the consensus review of this year's halftime show was clear: The drones (the overwhelming favorite), the cardio, the wire act, and the well-rehearsed and choreographed on-field dancers were all impressive. Lady Gaga was fully equipped to carry the show solo, and we were reminded how deep her catalog is and how many songs people were familiar with. 
However, some were left asking: Where was the big political statement? Ms. Gaga going the safe route in that department was a surprise to a number of us. 
The angular and dimensional set pieces that intertwined optically into the floor lighting were a bit hit amongst my poll participants. The pyro and other assets we've come to know as the norm for these shows didn't impress the room full of marketers with whom I was watching, but admittedly we can be a bit jaded.
Unrelated: Has anyone actually ever seen a Pepsi Zero Sugar in retail?"
Letter Grade: C+
Somoza is a senior event producer for MKG, a New York- and Los Angeles-based experiential marketing agency. Clients have included Absolut, Barkbox, and Heineken USA.
Featured Venues/Suppliers: