See the Unexpected Tool Used for Discovery's Ribbon-Cutting Ceremony
Princess Cruises and the Discovery Channel introduced a new program for children by replacing scissors with liquid nitrogen.
July 21, 2017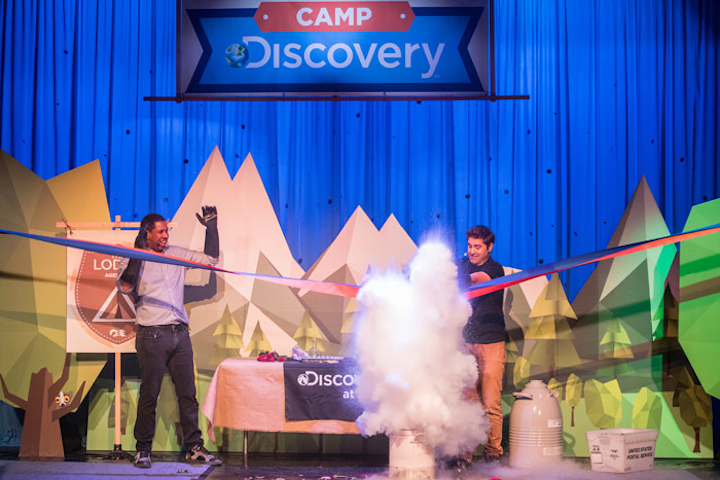 Photo: Josh Edelson/AP Images for Princess Cruises
It's not easy to capture the attention of children, but Princess Cruises and Discovery Channel found a way at a July 17 event. To celebrate the cruise line's newly redesigned youth- and teen-focused Camp Discovery centers, Princess Cruises, in partnership with Discovery Communications, staged a ribbon-cutting using liquid nitrogen. 
Hakeem Oluseyi of Science Channel and Tory Belleci of Discovery Channel's MythBusters performed the ceremony onboard the Grand Princess in San Francisco. To simulate the ribbon-cutting, the two created an "explosion"-type effect as liquid nitrogen combined with water, said event producer Geoffrey Curley, principal at Geoffrey Curley and Associates. 
"If you are going to cut a ribbon to launch a new program about STEM ... how better than to engage real scientists and MythBusters to make that happen in a unique and science-based way?" he said. "This visually appealing moment ties directly to learning and discovery, which is at the core of Discovery Communications and the new Camp Discovery youth and teen centers." 
In addition to the ribbon-cutting, the event aboard the ship included activities such as a guided "stargazing" and Belleci sharing shark myths with kids and their families.