Guest Column: What Not to Overlook When Hiring Speakers for Corporate Events
For keynotes, training sessions, and more, ask what your audience needs and find a match that will deliver on the goals of the overall event.
March 25, 2019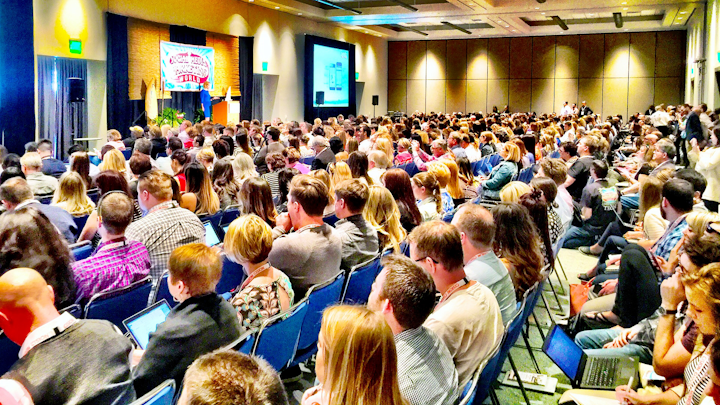 Photo: MariSmithPix/Pixaby
Sue Wigston is the chief operating officer of Eagle's Flight, an experiential learning and training company.
For many people, hiring an event speaker for corporate events seems like a no-brainer. They are typically a low-risk option because you know what you are going to get. Professional speakers are prepared, have experience presenting in front of large groups, and usually align quite well with the business needs of the event—but be wary of making these assumptions. Before you sign on the dotted line for your next event speaker, take these four things into consideration to make sure you are choosing the best candidate for your attendees and your stakeholders.
1. Clearly define goals and select content accordingly.
The first step in making the best choice for the event agenda is to align with your stakeholders, as well as your sales team, on the event goals. The only way to know you are making the right choice is to know what their expectations are from the get-go. For example, when planning an annual sales meeting, you will want to get a variety of the stakeholders' input and expectations. Also, be sure to include your sales and marketing team. Ask them their opinion on what they expect attendees to walk away with and why the time spent away from making sales will be beneficial in the long run. By establishing specific goals up front, it will allow you to easily determine whether the event you are planning will be a good fit for the speaking candidates under consideration.
From there, you can move forward and select the right content. Using the example of the annual sales meeting, remember that your attendees are individuals who would much rather be out making sales than sitting in an event that isn't worth losing time in front of clients. With this in mind, you want to use the input you have received from your stakeholders about the goals of the event to make the event worthwhile in the eyes of the attendees and leave them feeling educated and like it was a good use of their time.
Once the goals are set and the content has been developed, build a checklist of what to look for in a speaker based on that information. Your event speaker must be able to deliver content that will satisfy the goals of the stakeholders and the expectations of your attendees.

2. Think like an attendee.
After years of corporate events that have left attendees with varying levels of satisfaction, it is more than likely that their expectations are mixed. This is your chance to make a positive impression. Because your attendees are taking time out of their already packed schedules, they want (and need) your event to be worth the precious time spent away from the office. When you're choosing an event speaker, take the time to put yourself in the shoes of your attendees and consider their agendas, as well as your speaker's ability to deliver, from the attendees' point of view.
For instance, if you are planning an event for an audience of young, eager millennial and Gen Z attendees, ask yourself if the event speaker you have selected will actually be able to engage them. Because this is a generation of digital natives, they are used to interactive and engaging experiences, which makes gamified, highly participatory sessions the best option. Speakers who lead these types of sessions excel when they encourage the attendees to participate in the process digitally, rather than just speaking at them. The only way to truly set your event up for success is to take your audience's needs, interests, and characteristics into account in order to select the most appropriate activity and speaker.
3. Weigh the cost against the value.
In order to know you are making the best selection possible, consider the short-term and long-term benefits. Is this speech engaging enough for your attendees to want to hang onto every word and carry it with them long after the event ends? Conducting a cost-benefit analysis that takes into consideration the goals of the event and the possible return on investment may lead you in a direction you never expected.
One option, selecting internal senior leaders as event speakers, incurs little to no cost in your event budget. Although this is great for face time with the attendees, if the content does not resonate, the benefits of saving money will not outweigh the cost of unengaged attendees who walk away with no new knowledge. Ultimately, you may have to break away from the known and from your comfort zone, and spending the extra money to hire an outside speaker.
4. Consider how a speaker interacts with the rest of the event.
Finding the right mix of speakers, trainings, presentations, and other offerings is critical for a successful corporate event. You want a speaker that makes sense in the greater context of your event and who will enhance the event as a whole. Perhaps your event has highly interactive, hands-on elements and a theme woven throughout. In this case, consider how a lecture-style speaker would interact with them. If your event uses mobile apps with real-time surveys, feedback feeds, and gamified elements, you will want to make sure your speaker is willing and able to incorporate them into their presentation. Your goal should be to ensure your attendees do not feel a disconnect from what they have previously experienced throughout the event.
For every agenda item you consider—especially a speaker who can have such a large impact—ask yourself if it effectively supports the stated goals of the event. Make agenda decisions based on the type of event, the attendee demographics, and the set budget and goals. This will ensure that whatever or whomever you select provides the best return on investment and produces a successful event for everyone.