8 Event Speakers Who Can Draw a Millennial Crowd
From activists to entrepreneurs to YouTube stars, these speakers will attract a social-media-savvy crowd to your next event or conference.
March 15, 2018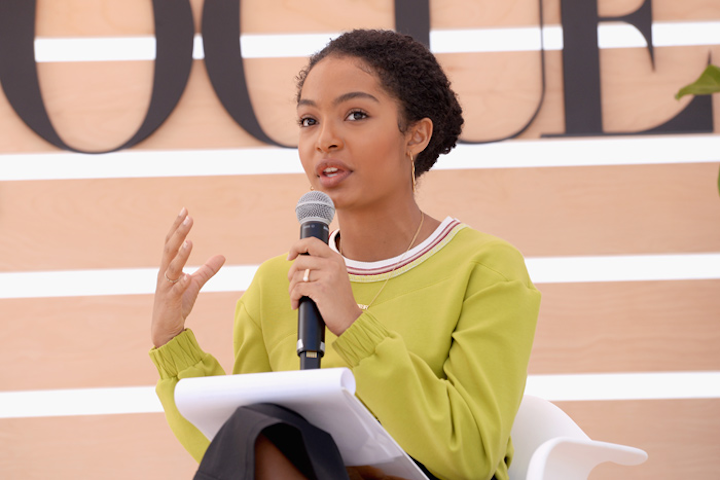 Photo: Vivien Killilea/Getty Images for Teen Vogue
Millennials and Gen Z audiences crave authenticity and innovation in their interactions—and know how to leverage social media to get it. A number of speakers available to hire for meetings, conferences, or events can tap into that mindset, addressing topics such as digital storytelling, activism, brand loyalty, and innovation—and with massive social-media followings themselves, they're sure to draw a crowd.
Here's a sample of artists, activists, entrepreneurs, and more who can inspire young people at your next event.
Scott Goodstein
Goodstein is the mastermind behind two of the most effective digital campaigns in history: Barack Obama's 2008 presidential run and Bernie Sanders' run in the 2016 presidential primaries. He designed and oversaw Sanders' Internet and social-media presence, helping craft the grassroots campaign that made the senator a household name—particularly among millennials. Goodstein is also the founder and C.E.O. of Revolution Messaging, a digital strategy firm devoted to progressive causes. His speaking topics include the intersection of digital technology and human storytelling, as well as concrete techniques brands can use to communicate across various digital platforms. He also speaks about the importance of authenticity in marketing. Goodstein is represented by Greater Talent Network.
Petra Collins
In 2013, Instagram deleted a photo that artist and photographer Collins posted of her unretouched body. Since then, she has made a name for herself speaking out against censorship and sexism—and also giving her take on what's next in art, fashion, media, and culture. Collins directed the Carly Rae Jepson music video for the song "Boy Problems," was named one of Vogue's "40 Creatives to Watch in 2016," and released a photography collection through Random House in 2015. The 25-year-old Toronto native—who counts singer Selena Gomez as one of her best friends—can offer a look into what Generation Z wants from events and media, as well as ways to create authentic personal and corporate branding in the Internet era. She is represented by Greater Talent Network.
Shiza Shahid
Shahid is the co-founder of the Malala Fund, which advances access to education around the world, as well as the founder of NOW Ventures, which invests in mission-driven entrepreneurship. A native of Pakistan, Shahid is also a host of Aspireist, a new HLN show that inspires millennials to get involved in activism; she was also named one of Forbes' "30 Under 30 Social Entrepreneurs" in 2014, at the age of 24. Her speaking topics include ways to build teams and motivate millennials, how technology will impact business and social progress, and ways to advance women's empowerment. Shahid is represented by CAA.
Johnny "Cupcakes" Earle
Earle launched his own T-shirt business at age 19—and has since grown the company into a sought-after brand whose collaborators include The Simpsons, Looney Tunes, and Nickelodeon. His online business has a flagship retail store in Boston, as well as pop-up shops around the country that draw massive crowds. Each store is designed to resemble a bakery, with shirts displayed on pastry racks and the scent of vanilla in the air. Named a "Top Innovator in Retail" by the Boston Globe, Earle has given keynote addresses for brands including Audi, Apple, L'Oreal, and Widen & Kennedy. He speaks on topics such as building brand loyalty, creating memorable experiences, and inspiring innovation, and is represented by the Goodman Speakers Bureau. 
Lilly Singh
The Canadian actress, performer, and comedian is a household name in the YouTube world, often serving as the face of the brand on billboards across the country. Named one of Time magazine's "30 Most Influential People on the Internet" in 2016, Singh has developed a fan base of over 10 million subscribers with sketch videos inspired partly by her Indian heritage. The 29-year-old is a Unicef Goodwill Ambassador, and has a campaign called "Girl Love" that aims to end girl-on-girl hate. (She designed a room around the topic at Refinery29's 29Rooms in Los Angeles in December.) Singh speaks on topics including activism, social media influence, and diversity, all with a humorous, personable slant. She is represented by WME.
Baratunde Thurston
The comedian and author helped relaunch The Daily Show With Trevor Noah, and is a sought-after public speaker and television personality on topics of race relations and digital storytelling. The former director of digital for The Onion, Thurston is now a podcast host and the co-founder of Cultivated Wit, a digital company that merges comedy and technology and produces the Comedy Hack Day live event series. His book, How to Be Black, was a New York Times bestseller. The 40-year-old Washington, D.C., resident is represented by CAA.  
Yara Shahidi
The 18-year-old actress and activist is the star of Freeform's Grown-ish, a spin-off series following her popular character from ABC's Black-ish. Shahidi was named one of Time's "30 Most Influential Teens" in 2017 for her television work and humanitarian work. The child of an Iranian father and an African-American mother, Shahidi speaks on topics of women's and girl's empowerment, diversity in media and entertainment, and multiculturalism. In December, she interviewed Hillary Clinton at the Teen Vogue Summit, where the two discussed ways that millennials and Generation Z can get involved in politics and activist causes. Shahidi is represented by CAA.
Lo Bosworth
Best known to millennials as a former star of MTV reality series Laguna Beach and The Hills, Bosworth has reinvented her career as an expert in the culinary and fashion worlds. She recently graduated from the International Culinary Center in New York, and runs a lifestyle blog called the Lo Down that focuses on her passion for farm-to-table and French cuisine. Bosworth has a beauty-focused YouTube channel that has generated more than seven million views, and can speak on topics of entrepreneurship, building a brand, and the power of social media. The 31-year-old, who recently moved to Los Angeles, is represented by WME.
Featured Venues/Suppliers: