9 Inspiring Women's Sports Stars to Book for Your Next Event
From Serena Williams and Simone Biles to tennis legend Billie Jean King, these top athletes are ideal for motivating a team.
August 14, 2019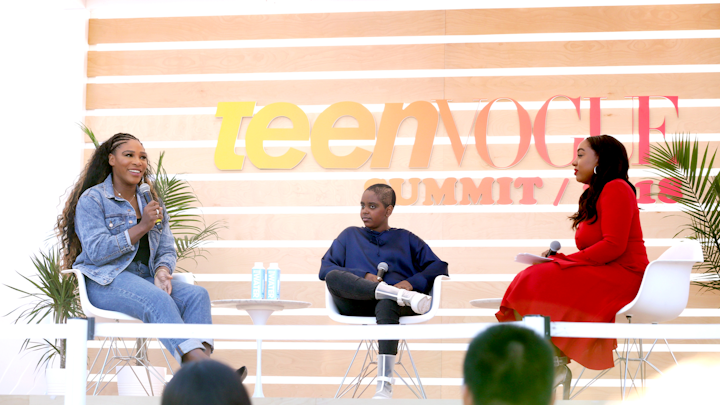 Photo: Alison Buck/Getty Images for Teen Vogue
Women's sports are having a moment. From gymnast Simone Biles's instantly legendary floor routine at last weekend's national championships to the United States Women's National soccer team's big win at the World Cup in July, women athletes are grabbing the world's attention like never before. Current and former sports stars also make great speakers for meetings, conferences, and trade shows, sharing stories of perseverance, teambuilding, and motivation.
From a double-leg amputee who advocates for athletes with disabilities to a soccer star who fights for L.G.B.T. equality, here are some inspiring woman athletes to book for your next event.
Serena Williams
One of the most famous athletes in the world, the 37-year-old tennis star has won the most Grand Slam singles titles in history. Off the court, Williams runs her own fashion line and devotes time to philanthropic causes; in addition to being a global Goodwill ambassador for Unicef, she and her sister Venus started the Yetunde Price Resource Center in Compton, California, for victims of violence and trauma. Williams is the author of the memoir On the Line, and she recently spoke at the Teen Vogue Summit in Los Angeles in December. She's booked through WME Speakers; pricing is available upon request.
Abby Wambach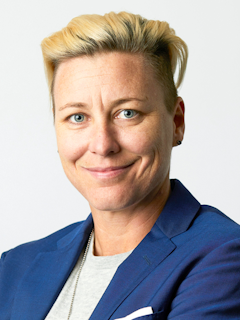 Abby WambachPhoto: Courtesy of Goodman Speakers
A two-time Olympic gold medalist, FIFA World Cup champion, and the highest all-time goal scorer, 39-year-old retired soccer star Wambach is also an activist for equality and inclusion. She's the co-founder of Wolfpack Endeavor, a leadership development program for women in the workplace, plus the author of Forward: A Memoir and the new book Wolfpack: How to Come Together, Unleash Our Power, and Change the Game. For events, Wambach can speak on issues such as closing the gender pay gap and advocating for the L.G.B.T. community. She's booked through Goodman Speakers; pricing is available upon request.
Simone Biles
Widely regarded as one of the best gymnasts in history, 22-year-old Biles is a four-time Olympic gold medalist. At the 2018 ESPYs, she and her teammates were awarded the Arthur Ashe Courage Award, and she has worked as a brand ambassador for the likes of the Hershey Company, United Airlines, and Beats by Dre. Biles can be booked as a motivational speaker for events and conferences through Celebrity Speakers Bureau; pricing is available upon request.
Robyn Benincasa 
A former endurance racer who holds three Guinness World Records, Benincasa was named a CNN Hero in 2014 for founding the Project Athena Foundation, a nonprofit that helps women with medical setbacks fulfill their athletic ambitions. She's also an experienced keynote speaker, discussing topics including building successful teams and being an innovative leader; she's previously collaborated with Starbucks, Walmart, Boeing, and other Fortune 500 companies. Benincasa is the author of How Winning Works: 8 Essential Leadership Lessons From the Toughest Teams on Earth. She can be booked through Goodman Speakers; fees range from $15,000 to $25,000. 
Carli Lloyd
The United States Women's National soccer team co-captain, who is also a two-time Olympic Gold medalist and the back-to-back FIFA Women's World Player of the Year, is available to speak at events. She discusses topics of "leadership, teamwork, resilience, health, wellness, female empowerment, activism, and more," according to booking agency WME Speakers. The 37-year-old Lloyd is also the author of When Nobody Was Watching: My Hard-Fought Journey to the Top of the Soccer World. Pricing is available upon request.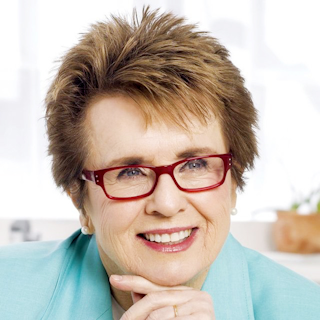 Billie Jean KingPhoto: Courtesy of WME SpeakersBillie Jean King
The tennis legend who famously defeated Bobby Riggs in 1973's "Battle of the Sexes" has long been a champion for social justice and equality. She currently heads the Billie Jean King Leadership Initiative and is on the executive boards of the Women's Sports Foundation and the Elton John AIDS Foundation—not to mention is the namesake for New York's U.S.T.A. Billie Jean King National Tennis Center, home of the U.S. Open. The 75-year-old's speaking topics range from multi-generational leadership and equal rights to the importance of connecting with others. King is booked through WME Speakers; pricing is available upon request.
Amy Purdy
A three-time Paralympic medalist for snowboarding, Purdy is "the only double-leg amputee [to compete] in snowboarding at the world-class level," according to speakers bureau Eagle's Talent. Purdy is a former contestant on CBS's The Amazing Race and ABC's Dancing With the Stars; she's also the co-founder of Adaptive Action Sports, a nonprofit focused on getting people with disabilities active in sports. For events, Purdy can give a presentation titled "Living Beyond Limits" that shares her life story and discusses themes of creativity, overcoming obstacles, and finding inspiration. Fees range from $30,000 to $50,000. 
Jackie Joyner-Kersee
Named "the greatest female athlete of the 20th century" by Sports Illustrated, the 57-year-old East St. Louis native is a six-time Olympic medalist and a longtime advocate for children's education, health issues (particularly asthma), racial equality, and women's rights. Speech topics include giving back to the community, overcoming obstacles, and humility; she's available to book through Premiere Speakers Bureau. Pricing is available upon request. 
Tamika Catchings
The former W.N.B.A. star was the recipient of the inaugural EPSN Humanitarian Award in 2015, and she is also the owner of the Catch the Stars Foundation, a nonprofit promoting fitness, literacy, and youth development. She currently serves as director of player programs and franchise development with Pacers Sports & Entertainment in Indiana, and she is the author of Catch a Star: Shining Throughout Adversity to Become a Champion. The daughter of N.B.A. player Harvey Catchings, she was born with a hearing deficiency in both ears, a topic she speaks about openly during keynotes. Catchings, who recently spoke at PCMA's EduCon in Los Angeles, can be booked through All American Entertainment; fees range from $10,000 to $20,000.