Who Was the Most Memorable Speaker or Entertainment at an Event You Planned?
Planners shared the most memorable speakers and talent they booked for an event.
July 12, 2018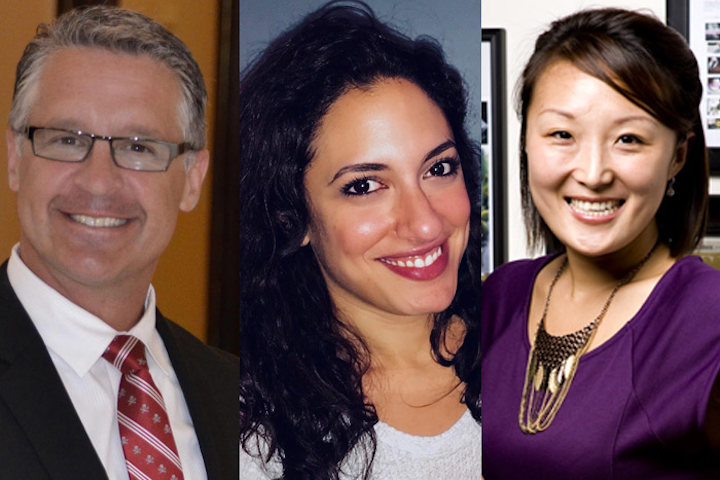 Photos: Courtesy of Readers (All)
From former astronauts and motivational speakers to cinematographers and refugees, readers shared some of the most memorable speakers and entertainment they have booked at an event they planned.
"The most memorable speaker we have ever hired was U.S.A.F. Colonel Mike Mullane, who is a former astronaut. His memoir, Riding Rockets, is a behind-the-scenes look at the U.S. space program. His presentation was interesting and sprinkled with funny stories. He kept the attention of our 500-plus attendees for one of our client's events. Ten years later, our client is still talking about what a great speaker Mike was."
Lorraine Mariella, C.S.E.P., C.M.P., president and founder, Eventium, Totowa, New Jersey
"Our alumni relations office partnered with the Cinema Arts and Television department to bring award-winning cinematographer and Columbia College alum, Michael Goi,'80, back to campus. We screened a few episodes of his work from American Horror Story. Afterward, students were jumping out of their seats wanting to ask him questions and Michael answered every single one. He was so generous with his time and was genuinely interested in connecting with them. It was an incredible opportunity for the film students to interact with him and learn from his work."
Amanda Clayton, manager of special events, development and alumni relations, Columbia College Chicago, Chicago
"I've worked with many nonprofits, so memorable speakers for me have been refugees, immigrants, and cancer survivors, patients, and their family members."
Tanya Cooke, founder, Seattle Event Works, Seattle
"Professional speaker Ben Glenn. He was incredibly memorable and very moving. He got a standing ovation for an event I put together."
Amber Powers, president, Powers Digital Marketing, San Diego
"Frank Abagnale. He gives a very interesting speech—a story many of us know from the movie Catch Me If You Can. He goes into very interesting details that culminate with a very humble message of virtue and humility. The audience expects him to be a proud trickster and learns otherwise."
Glenn Morel, C.E.O. and founder, Avid Productions, Washington 
"Motivational speaker Joe Roberts [also known as 'Skidrow CEO']. We hired him to guide a group of 350 employees to help them understand the challenges that kids on the street are faced with and how they even get there. It was a one-and-a-half day event and won some awards the year we produced it."
Jason Katz, lead event strategist, Atmosphere Communications & Events, Montreal
"One of my favorite speakers was from the Asian American Business Roundtable Summit—Jue Wong, president of Elizabeth Arden at the time. She was a fantastic speaker and our entire audience was amazed by her. She shared her journey as a woman moving up the corporate ladder. She described herself as ambitious, driven, and high ability to present. She shared with the audience, 'Do not be defined by what we cannot control; gender, ethnicity, etc. Embrace who you are.' Everyone walked away from that session feeling so empowered."
Amanda Ma, C.E.O., Innovate Marketing Group, Los Angeles
This story appeared in the Spring 2018 digital edition of BizBash.
Featured Venues/Suppliers: