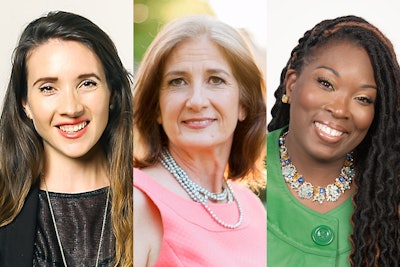 Photo: Courtesy of Readers
"The biggest red flag we encounter when booking entertainers stems from their rider. We often see situations where clients aren't used to securing headline entertainment, and so they're factoring performance fees into the budget but not rider specs. We were producing a gala for a national nonprofit a few years ago and by way of their board they were able to secure an A-list performer who agreed to waive her fee. However, they didn't ask about or take into account the rider, which was extensive. At the end of the day, what the client thought would be a no-cost item ended up costing them over $100,000.
Before booking entertainers, always know where they're based, and what their commitments are leading up to your event. If they're based in your city and won't be traveling into your event from somewhere else, that's ideal. If they're not local, you should look to build in a buffer for travel delays, discuss a contingency plan, and also know that travel could add a sizable expense (per rider point above).
We almost always avoid suggesting comedians for events. It's almost assured that the humor won't appeal to the entire group, and very possible that they insult someone in the audience (even if it's unintentional). The risks just outweigh the rewards. If you are booking a comedian, make sure you are intimately familiar with their material, it meshes with your audience's style, and you have buy-in from senior management (just in case!)."
—Adam Sloyer, C.E.O., Sequence, New York
"One big red flag for me is when talent relies on the same performance regardless of the audience. In today's event world, it's imperative to tailor everything, even the entertainer's message, to keep the event on brand."
—Allison Pieter, event producer, Allison Pieter Event Management & Production, Los Angeles
"No insurance! And no clue why they need it."
—Dona Liston, owner, Lambermont Events, San Antonio
"Lengthy riders, response times, and timing for meetings (phone or in-person). No one wants an entertainer who is needy and not considerate of time. Especially because that's how they will appear for the event—late and wanting the world."
—Stefanie White-Lafosse, owner, Rave Impressions Consulting Firm, Miami
"When booking event entertainment, you first have to understand how credible the booking agency is, particularly if they're focused solely on money or downplaying the contract. Some will even overestimate their ability to book talent and don't have the capabilities that a real professional booking agent has.
Another concern is understanding that a plus sign next to a dollar amount quoted for talent fees during the booking process means you are responsible for paying expenses plus production. These fees have a lot of strings attached to them and can quickly and dramatically increase cost. 'Kick-out clauses' are also a common concern when booking event entertainment because when a better opportunity arises for the entertainer, they can leave at a moment's notice—potentially leaving you without an entertainer. Always have a Plan B in place, and possibly cancellation insurance."
—Gregg Eilers, vice president of meetings and events, Switch, St. Louis

"Doing a quick social media search on them personally and on their business and finding allegations of harassment, assault, or just plain rude behavior."
—Fred Moreau, operations manager, RKO Army, Boston
"Not having a proper tech rider or green room rider. It's actually worse than having a demanding one, because you never know what they are going to turn up and need on the day. It suggests they just don't really know what they're doing."
—Venetia Harpin, independent event producer, Los Angeles
"Make sure if they want the opportunity to sell their books (if applicable) to your attendees after their presentation, that this is disclosed and negotiated before the contract is signed. Or put a clause in the contract that they are not permitted to sell any merchandise or promote themselves or their products in any way without your consent. If they are selling something, you should get a percentage."
—Lorraine Mariella, founder and president, Eventium, Totowa, New Jersey
"Red flags: 1) They have a terrible website. 2) They take too long to respond. 3) Poor grammar. 4) They don't show up for a conference call with a client. 5) The too 'diva' effect with an overwhelmingly demanding rider."
—Cindy Elena Rodriguez, corporate programs and events specialist, CITGO Petroleum, Houston
Editor's note: Some of these comments were shared by readers on our social media networks. Join our discussions on LinkedIn, Twitter, and Facebook.