White House Correspondents Association Promises a Reset at This Year's Dinner
Historian Ron Chernow—instead of a comedian—will deliver remarks at the annual dinner celebrating press freedom, while President Trump once again will skip the event.
April 22, 2019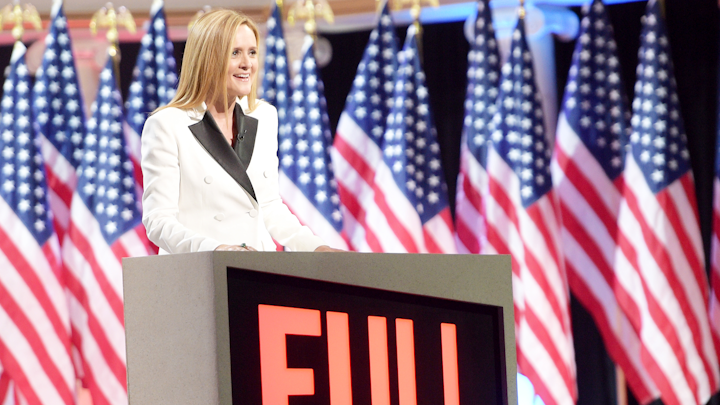 Photo: Jason Kempin/Getty Images for TBS
WASHINGTON—It's not particularly surprising that President Trump won't be in attendance at 2019's White House Correspondents' Association Dinner. The media is the president's constant foe and he's skipped the annual event devoted to the press corps twice already, this year telling reporters on the White House lawn that "the dinner is so boring and so negative."
Instead, the headliner for the dinner at the Washington Hilton Hotel on Saturday, April 27, is a bit of a curveball. As opposed to a comedian as in recent years, the White House Correspondents' Association will host presidential biographer Ron Chernow as its featured speaker. The shakeup follows last year's incendiary set from comedian Michelle Wolf who roasted members of the Trump administration and the press—and it's a change of tone for D.C.'s "nerd prom," which was descended on by Hollywood celebs during the Obama administration.
"I welcome celebrity support for the press and the First Amendment. But we reached a point where it felt like you were more likely to run into a sitcom star than a sound engineer," say Olivier Knox, chief Washington correspondent for SiriusXM and president of the W.H.C.A.
Knox says the idea to bring on a historian as speaker instead of a comedian has long been in the works.
"It had become too much about the celebrities who attend and not enough about journalism and the First Amendment."
The dinner will still be entertaining, Knox promises, even without a comedian. "If you've read any of Ron's books, you know he is a lively writer, fun, great with anecdote," Knox said. "All I've asked him to do is put the current moment in context and speak for about 15 to 20 minutes. I will be just as surprised as everyone else in that room when I hear him actually speak."
A portion of the program will honor American journalist Austin Tice, who was captured in Syria and remains missing. There will be a banner reading "Free Austin Tice" and pins.
Interest in the rebooted dinner is high. "I've had to issue some refunds, because we've had more requests than we have seats," Knox said.
The date for the dinner has been set in stone for a year and coincides with Congress's recess, which means lawmakers may not be in town. The Creative Coalition also won't be bringing its usual fleet of Hollywood actors to advocate for the arts, citing Congress being out of session.
The flurry of weekend events surrounding the dinner goes on, even though the likes of Vanity Fair, People, Time, and Playboy are declining to host their high-profile parties. The Hill's "Toast to Freedom of the Press" party, including a performance by Questlove at the National Portrait Gallery, kicks off the weekend along with United Talent Agency's party for media heavy-hitters beforehand at Georgetown's Fiola Mare. On April 26, TBS late-night comedian Samantha Bee of Full Frontal will host some counterprogramming at DAR Constitution Hall, taping her second annual special "Not the White House Correspondents' Dinner."

Offsite during the dinner, BuzzFeed will host a Watch (or not) Party at the bar and restaurant Bourbon. After-party events include an event at the National Press Club thrown by the Los Angeles Times that will raise money for Tice. Capitol File is also slated to host an after-party at the Dupont Circle Hotel. MSNBC's after-party is a big draw, happening this year at the Italian Embassy with decor from Revolution, planning from the Dufour Collaborative, catering from Occasions Caterers, and lighting from Atmosphere.

One White House Correspondents' Association Dinner tradition is definitely unchanged, and that would be Sunday brunches to wrap up the weekend. Bond Events will produce Politico's annual garden brunch Sunday at the Georgetown home of publisher Robert Allbritton, with food by Occasions Caterers. High-profile media types will also flock to CNN's brunch, with event design by Advoc8 and catering by Occasions Caterers. "The menus are very playful, with big bold flavor, and nothing that's too precious," said Denise Vu of Occasions Caterers. And Thomson Reuters Correspondents' Brunch at Top of the Hay at the Hay-Adams Hotel will feature dishes from Top Chef contestants.