Q&A: Why History Is Launching Two Major Experiential Programs For Fans
Lance Still, senior vice president of consumer enterprises for A&E Networks, discussed the strategy behind History's live event expansion, which includes a new convention and a traveling speaker series.
April 2, 2019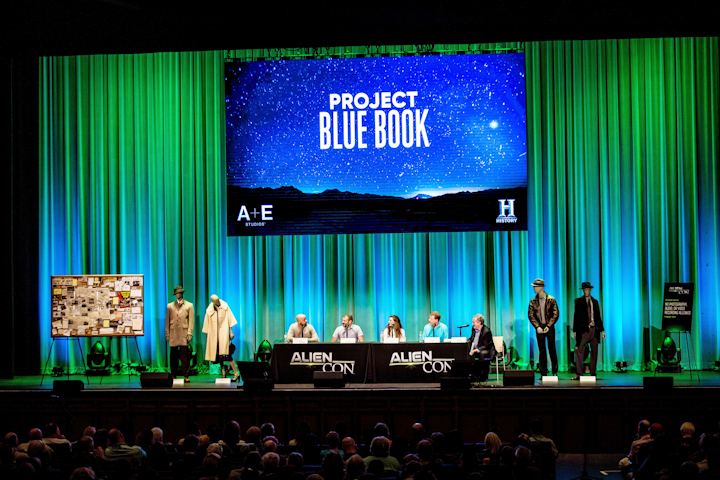 Photo: Courtesy of History
Whether they involve wheeling a massive viking horn through the streets of New York or inviting Comic-Con attendees to study real-life U.F.O. cases, History has created memorable fan activations tied to the network's programs, such as Vikings and Project Blue Book. And for the past two years, History has brought AlienCon, a fan convention inspired by its series Ancient Aliens (which explores the theory that extraterrestrials have visited earth for millions of years) to cities such as Pasadena and Baltimore.
Now, in celebration of the network's 25th anniversary, History is expanding its live events for fans in some major ways. Paul Buccieri, president of A&E Networks—the parent company for brands including History, A&E, and Lifetime—recently announced History will launch three new initiatives in the next year: HistoryTalks, HistoryCon, and HistorySpeaks.
Debuting this fall, HistoryTalks is a traveling speaker series that will involve one-day events with presentations and panels featuring historians and political figures discussing timely subjects and key historical events. In April 2020, the network will have its inaugural U.S. edition of HistoryCon. The three-day entertainment convention—which has seen success in Manila, Philippines, for the past three years—is heading to the Pasadena Convention Center. The public, ticketed convention is slated to explore American cultural, political, and societal milestones, and will feature appearances by talent from History series, artifact displays, a massive marketplace, interactive exhibits, and tech-fueled experiences. 
Additionally, HistorySpeaks will launch in the first quarter of 2020 as an extension of the brand's podcasting efforts, and it will incorporate content from the other events. 
Lance Still, senior vice president of consumer enterprises for A&E Networks, discussed with BizBash why History has decided to double down on its experiences for fans, whether it signifies a change in overall event strategy for the brand and its sister networks, and more details on the planning of HistoryTalks and HistoryCon, both of which are still in the works. 
The announcement of these initiatives, specifically HistoryTalks and HistoryCon, means a major expansion of History's live events. Why did the network decide to do this now?
Our president Paul Buccieri had this vision for expanding the History brand to reach our fans in a meaningful way, and bring History to the people. We'd been dabbling in the experiential space before and had a great deal of success with AlienCon and HistoryCon, internationally. The network's 25th anniversary was really an opportunity to expand and celebrate. History is a big, broad subject. It's hard to confine it to a channel. It offers things both niche and broad that we can do that really lend themselves to experiential events. 
We're looking to do as many as four HistoryTalks events throughout the year, which are single, all-day events. Then HistoryCon is three days, with around 75 different things happening throughout each day. This will range from our biggest talent coming from programs such as Vikings, American Pickers, and Pawn Stars, to things like re-enactments, rare artifacts, and other interactive events. It's really about honoring the fans. Our fans have a lot to say and we listened to what they wanted, and we're really trying to deliver that to them in these events.
Do these new events speak to a change in strategy for how other A&E Networks channels are executing their live events? Or is History the standout in the direction it's taking?
I'm definitely looking at experiential events where they make sense. You can't just do an event for the sake of doing it. There has to be a deep enough pool of subject matter, and enough interest from our fans to do so. While History is our main focus right now—again, the 25th anniversary lends itself to kicking off a new road for History—there are definitely other things we're looking out within Lifetime and A&E as well. Around the middle of next year, you'll start to hear about other things that are going to happen.
For HistoryTalks, what inspired the concept of this traveling, daylong speaker series?
HistoryCon could be annual or twice a year in different cities. It's a very different vibe. We could have as many as 20,000 people attending the convention throughout the weekend. [To counter that] we wanted to create an intimate speaker series where we have history-heavy hitters, people who are making history, cultural zeitgeist moments we can address more nimbly, and well known historians and authors. We're targeting theaters that can hold about 1,500 to 2,000 people. And it's a single day. So the idea is an attendee would come in and have this full day of fairly intimate moments, together with other fans. We're really going to look at a single subject and work through that vertical of a subject in a day. [Having four] gives us the chance to do multiple subjects throughout the year. We can go to different places in the country, too, so it enables us to serve our fans in core areas as well. 
How have you decided who the speakers will be?
I can't talk about who the speakers will be yet. They're exciting. [We want them to be] history makers, contemporaries, and notable speakers. [We want] someone who's making history now, who can discuss a subject and how it angles back throughout history, and how it might have been different through the years. We're also looking at our television programming and ways to dovetail that into our big events. We're looking at when fans have come to us and said they have a specific interest in which they'd like to learn more.
For the U.S. edition of HistoryCon, how will planning and content differ from the international editions?
Obviously any of these events are a big undertaking. It's really looking at content that serves the core fans and history enthusiasts in general. It's a time for entire families to go and celebrate different aspects of history. Again, it's such a broad subject. We can cover a lot of ground in those three days. We're really trying to speak to the core of history, first and foremost, and then go off on some fun, experiential tangents that I can't talk about yet.
What can you tell me about HistorySpeaks and how it might incorporate events?
I can say that a lot of the things we're doing with HistoryCon and HistoryTalks will be content that will form source material for HistorySpeaks. There will also be content independent of that as well, which could be based on a current subject or on programming.
What events or activations does History have coming up more imminently?
We participate in Comic-Con International every year. AlienCon will be coming up in June in Los Angeles and October in Dallas. We have William Shatner attending in L.A., which dovetails into the new program [The UnXplained] we're doing with him. 
This interview has been edited and condensed.