See HBO's 'Veep' Twist on a Presidential Suite
The Hamilton Hotel worked with the cable network to design the Presidential Veep Suite and Oval Office, then celebrated with a screening party ahead of the season premiere.
April 1, 2019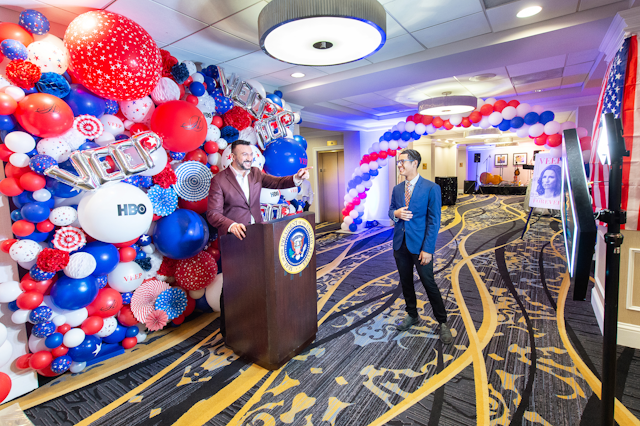 Guests posed in front of a presidential podium with a Veep balloon wall for animated photos they could post on social media. The photos emailed to guests featured Veep and Hamilton Hotel branding.Photo: Courtesy of Hamilton HotelWASHINGTON—Presidential candidates are still jumping into the 2020 race, but one campaign was in full swing last week at the Hamilton Hotel Washington, D.C. That would be Selina Meyer, the dysfunctional fictional politician at the heart of HBO's Emmy award-winning comedy Veep. The show is airing its final season, but it will live on at the K Street hotel, which unveiled a guest suite and lounge decorated with props straight from the show's Los Angeles set. The hotel, which is currently undergoing a multimillion-dollar transformation, collaborated with HBO to design the "Presidential Veep Suite and Oval Office."
In advance of the show's premiere on Sunday, the Hamilton Hotel threw a party on March 27 for 150 guests to debut its replica of President Selina Meyer's Oval Office on the 12th floor lobby. That includes a Presidential Resolute Desk, presidential portrait of Meyer, and fun decor like a throw pillow with Meyer's face on Mount Rushmore. Hotel guests can book the one-bedroom "Selina Meyer Presidential Suite," which is meant to resemble her brownstone residence on the show with props like a writing table, a bar cabinet, family photos, and more momentos that superfans of the show might recognize. Terri Jannes Interiors designed the suite and Oval Office using original Veep pieces from HBO.
"With Veep coming to a close this season we were looking at ways to celebrate Selina Meyer, and a presidential suite seemed like such a perfect way to salute her legacy," Yauny Wheaton, director of consumer marketing at HBO, said in a press release. "We've had a wonderful time working with the show's production designers and the Hamilton Hotel to create a unique in-world experience that we think fans will love for years to come."
The Veep D.C. premiere party began with drinks downstairs in a space designed to look like a campaign stop, outfitted with red, white, and blue balloon arches and all-American snacks like corn dogs and sliders. Decor included posters reading "New.Selina.Now" and stamps bearing starring actress Julia Louis-Dreyfus' face. "She's this bigger-than-life character," Sesyle Moorhead, the Hamilton Hotel's director of catering and conference services, told BizBash. "We wanted over-the-top Americana."
Before a screening of the first two episodes, Bialek's Music's Sweet Yonder all-female bluegrass band performed while guests took gif photos emblazoned with the hotel's branding in front of a presidential step-and-repeat from Booth-o-Rama. Afterward, party guests snapped photos in the suite and Oval Office, sampled a patriotic spread of desserts, and took home Veep tote bags that included a copy of Selina Meyer's autobiography, A Woman First: First Woman.
VENDORS
Audiovisual, Lighting: PSAV Presentation Services
Catering: Astro Doughnuts
Catering, Design: Hamilton Hotel
Decor: All About Balloons (Balloon Wall and Arches)
Entertainment: Sweet Yonder (Band), Bialek's Music (Agent)
Flowers: GreenWorks Flowers
Linens: DC Rental
Photo Booth: Booth-o-Rama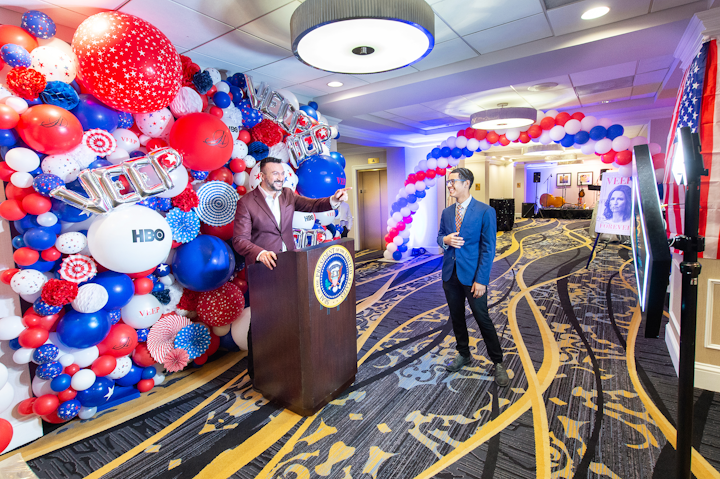 Photo: Courtesy of Hamilton Hotel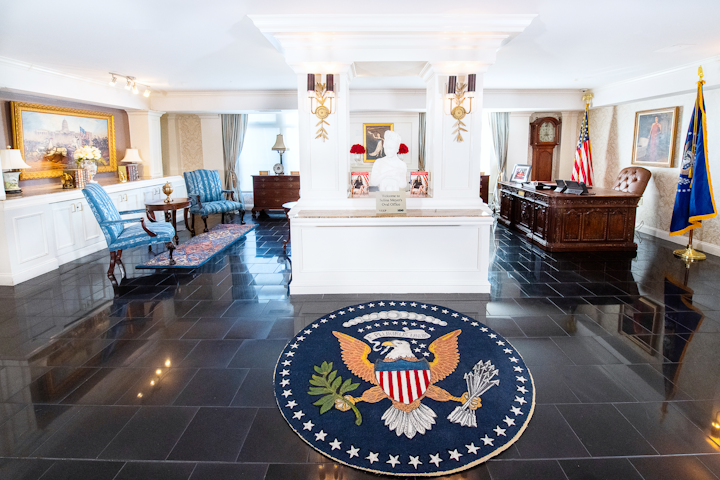 Photo: Courtesy of Hamilton Hotel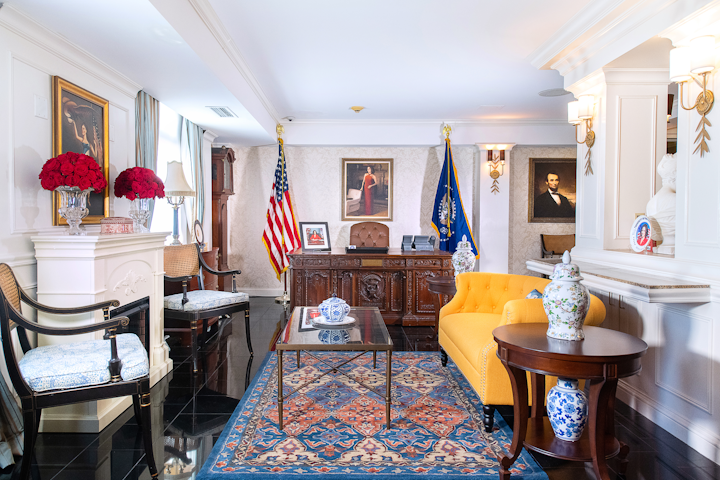 Photo: Courtesy of Hamilton Hotel
Photo: Courtesy of Hamilton Hotel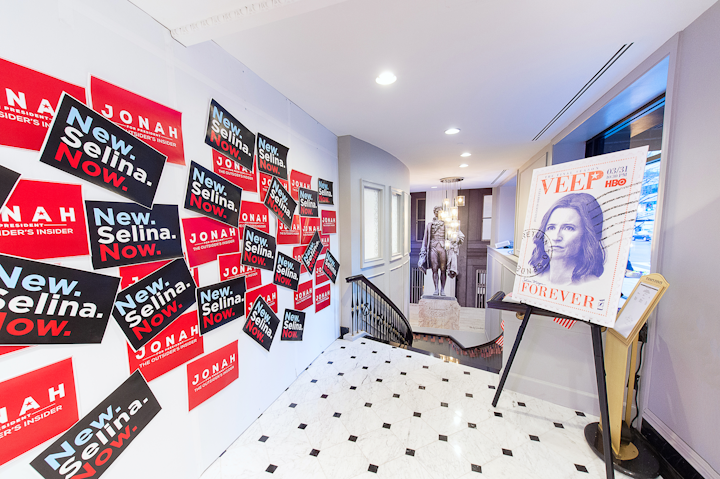 Photo: Courtesy of Hamilton Hotel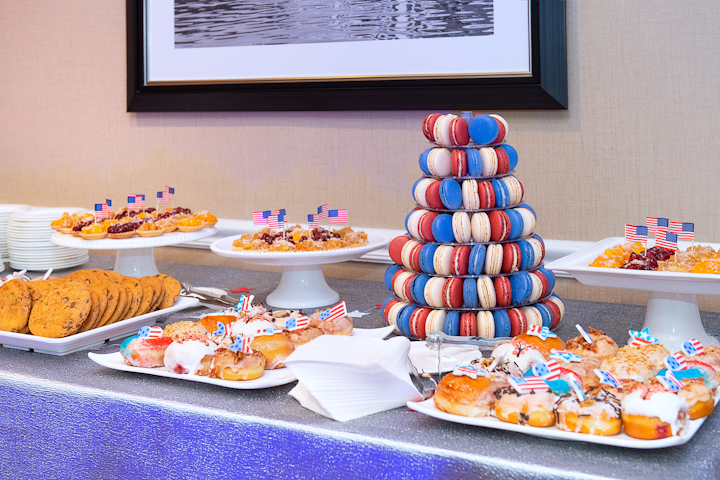 Photo: Courtesy of Hamilton Hotel