Q&A: Inside 'Variety's Evolving Event and Conference Strategy
The entertainment media brand's chief marketing officer delves into the planning process for its expanding lineup of B-to-B summits and celebrity-driven events.
March 28, 2019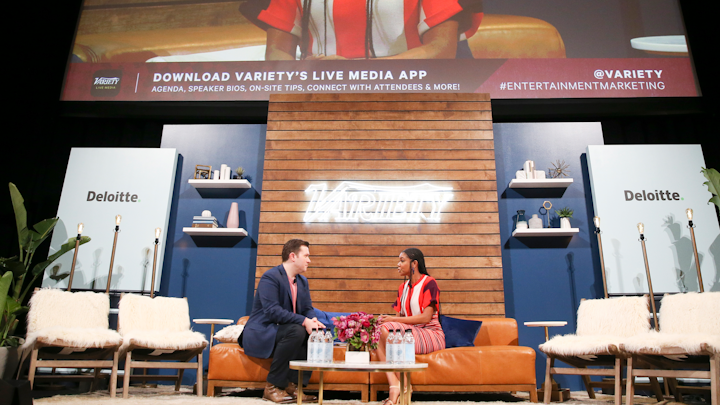 Photo: Courtesy of Variety
LOS ANGELES—Dea Lawrence is the chief marketing officer of Variety, where she oversees all of the media and entertainment brand's signature summits, roundtables, panels, and other events—a total of more than 70 live events per year. The brand's event business, called Variety Live Media, has grown substantially in the last few years, generating over 12 billion media impressions and two billion social impressions.
Variety Live Media is broken into two main types of events: celebrity-driven gatherings like its popular Power of Women events, plus B-to-B entertainment conferences, where Variety's editorial platform is leveraged to provide thought leadership in the worlds of entertainment, marketing, and more.
Here, Lawrence discusses how Variety creates meaningful partnerships with sponsors—while still keeping the brand's editors at the forefront—plus how events can be effective catalysts for social change, why last week's Entertainment Marketing Summit was the most-attended edition yet, and more.
First, tell me about your B-to-B entertainment summits. What goes into planning those?
There's tremendous competition in summit planning and in the world of producing a conference. I think that a lot of people have this idea of, "Oh, we're going to go into the summits business or the conference business and we'll make all this money." But you have to really watch your margins, you have to plan it very carefully, and you have to really spend time thinking about how you are going to get the best quality audience in.
It has taken us a number of years to get the formula right, and I think that we're definitely winning in this space right now. We have a programmer, Susanne Ault, who sits down with the editorial department and maps out what we're going to talk about and who from editorial will moderate—because it's very important that [Variety's] voice be in this.
Of course, we do have a component of all the summits that are pay to play, where we get sponsorship and we invite them in and they pay to speak on a panel or they pay to have branding. ... [But] we have to have Variety in the room, and we have to have our editorial voice there. That is why people are paying upwards of thousand dollars to attend our summits.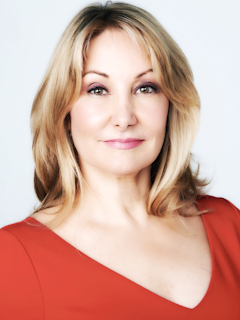 Dea Lawrence has been Variety's chief marketing officer since 2015.Photo: Courtesy of Variety
So our programmer identifies who the keynote is going to be, where the hot conversations are. She comes up with lists, and every week we sit down and we review all of the keynotes and the panel speakers, and then she'll work with editorial to identify who they want to have on their panel.
Then we have the event producer. That person is responsible for securing the venue, negotiating the price, working with the set designers, and all of the other deliverables that go into making the event happen.
What goes into the marketing strategy for these summits?
I have two people on my team that are responsible for the marketing plan to sell the tickets. [In the past,] that strategy wasn't so laid out—we'd try and sell tickets from different lists of barters and organizations we've gone to, but it wasn't really identifying the right organizations.
So now we maintain our own lists. Email works very successfully for us, as does marketing on Facebook. But the way we curated these lists is through a lot of barters. We have over 200 barters throughout the year with different organizations that want us to be media sponsors. So what we'll do is, in the media barter, we'll ask, "Can we blast one of your lists?"
It's important to identify the right list for the right summit, of course. We don't want to be blasting, say, the Knoxville Comedy Festival when it doesn't have the right attendees for our Entertainment Marketing Summit. So a lot has gone into really building these correct lists, and we spend a lot of time figuring out ways to always improve those lists. How many times do we have to hit them? What's the right header? What is the right marketing message? Who are the right speakers? Who resonates?
Then we lay out our social-media strategy, which is part of the marketing plan—and there's also a social media strategy for the sponsors. We always say, when you come and work with us it's not just a day-of experience. We heavily market the speakers before the event, and after the event there's a lot of recap on what they said.
And then, of course, sales is a very important piece of all of this. We have a dedicated sales team for the summits, and they're really great with identifying and really bringing in the right sponsors so that everybody's adding value.
Tell me about the day of the summit. How are you engaging attendees?
So [on March 21,] we did our most popular summit, the Entertainment Marketing Summit. Any time we talk about marketing or have speakers who are marketers, people want to come.
We always do audience surveys, and one of the things we kept hearing was that people aren't getting enough time to network. So we've really tried to figure out how to encourage networking. I always get up and tell guests to meet everyone at their table, and we always have networking breaks. For a number of years we had taken the mics out of the audience, because we couldn't control what people were asking. But now that we've been able to increase the quality of the audience, the questions are naturally more sophisticated. So for our most recent summit, we put the mics back so people could actually engage with the speakers and ask questions.
We also asked the panel to stay behind, and we created a speaker lounge so guests can go in and interact with the people they just saw on the panel, rather than having the panel just get up and leave. We always have a cocktail hour, so what we've started doing is bringing the cocktails in early—so that right before the last panel, people will start drinking and they'll be encouraged to stay. That has been successful for us.
We've also been raffling off prizes, which is a great way to keep the audience with us.
How importance is the design for these summits?
Set design is another area we always want to keep improving on—making sure sight lines aren't blocked, making sure the talent is in the right place and the right light. For summits, sometimes sets can be a bit boring. We try to figure out how to make the set more comfortable. How do we make it more inviting? More interesting?
Location is important. It has to be central, it has to be on the bottom floor. You lose people when you make them get on an elevator or go up stairs. Parking has to be easy. The venue has to be big enough to get everybody in, but what do you do when some of the rooms are too big? How do you reinvent the room when you're only there for one afternoon or one night? How do you stay in a budget, and keep coming up with interesting sets?
What we do is experiment with different production companies. We work with [experiential agency] Gradient in New York, for example, and they've really elevated our events.
The other type of events you work on are invite-only, celebrity-driven gatherings. How is your approach different there?
Well, the events themselves are still always for the entertainment industry—but the social play is for the consumer. So the process works very differently. For these events, we hire an outside PR firm, and Variety's [director of features and events] John Ross works closely with them to get the right people in the room, to get the right people to honor.
Whenever we do [celebrity-driven] events, we usually honor someone. Honoring helps ensure the talent is going to be there. When you're honoring, sometimes it's better to pick more than one person in case they get sick or cancel at the last minute.
So for example, we have our Power of Women event in New York on April 5, and in Los Angeles in October. This is probably the biggest event that we do; we have about 600 top women in entertainment that come in L.A., about 450 in New York. The events are designed to honor five women for their contributions to a philanthropic cause.
We've honored Natalie Portman, Oprah Winfrey, Gwyneth Paltrow, Gayle King, Margaret Atwood, Alicia Keys. This year we're honoring Bette Midler, Kacey Musgraves, Gigi Hadid, Taraji P. Henson, and Christiane Amanpour. So we don't just get movie stars, we also get journalists and people of note. A lot goes into making sure the list is balanced, that we're getting people from different areas and coming up with interesting choices.
And the editorial team is also involved with those events?
Oh, absolutely. We'll sit down with co-editor in chief Claudia Eller and it's her decision. We weigh in, but it's her decision. The other co-editor in chief, Andrew Wallenstein, is also very involved in these decisions; he's driven a lot of the thought leaders that we've gotten.
Variety also hosts invite-only, celebrity-driven events, such as its annual pre-Emmys party in Los Angeles.Photo: Courtesy of Variety
Regardless of the type of event, how do you create meaningful relationships with sponsors?
Here's what you can't do: It can't be an experience that anyone could have, like it could be Nike or Apple or Kate Spade and you just swap the logos. You can't do that. It has to be a special activation. We spend a lot of time ideating ideas for activations, with the agency, with the client directly; we have a deck filled with different types of executions that we've done.
When we come up with something custom, it also has to be right for our brand. Since Variety is really in a growth mode right now, we're in a position to say no to a partnership if it's not right for our audience and brand. Because we feel like if we give our audience something of great value, it will build itself and it will naturally attract the advertiser. If the quality of our editorial is high, if the quality of our events is high and meaningful to the audience, then the money follows.
Something we're finding that works really well is the curated experience, the custom experience. We have certain annual events we're committed to—Power of Women, Power of Young Hollywood, Power of Broadway, the Variety Inclusion Summit, parties like our Emmy party. But what we're also doing now is working with brands on new events.
We just did this with Giorgio Armani [around the Oscars in February]. We asked them what they wanted to do, and learned they wanted to celebrate makeup artists. So with our editorial department, we selected five outstanding makeup artists in the entertainment industry, and threw a dinner with Armani. It was a beautiful dinner with the artists plus Armani's official makeup artist. It felt so special and custom, like a room you really want to be in. It's important for [our events] to feel exclusive, to be sophisticated, to be glamorous.
And it's always about the media. It's not just about the event. We're always pushing out social media, articles, photos; that's why brands want to activate with us, because of how much social and press they'll get out of it.
We'll also sometimes do contests or raffles with brands. We could do all kinds of custom drinks and gift bags and a lot of photo booths. We're always trying to come up with what's different, what's unique, what can we offer.
One last thing: I know your panels and events frequently discuss things like women's empowerment, inclusion, and diversity. Why do you focus on this?
We also did a Criminal Justice Reform Summit [with Rolling Stone in November]; we're really proud of that. We had Van Jones and Kim Kardashian West, who helped get Alice Johnson out of prison. It was right when President Trump was going to the sign the bill to start the process of prison reform; we actually were able to make the announcement from the stage during the panel. It couldn't have been better timing.
So it's important to us that we're not People magazine. We're not Us magazine. It's not about fluff. We're a serious publication. The number-one word that our readers attribute to us is "trust." They trust us. So we have to have weight to what we're doing.
That's why we always tie in a charity angle or cause, something that we're furthering. These are also important issues to the people that work at Variety—we all want prison reform. We all believe in diversity and inclusiveness. We want to see that further in the industry. So it's important to us to have these serious conversations. We're very proud of them.
What's next after the Time's Up movement? How do you improve the situation so that women are getting paid more and getting the opportunity for more senior roles? We spend a lot of time thinking what can we do next, what's the next conversation we need to be involved in.
This interview has been edited and condensed.