Top Industry Pros Share Their Tips for Better Events
Sharon Sacks, Jes Gordon, Christian Lachel, and other speakers shared their tips for success at BizBash's Event Innovation Forum in Los Angeles.
July 24, 2017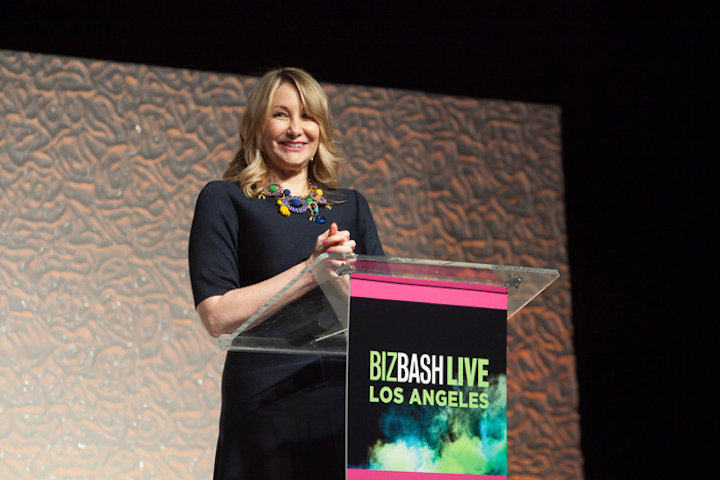 Photo: Haute Photo Video
On July 19, BizBash hosted the Event Innovation Forum as part of BizBash Live: Los Angeles at the California Market Center. The TED-style conference brought six speakers from a variety of backgrounds to the stage; here's a roundup of their tips for creating an emotional connection with attendees, defining an event's purpose, embracing new technology, and more.
1. Communicate a clear message and purpose.
Jeff Olsen, the director of special events for the Children's Hospital Los Angeles Foundation, noted that "event messaging is basically short-term branding." With only a few hours at an event, he explained that clear messaging is crucial to tell the audience why they're there and to lay the foundation for future engagement. "Once you lock down your event's 'why,' you can start developing your specific goals. Never launch an event without knowing how you'll define success." 
Christian Lachel, the executive creative director of BRC Imagination Arts, also stressed the importance of planning out the story you're trying to tell for your brand or organization. "All great stories and experiences have a central theme," he said. "It becomes your north star. If you develop that theme, it can work across all platforms."
Dea Lawrence, the chief marketing officer of Variety, regularly plans events where celebrities are present. She says the addition of A-List talent makes it even more important to define an event's purpose. "Are we doing this to complement an actor's campaign, to raise awareness for a charity? What type of content are we trying to create?"
Added Lachel: "If you start a project with tons of great ideas but they aren't heading anywhere, they're just great ideas."
2. Get your audience engaged and sharing.
Several speakers stressed the importance of listening to your audience and getting them to participate and share your ideas on social media. "Not only must our events be entertaining, but they have to be a place where business gets done," explained Lawrence.
She also recognizes the power of deep engagement on social media—especially when it comes to celebrities and influencers. "You have to get celebrities to participate and have fun," she said. "If they're having fun, they pull out their phones and start posting on their Instagram and Twitter accounts." 
Lachel noted the importance of what he calls "bond-and-connect" moments, where guests are talking to each other and interacting with the brand. "Don't underestimate the power of two-way conversations," he said. "Build in surprise-and-delight moments. It's ultimately about creating things that make us come together. Let people share stories and celebrate."
It's important to keep people interested after the event ends, too. Olsen stressed that events should always have a call to action. "Your audience has to leave knowing how they can help you out. They have to be invited to join you on your journey," he said.
"Ultimately," Lachel said, "The audience will tell you if you got it right."
It's also important to stay engaged with brands and sponsors. "Partnering with Variety means brands participate beyond just the on-site event," said Lawrence. She cited the example of Lorac Cosmetics: In addition to sponsoring last year's Variety Power of Women event, the makeup brand provided makeup for the related cover shoots and for the celebrities in attendance—increasing its brand awareness.
3. Create an emotional connection by engaging all five senses.
While interactive experiences and social-media engagement are vital, Lachel also emphasized the importance of tapping into guests' emotions. "We are in the business of creating incredible moments and opportunities that connect us," he said. "Ask yourself a key question: Does [your event] inspire, does it engage, does it connect with your audience? And does it transform your audience and compel them to share it with others?"
He explained that he likes to use taste, aroma, and touch to enhance visual storytelling. "We call it brand theater, where we bring people in and unfold the story in a very dynamic and visual way. Make the audience feel the story."
Olsen likes using music to set an event's tone. "Music has a real power to put us in a specific mental state," he said. "It can transport an audience without them even realizing it's happening." Lachel agreed, calling music one of the most underused aspects of experiential: "Music can help you enhance a moment, create a mood, create an emotional arc."
[PULLQUOTE]
4. Don't be afraid of new ideas.
Ashley Crowder, the C.E.O. of tech company VNTANA, discussed how the latest technology can be integrated into events—specifically, virtual reality and augmented reality. "Events are a great way to test out new tech," she explained. "It's a set sample size, a finite duration, and you can measure the impact and see the results."
Crowder stressed that augmented reality is the future of events. "It's putting the digital into the real world," she said. While VR is a very individual experience, AR is a bit better for the event world, when you have hundreds or thousands of people coming to attend an experience." She cited an example where a brand created a treasure hunt using AR, which got guests having fun, interacting with each other, and exploring all areas of the event.
New ideas don't just mean technology—sometimes they're a bit more, well, natural. Jes Gorden, the owner and creative director of Jes Gordon/ProperFun, discussed how the legalization of marijuana in an increasing number of cities will affect the event industry. She pointed out that in Colorado, the number of marijuana dispensaries outnumbers the number of Starbucks, three to one. And as a result, "The quality of events in Colorado has raised because more people are going to party there," she noted.
Gordon did, however, stress the importance of educating staff on marijuana use and making sure everyone feels comfortable. "Confirm your state's laws and policies, partner with local dispensaries, and educate your staff on safe consumption," she said. She also recommended timing consumption carefully throughout the evening so guests aren't over-indulging, as well as having an EMT on site.
Sharon Sacks, the president and founder of Sacks Productions, summed up the importance of embracing new ideas, trends, and technology: "Surround yourself with creative and knowledgeable people and be open to collaboration and new ideas. … Do not become complacent in what you know and what you do."
5. Invest in yourself, and appreciate your career.
Sacks said she thinks the most important thing event planners can do is invest in themselves, and focus on expanding their knowledge and creative network. "Develop impeccable communications skills," she advised. "Communication determines how you reach your audience, develop trust and enthusiasm for you and your brand, and your likability. … Be deliberate in what you say and what you write."
When asked about her event-planning bucket list, Sacks said she's love to plan a wedding for Prince Harry. But, she added: "Our life [as event planners] has so much positive energy and so many beautiful locations and so many people to make happy and so many new trends to develop. My bucket list is unlimited."
Featured Venues/Suppliers: