TV Upfronts Offer Song-and-Dance Sales Pitches
While blatantly begging for advertiser dollars, network execs showcased their new fall lineups amid showy production numbers, star power, and posh parties. Here's our complete report from Upfront Week festivities.
May 24, 2006
Ad buyers and television journalists got quite an earful at last week's upfront presentations. In between executives touting ratings, highlighting their reach of key demos, and spouting other industry-speak, Mary J. Blige sang of ABC as the "One" network; the cast of Jersey Boys changed "Big Girls Don't Cry" into "Upfronts, Please Buy" for CBS; and the Black Eyed Peas performed a new version of "Let's Get It Started" customized for the CW. And those were just a few of the tongue-in-cheek yet blatant appeals from the networks to convince advertisers to open their wallets. This year the networks were definitely up front about their purpose.
Naturally, the networks and related industry firms put on plenty of parties, too, and the week was packed with star appearances, buffets, and photo ops. And lest the celebrities feel jealous of the media buyers getting wined and dined so heavily, magazines and product marketers staged their own parties and gift lounges where the talent in town could get pampered and load up on free merch.
Fourth-place network NBC kicked off the week on Monday with its presentation at Radio City Music Hall. Attendees were chomping at the bit to get in, waiting in line outside for more than an hour before the start time, leading to a mad scramble for seats once the doors were opened. Luckily for the V.I.P. guests, including Donald and Melania Trump and Regis Philbin, the center section was reserved for them.
The presentation had a humble and low-key tone as the network poked fun at its recent lackluster ratings. Kevin Reilly, president of NBC Entertainment, unveiled NBC's plans for the coming year during the event, which was planned by John Miller, chief marketing officer for NBC Universal, with Bob Holmes and Scot Chastain assisting as hands-on producers.
While the show included considerable star power, with casts of new and existing shows taking the stage to introduce clip montages and provide witty banter that got a fair amount of audience laughs, there were no surprises. Prerecorded upfront-related sketches with show stars also went over well, but the only live stunt came when John Lithgow and Jeffrey Tambor, stars of the new sitcom 20 Good Years, were raised onto the stage sitting astride motorcycles.
A few small audio problems—music cutting in too early and mics not working—slightly marred the proceedings, and the audience was most engaged when the commentators of the new Sunday night NFL broadcast, including Bob Costas and John Madden, threw autographed footballs into the audience. One man actually tackled another to catch a football thrown into the balcony by former Pittsburgh Steeler Jerome Bettis.
The NBC party followed at Rockefeller Center on the restaurant level linked to a tent erected over the ice-skating rink due to the week's rainy weather. Planned by Blaise Aldridge, vice president of corporate events, the crowded and lively event gave advertisers a chance to mingle with the stars and pose for photos. Catering by Restaurant Associates handled the food, Frost Lighting did the lighting, and VJ Mike Hodgson layered footage from NBC shows with logos and special effects, as well as live footage from the event.
Later that night NBC's top brass and talent headed to Buddakan for a private cocktail reception, hosted by Reilly and Jeff Zucker, and on Wednesday night the NBC Universal Television Studio hosted a party overseen by Curt King, senior vice president of publicity, marketing, and communications, at Top of the Rock, a move from its traditional home at the Four Seasons. (The William Morris Agency did go to the Four Seasons on Monday night, drawing a list of high-ranking TV executives.)
To cater to celebrities between network events, Lucky magazine hosted its third annual Lucky Club gift and hospitality suite at the Ritz-Carlton Hotel on Monday, Tuesday, and Wednesday. More than 150 celebrities—among them Mischa Barton from The O.C. and Justin Chambers from Grey's Anatomy—picked up freebies at mini-boutiques featuring products from Biolage, Cosabella, Keds, L.A.M.B., and others. Fingerprint Communications helped out with PR, celebrity outreach, and sponsorships, and Mark Stephen Enterprises handled production.
In stark contrast to NBC's traditional formal presentation, Tuesday morning kicked off with GolTV's energetic breakfast and production at the 26 & Helen Mills Theater, organized by Eileen Montalvo, the all-soccer network's executive vice president of sales and marketing, and production company Angel City Designs. Considerably high-octane for 9:30 AM, the event managed to pump up its more than 100 guests with actors from Posh Ability dressed in costumes and jerseys posing as the "12th player"—GolTV's concept of the passionate soccer fan advertisers are trying to reach—and referees mingling and playing drums, albeit sometimes too loudly. Catered by RCano Events, the spread included a yummy breakfast burrito bar, chicken empanadas, and tropical juices.
Also Tuesday morning, Fox Television Stations and Twentieth Television's first MyNetwork upfront presentation took to the stage at the Hilton Theatre, with Angel City and RCano Events assisting here, too.
Tuesday afternoon Stephen McPherson, president of ABC Entertainment, outlined his network's coming season at one of the week's showiest presentations, in Lincoln Center's Avery Fisher Hall. With its past two seasons of hits, ABC's pitch was decidedly more upbeat than NBC's, conveying a tone of confidence and innovation.
To promote its new marketing tagline as the "one network," a clip montage set to the U2 song "One" was capped off by the arrival of Mary J. Blige on the stage, singing along with Bono's prerecorded part. As a follow-up to last year's Busby Berkeley-style number with the ladies of Desperate Housewives and creator Marc Cherry, this year William Shatner of Boston Legal performed a song-and-dance routine about the "beautiful boys" of ABC. McPherson himself performed another dance routine, with professional ballroom dancer Edyta Sliwinska from Dancing With the Stars.
While ABC staged a more elaborate production with extra stunts—including a spoof of the Super Bowl-night shower scene on Grey's Anatomy featuring the show's male actors rather than its female stars—it had fewer onstage star sightings. However, ABC's after-party, planned by Brenda Major, vice president of conference planning and special events, was chock-full of talent. Advertisers entered the party in the Tent at Lincoln Center to find the network's stars standing by flat-screen televisions that pictured their shows' respective logos.
The elegant food buffet from Catering by Restaurant Associates was quite a spread, showcased on trios of long banquet tables flanking each side of the tent. There were trays of crispy panko-crusted chicken breast salad, pan-seared Florida grouper, a black Angus T-bone steak carving station, and a sushi bar. Mini-desserts included pistachio and amaretto ice cream cones and key lime tarts.
Guests enjoyed the pleasant weather in the outdoor courtyard, and visited fancy toilet trailers from Elite Coaches. At one point, a dance floor with a disco ball at one end of the tent served as a showplace for several of the professional dancers from Dancing With the Stars, who pulled attendees from the crowd to dance with them. Otherwise, the music was good party music by DJ Steve B. from Hal Prince Music & Entertainment—and quiet enough for conversation. (Scharff Weisberg supplied the audiovisual equipment.) As a few people left the event, we heard them saying how much fun they had.
Nighttime parties kept the celebrities swinging after dark, with four Tuesday night parties vying for celebrities. Variety and Alliance hosted an event at Marquee that toasted the marketing firm's 10th anniversary. DJ E-Love spun the tunes and London Misher handled the press. Gotham and Vincent Longo hosted a party for 3 Arts Entertainment, who represents the magazine's current cover girl, Rebecca Romijn, at Stereo, with Fingerprint Communications coordinating sponsorships and Fox Greenberg Public Relations handling PR. The Gersh Agency took over the Thom Bar at the 60 Thompson hotel. And Entertainment Weekly and cosponsor Matrix Men's decked out the Manor with five 42-inch flat-screens displaying EW photos on Eighth Avenue and a styling station at the entrance for quick fixes (the company made a donation to the Fresh Air Fund for each celebrity who stopped by). Cocktail waitresses supplied by the Party Crew carried trays of food by Allure Catering embedded with plasma screens showing a loop of EW television images from the past two years.
While ABC celebrated with its upfront party, NBC Universal's Hispanic network, Telemundo, presented its lineup at Jazz at Lincoln Center. Bob Holmes, the executive in charge of production for NBC special projects and events, oversaw the sales presentation, and afterward, 1,000 guests poured in to the network's party. Alison Katz, manager of NBC Universal corporate events, worked with Devin Delano Productions to design the event, which took its cues from Telemundo's blue ad campaign. Blue mosaic-patterned lighting covered a wall of the atrium, which had a gleaming 40-foot-long white bar and a giant 10-foot Telemundo "T" projection. It was all about entertainment in the Allen Room, where street-style performers Rhythmics complemented tunes from DJ Frankie Needles of Mun2 (Telemundo's youth-oriented cable network).
Competing network Univision opened its presentation Wednesday morning with a rousing performance of the Havana Night Show, which featured 13 musicians, eight singers, and 32 dancers from Cuba. Before guests headed from the sales pitch at Alice Tully Hall to a luncheon at Avery Fisher Hall, they were treated to a closing performance by Enrique Iglesias.
Taking a page from Lucky, People en Español hosted a suite at the Tribeca Grand Hotel on Tuesday and Wednesday, capitalizing on the Hispanic stars in town for the Latin network events on those days. Produced by Landmark Event Services and held in conjunction with the magazine's fifth annual "Los 50 Mas Bellas" party, the gifting suite was a new addition to the week of TV events. Spin Shoppe Public Relations helped with sponsors.
Maxim also capitalized on the flurry of activity by holding its seventh annual Hot 100 party on Wednesday night at Buddha Bar, marking the event's first time in New York. BNC PR handled press for the event.
CBS rivaled ABC's wow factor at its presentation at Carnegie Hall Wednesday afternoon, produced by CBS vice president Jane Gottlieb. The cast of Jersey Boys performed a medley of the Broadway show's songs, and Mariah Carey sang "We Belong Together," a fitting message from the network to advertisers.
Although president and C.E.O. Les Moonves did not star in his own mini-movie this year as he has in the past, a preproduced piece showed clips of his previous exploits in the form of a news report from Bob Schieffer, which Moonves quipped was better than them starring in their own version of Brokeback Mountain. Other clips also got hearty laughs, including Mandy Patinkin singing the music inspired by his FBI show Criminal Minds, like "Tie You Up Buttercup" and "Strangler in the Night," and a mock-CSI brand extension, CSI: Telenovela, with real clips dubbed in over-the-top, soap opera-style Spanish. In addition to actors from shows new and old, incoming evening news anchor Katie Couric appeared onstage. Production Resources Inc. handled the audiovisual duties.
After the casual, fun presentation, a multitude of buses shuttled guests to Tavern on the Green, CBS's after-party locale since 1996. CBS's marketing and event team worked with Along Came Mary Productions to oversee this year's event. Throngs of guests fought their way through the maze of mirrors and rooms to find many food stations, including pasta, seafood, and dessert buffets. (One guest commented that the food was the best at this year's upfronts so far.) Massive floral arrangements by StoneKelly in green, purple, and blue accented Tavern's ornate look.
Thursday morning, the CW network, the new mishmash of the WB and UPN, presented a young, hip image to advertisers with a show at the Theater at Madison Square Garden. In addition to the Black Eyed Peas performance, highlights included a funny documentary the network commissioned to show its diverse viewers and a brief monologue by Chris Rock, producer of Everybody Hates Chris. A glass-tiled area on the stage proved to be a problem for many of the network's female stars in heels, with Tyra Banks of America's Next Top Model almost falling on her prized booty.
After the show, buses shuttled advertisers to a luncheon at the Bryant Park Grill, produced by Along Came Mary, where they could meet the network's talent amid a series of adjacent tents. A large, open central tent looked out onto the park's lawn and was filled with the network's green and blue signage with images from shows. With nice weather, regular parkgoers took an interest and turned their chairs toward the event, watching it as if it were a show in itself. The party ran a little longer than expected, and shuttle buses took guests over to Fox's afternoon presentation at the 69th Regiment Armory on Lexington Avenue.
The final presentation of the week, Fox's show was planned by George Oswald, Fox's senior vice president of creative services and executive producer of special projects, with assistance from Josh Mark, executive director of special event production, and Danielle Ring, associate director of special events.
A 15-minute delay in starting the presentation made an already restless crowd even more so. An energetic opening song and dance called "Come to Fox and Buy" by Alex Borstein and Seth MacFarlane of Family Guy perked up the crowd a bit, but it was the stream of network talent entering the armory through the aisles that caused the most stir, especially Kiefer Sutherland's entrance. But then the afternoon's lineup seemed to drag a bit, even though it didn't last any longer than any of the others. Perhaps the audience was just too burned-out by then.
Brad Garrett, star of the new comedy 'Til Death, did a brief and funny, if crass, monologue, and a marching band entering through the aisles playing the Fox sports theme woke up the crowd, but most of the presentation's gimmicks fell flat. A skit in which the American Idol judges pretended to judge Pete Liguori, Fox's president of entertainment, got the most laughs when Simon Cowell said, "This is the most bored audience I've ever seen in my life." Last year's Idol winner, Carrie Underwood, performed to fair audience reaction.

Buses shuttled attendees through slow rush hour traffic uptown to Guastavino's for the party. Planned by Tomiko Iwata, Fox's vice president of special events, with production by Angel City Designs, it was worth the wait. It was by far the hippest of the network parties. Angel City decorated the tented garden at the entrance in a red Asian-inspired lounge style with round red settees filled in the center with white hydrangeas and calla lilies by Flowers of the World and trios of crystal chandeliers covered in orange gels by Kinetic Lighting. Inside the modern look continued with white calla lilies and red uplighting on the high ceiling.
Although there were Polaroid photo op stations set up with some of the shows' casts, the event had far fewer logos decking out the space than the others and the talent mingled freely throughout the crowd—or as freely as one can in a space that was packed to the gills, as were all the network parties. (One memorable crowd moment: when Wentworth Miller from Prison Break got mobbed by women with cameras.)
Guastavino's buffets were typical of the week—with pasta, bass, steak, potatoes, and roasted vegetables as well as a sushi bar. Passed hors d'oeuvres, including mini-ham and cheese sandwiches, a white bean spread on toasted bread, and chicken satay, were particularly yummy. As the last party of the week, it lasted well after midnight with performances by the bands Boogie Knights and Dope MCs keeping the crowd entertained—and capping a long, packed week.
—Ellen Sturm Niz, with additional reporting by Mark Mavrigian and Courtney Thompson
Posted 05.24.06
Correction: This story has been changed to fix an incorrect identification of a CBS executive, and an incorrect name for the marketing firm Alliance. Corrected 05.25.06
Related Stories
Upfront Offers Out-of-This-World Activities
TV Networks Host Jokey Upfront Week Events
Kravitz and Chic Decor Headline Turner Upfront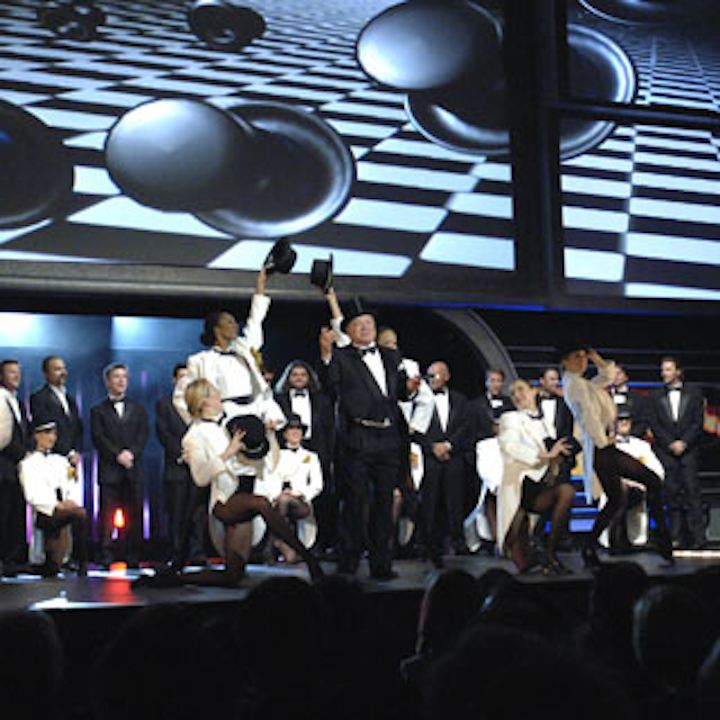 Photo: Donna Svennevik/ABC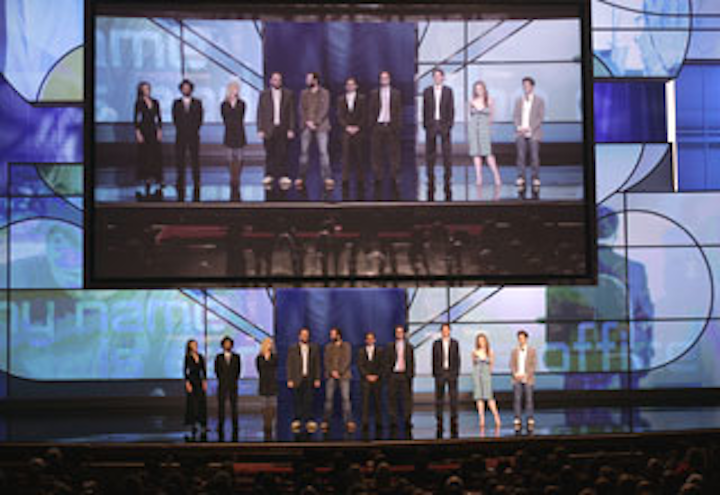 Photo: Paul Drinkwater/NBC Universal Photo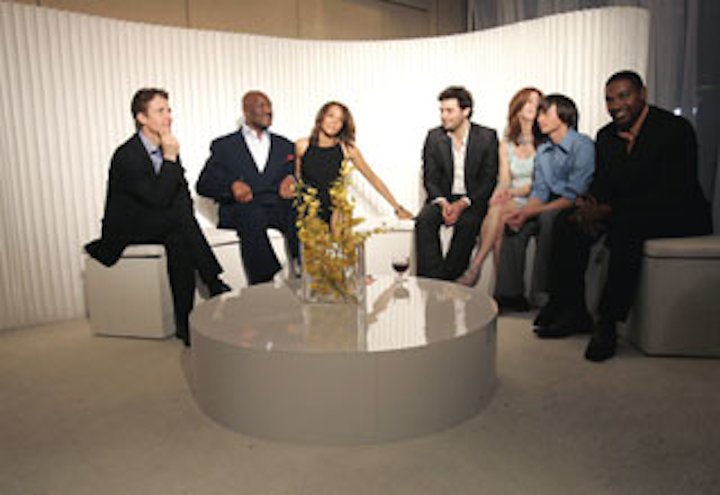 Photo: Virginia Sherwood/NBC Universal Photo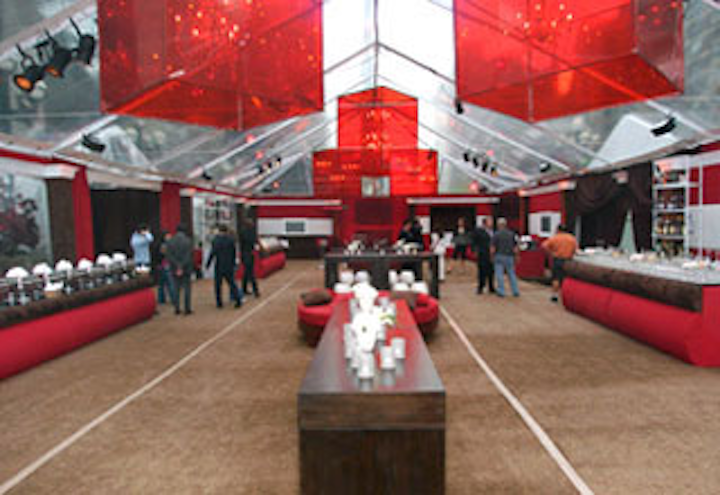 Photo: Jeff Thomas/ImageCapture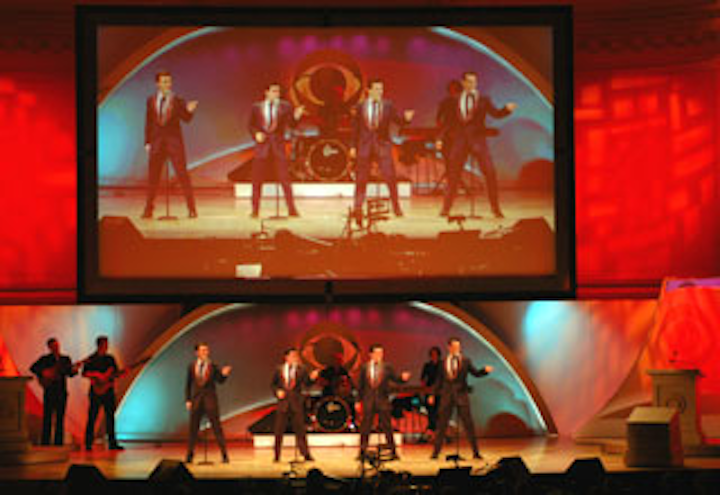 Photo: Jeffrey R. Staab/CBS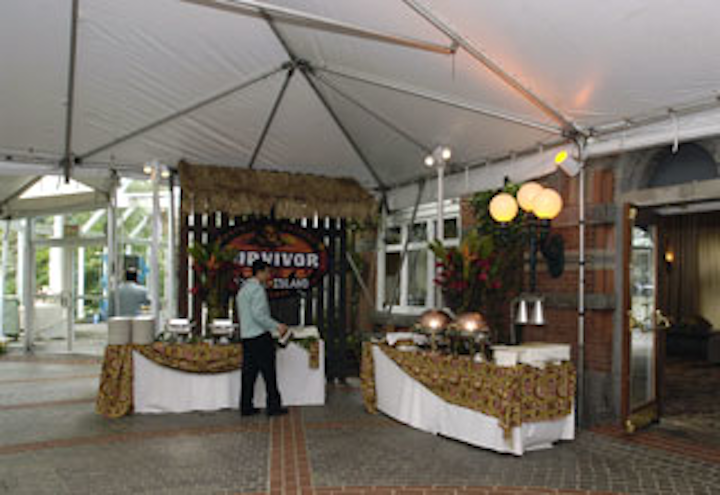 Photo: CBS Photo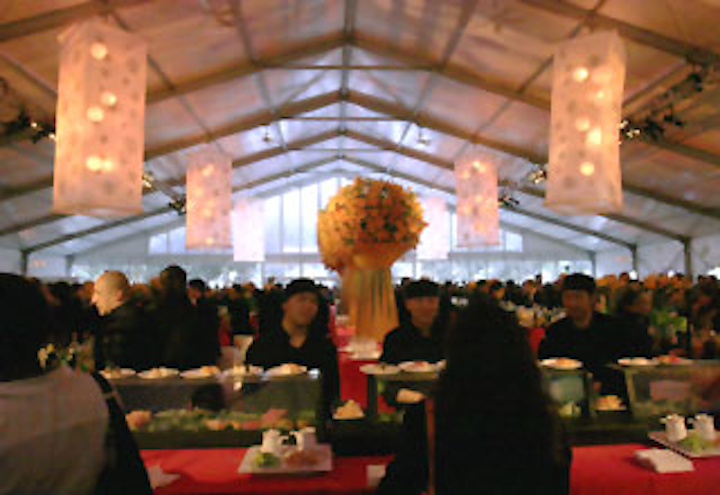 Photo: Heidi Gutman/ABC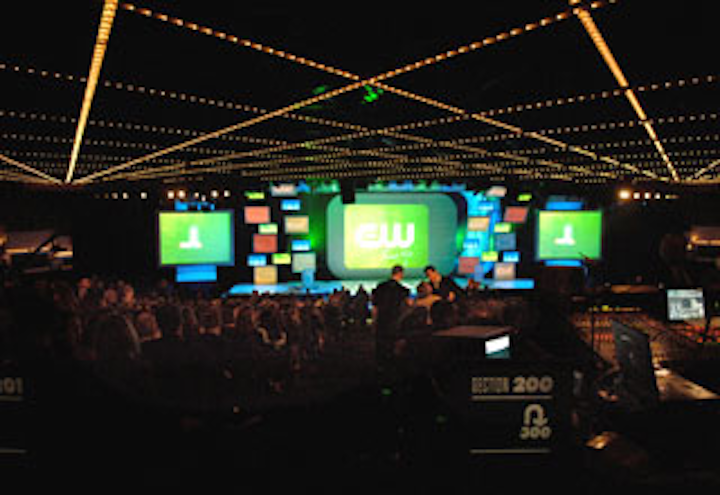 Photo: Jeff Neira/the CW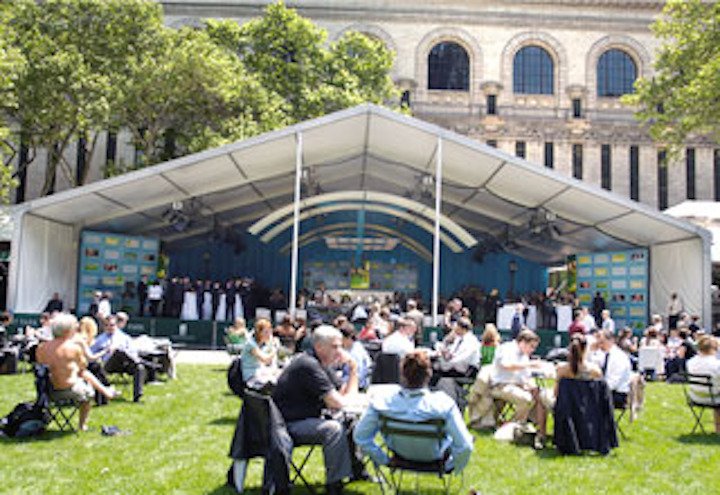 Photo: Jeff Neira/the CW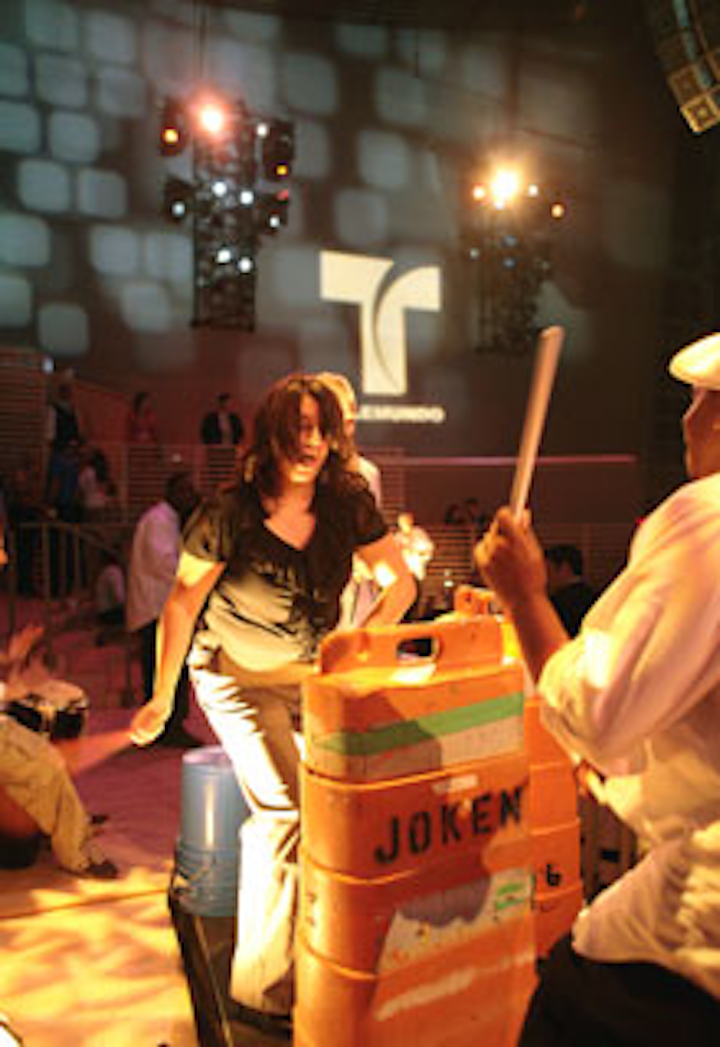 Photo: Courtesy of Telemundo
Featured Venues/Suppliers: