Kravitz and Chic Decor Headline Turner Upfront
The company's dual-network programming showcase highlighted its talent with logo-laden parties.
April 19, 2006
While the big broadcast networks are gearing up for Upfront Week in mid-May, the cable networks are pitching their shows to advertisers and agencies a month ahead. For the second year in a row, Turner Broadcasting took over the Theater at Madison Square Garden for its TBS and TNT upfront presentations. But this year's event—while relying on the same razzle-dazzle parade of new and old talent that marks any upfront event—had a decidedly different vibe.
Last year's event was inspired by one of the network's new series, Into the West, so decor elements included earthy green tones, moss, vines, and natural materials. This year, rather than spotlight one individual show, the idea was to focus on the networks themselves. "Because we were in the same space, we felt like we really needed to give it a completely different look and feel," said Laura Dames, senior vice president of marketing operations for TBS and TNT. "We decided to head more toward a contemporary, sleek look, with a pattern based on the shapes of our [two networks'] logos." The lengthy event comprised a late-afternoon cocktail reception, followed by an hour-long presentation, then an hour-long set by Lenny Kravitz, and finally an after-party.

To create the sleek, contemporary lounge look that Danes was after this year, David Stark Design & Production reinvented the theater's lobby space for the cocktail reception and post-presentation after-party by using white decor with purple and brown accents. Guests entered the space through a tunnel of billowing white fabric and deep purple carpet with a wood bead curtain at the entrance. Once inside, guests found themselves in a chic, modern space with frosted plexiglass wall panels dotted with the TNT and TBS logos. Brown wood beads covered lighting truss towers, and the beads appeared again as table skirts and lampshades throughout. Floral elements stuck to the white-and-brown theme; huge arrangements of white cherry branches and pussy willow dominated several tables, while others held small arrangements of white hydrangea, poppies, anemones, and ranunculus, and white phlox and tulips in wooden containers.

After cocktails, the nearly 2,000 guests headed into the theater for the business portion of the evening, hosted by Mark Lazarus, president of Turner Entertainment Group. Kevin James of The King of Queens (which joins the TBS lineup this fall), Kyra Sedgwick and the cast of the TNT hit The Closer, and William H. Macy and Kim Delaney, both of TNT's Nightmares & Dreamscapes: From the Stories of Stephen King, were all on hand. CNN's Anderson Cooper interviewed the actors about their shows and roles. After the presentation, Kravitz performed on a customized stage created by Atomic Design.

Madison Square Garden's catering menu included sushi at the cocktail party, while the after-party menu was made up of heartier meat-and-potatoes fare. Buffet tables held carved beef, creamed spinach, potatoes and batter-fried onion rings; pasta and Caesar salad; and a raw bar of shrimp cocktail and crab.

Getting the event set up was a several-day process; load-in began at midnight on the Friday before the presentation. One thing that helped the process go smoothly was the fact that most of the vendors were back for a repeat performance. "The group that we have together for this event is a group we've worked with for many of the big projects that we do," says Soren West of Atomic Design, the event's executive producer. "It's a bit of a family reunion when we get together. We've done so many complex events that we have a shorthand."

—Erika Rasmusson Janes

Posted 04.19.06

Photos: Susie Montagna (tunnel, cherry branches), Joanna Davis/Atomic Design (stage)

Related Stories

Turner Upfront Has Eagles, Natural Touches

Upfront Offers Out-of-This-World Activities

TV Networks Host Jokey Upfront Week Events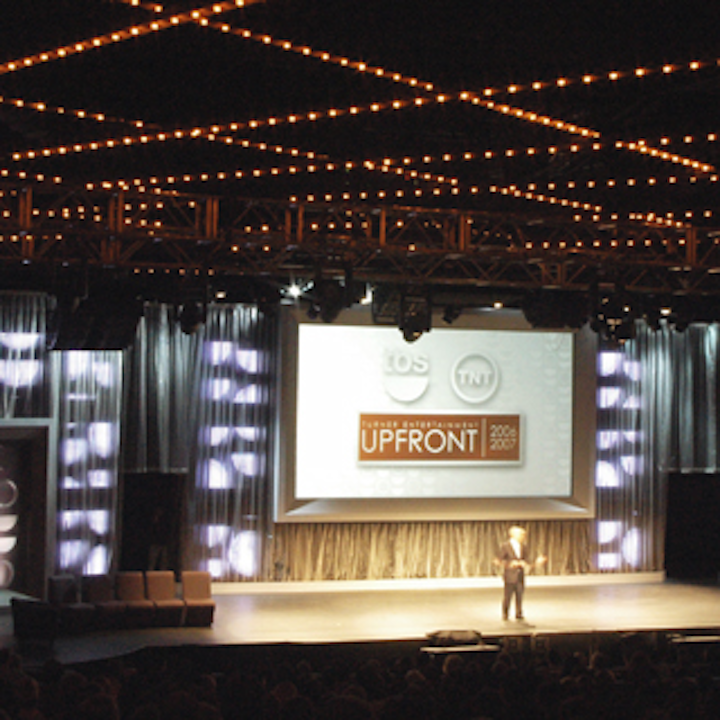 Photo: Joanna Davis/Atomic Design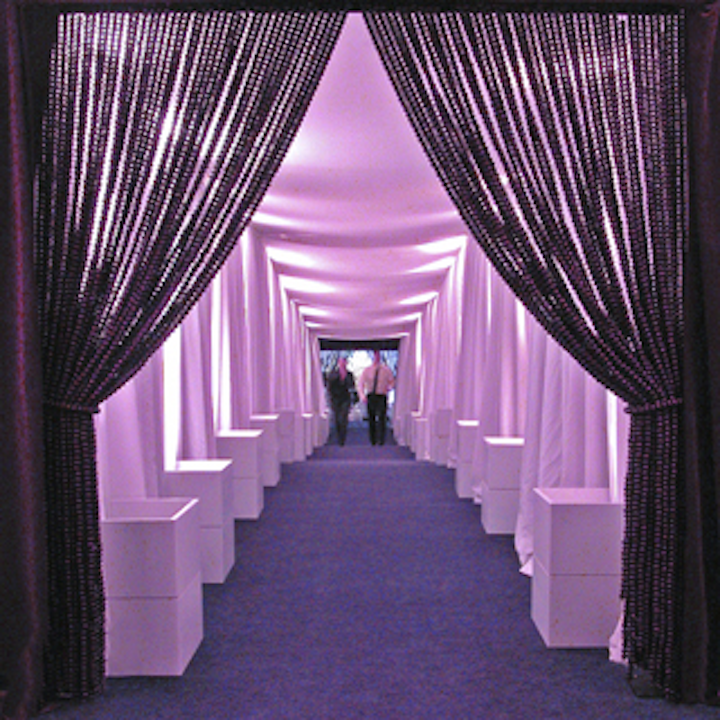 Photo: Susie Montagna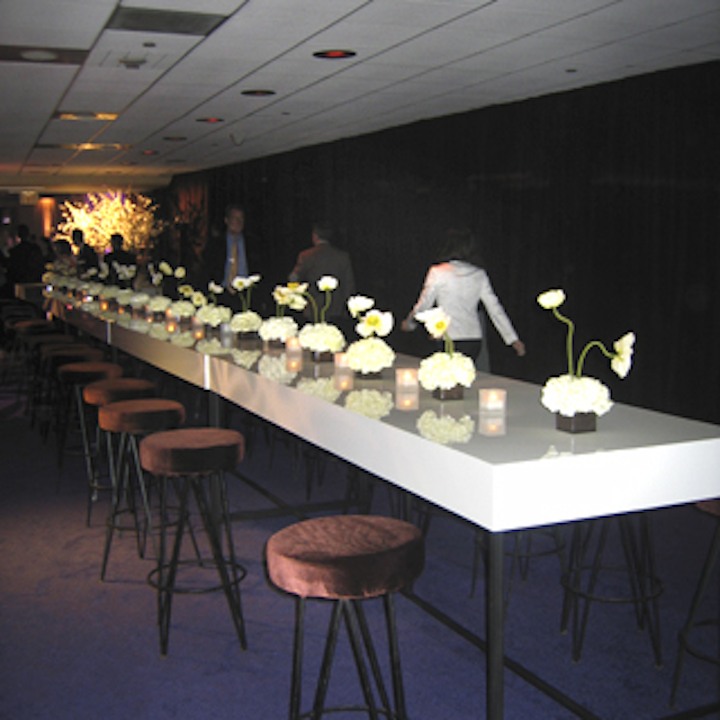 Photo: BizBash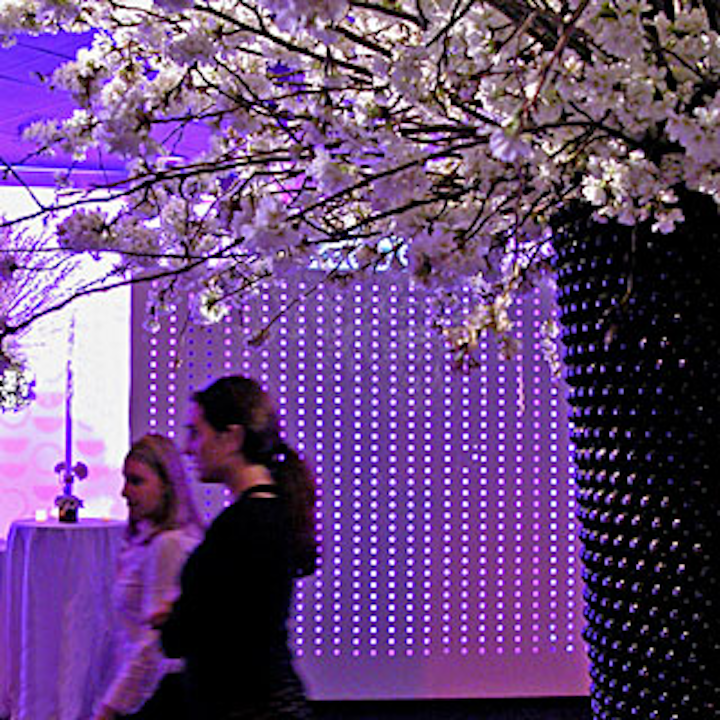 Photo: Susie Montagna
Featured Venues/Suppliers: