'Forbes' Demonstrates How to Tailor a Conference to Millennials
Later start times, long breaks for networking, wellness activities, and other strategic elements are in sync with attendee preferences.
October 27, 2016
Nearly 6,000 people attended this year's Forbes Under 30 Summit, held October 16 to 19 at various locations in Boston, and it is apparent that the conference is designed—both in format and content—to appeal to this young demographic. 
Forbes Under 30 Summit is an annual conference focused on topics such as science, technology, investing, media, creativity, and social good. It is one element of the brand's "Under 30" franchise known primarily for its annual list of 30 innovators under 30 years old in each of 20 categories. The conference attracts a crowd that primarily consists of current and former "30 Under 30" honorees and other young trailblazers, as well as investors, celebrities, educators, musicians, and political leaders. 
"We really know with this crowd. They all want content, but they also want to network like crazy. So we've been very smart and strategic in making sure that, yes, we bring them content but tailoring it to not being a full day sitting in a ballroom," said Cathi Culbertson, Forbes' vice president of event marketing and conferences.
This was the third edition for the event in the United States (Forbes hosted an Under 30 Summit in Israel in April), and for the first time organizers divided content into four themes—Tech, Capital, Impact, and Create—hosted at four venues: Faneuil Hall, Emerson University, Harvard Business School, and Northeastern University. On the two main days of content, Monday and Tuesday, each theme provided sessions just for three hours, either in the morning or the afternoon, to give attendees time to network and experience the other conference activities, which included additional programming for All-Access passholders.
Culbertson says the idea to spread the event around the city came from Forbes editor Randall Lane as a way to engage the some of the area's universities and to give attendees a reason to see more of the city.
"I was a tad bit nervous going into it because of the distance for Harvard and Northeastern, but the content that was at those stages was so compelling and these under-30'ers do show up. They are very eager to learn," she says. "But we were smart enough to not start at 8 or 9 a.m. We start at 10 a.m., so we're not forcing people to get up at the crack of dawn." Uber, one of the event's sponsors, offered discounted rides for attendees traveling to Harvard and Northeastern, the two venues outside the city center.
The four venues offered panels, TED-style presentations, keynotes, live demonstrations, and conversations with speakers such as Richard Branson, Jessica Alba, and Bobby Flay. In a fifth location, City Hall Plaza, organizers created the Under 30 Village as a central gathering spot for all conference participants. This area included the American Express Ideas Hub, where the founders of startups shared their companies' stories; the Experiences Hub, where sponsors such as Cole Haan, Mayo Clinic, Virgin Atlantic, Fidelity, and more created educational and interactive experiences; the Opportunities Hub, where attendees could meet with companies recruiting for new hires; and a V.I.P. lounge where sponsors The Macallan and Samuel Adams served beverages. The Under 30 Village also had a content stage, known as the Ideas Hub, where sessions took place only during times when the other four stages were dark.
In the evening, organizers created additional programming to appeal to the participants: a music festival on October 16, with artists that included Jason Derulo, Halsey, and Delta Rae; a bar crawl on October 17; and a food festival on October 18. And even with those late-night events, Culbertson says there was still a good turnout for an early-morning run led by Michael Phelps and a meditation with Deepak Chopra, reflecting millennials' interest in wellness.
Additional sponsors for the summit included American Express, HP, Dunkin' Donuts, and Ocean Spray.
Deepak Chopra session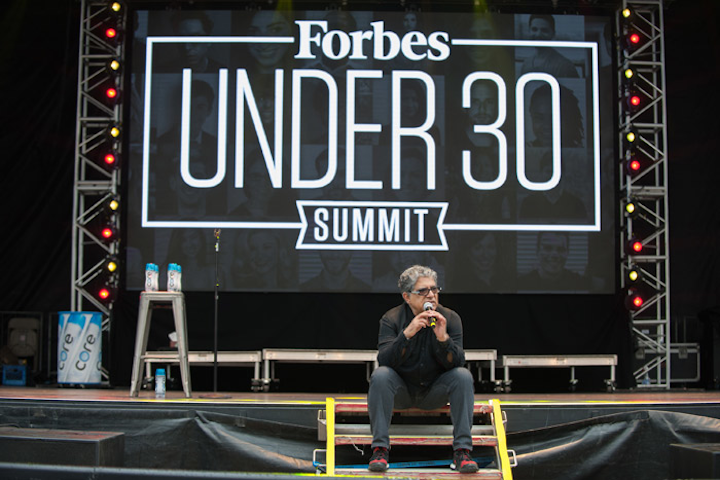 Photo: Courtesy of Forbes Media
Under 30 Music Festival
Photo: Benjamin Esakof /Forbes Media
Faneuil Hall activities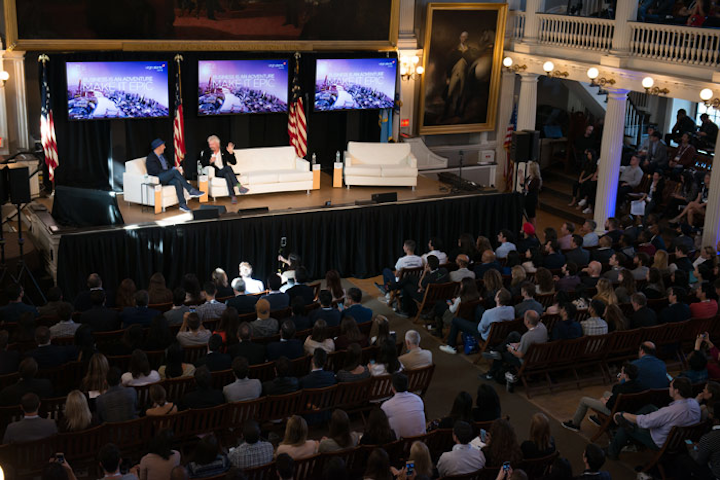 Photo: Melissa Ostrow /Forbes Media
Ocean Spray cranberry bog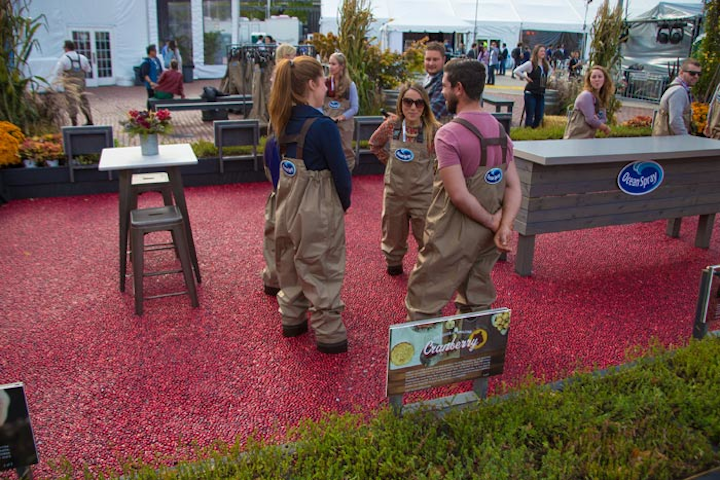 Photo: Courtesy of Forbes Media
Mayo Clinic Zen Lounge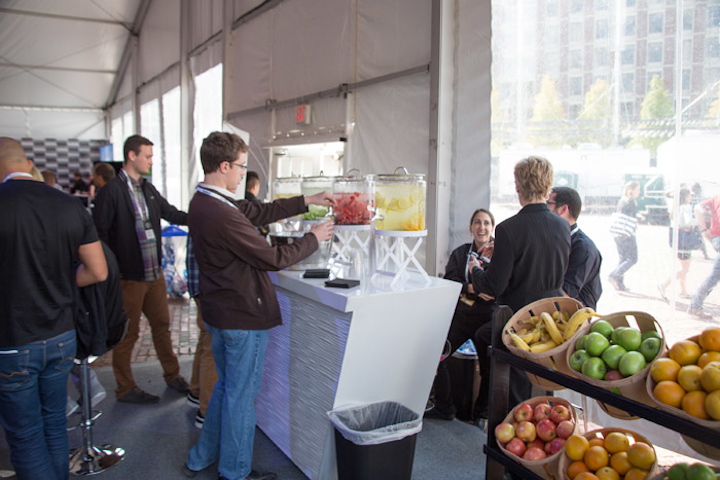 Photo: Courtesy of Forbes Media
Under 30 Village at City Hall Plaza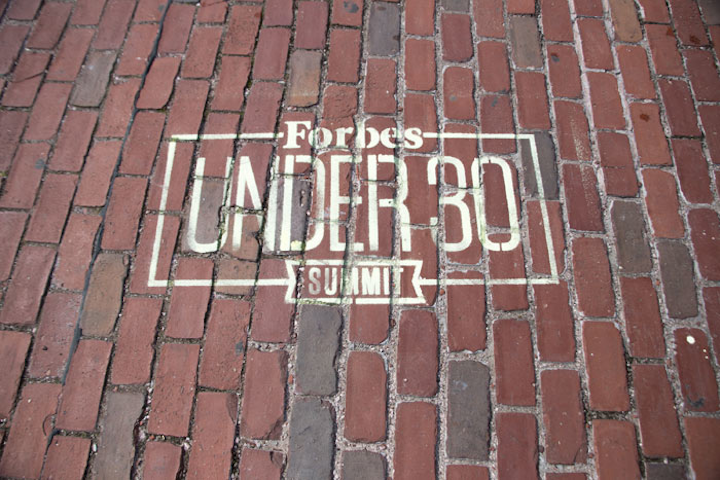 Photo: Courtesy of Forbes Media
Cole Haan interactive booth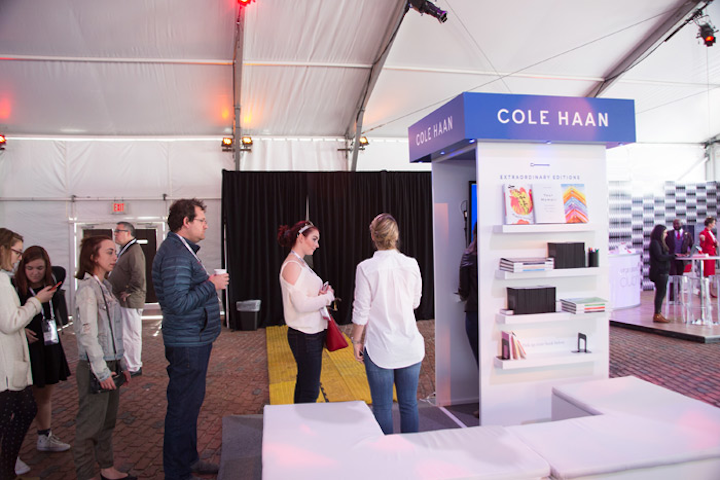 Photo: Courtesy of Forbes Media
Mayo Clinic booth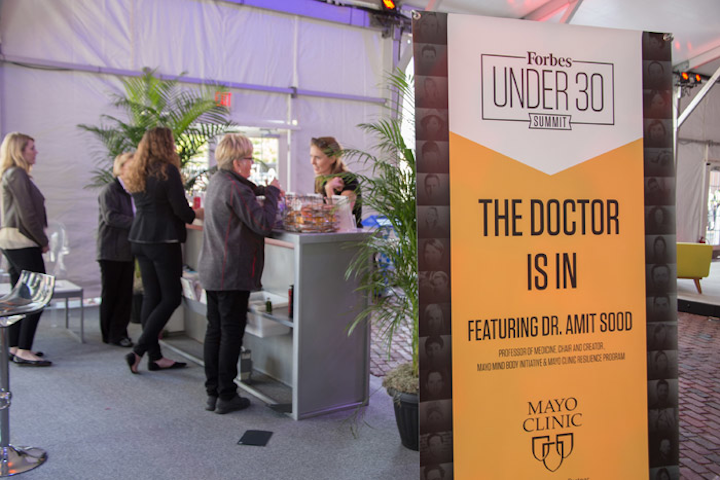 Photo: Courtesy of Forbes Media
Featured Venues/Suppliers: