How National Geographic Recreated Life on Mars in New York
In advance of the new Mars docu-series premiering November 14, guests could experience what life on the red planet is like.
November 1, 2016
National Geographic Channel colonized part of lower Manhattan last week for an interstellar experience that promoted its six-part documentary series Mars. The tented activation, called "Experience Mars," took place Wednesday to Saturday on vacant land at the corner of Varick and Canal streets and offered multiple virtual-reality activities, props from the show, and replicas of NASA's Mars rovers.
The television show, which premieres on November 14, combines a scripted drama set in the year 2033 about the effort to colonize Mars mixed with documentary-style interviews with SpaceX founder Elon Musk, astrophysicist Neil DeGrasse Tyson, science writer Ann Druyan, and others about the actual history of the space program and its efforts to reach Mars. Like the show, the Mars experience melded the fictionalized world of the Mars colonization effort with real-life NASA history and recreations of what it's like to travel through space.
"Our marketing team wanted to stage a big experiential activation for our global event series Mars that really stood apart from what is often seen on the streets of New York," said Chris Albert, executive vice president of global communications and talent relations at National Geographic Channel. "It was definitely the biggest premiere in our network's history and marked the start of our push to be the world's leading destination for premium science, adventure, and exploration content."
The experience consisted of four geodesic dome tents that each contained interactive activities designed to "test" whether guests were suited to join the next group of recruits for the habitat on Mars. The entrance dome, called "Mars Mission Module," featured scale replicas of four generations of NASA's Mars rovers along with clips from the television show playing on two screens.
The second, and largest dome, contained the centerpiece of the activation, a virtual-reality experience of landing on Mars—a key event from the series's first episode—paired with an amusement park-style ride that whisked guests into the air. Producers believe the 90-second ride, built by Tait Towers, is the first example of combining motion with virtual reality with a moving ride in one experience.
The third dome, the "Lo-Gravity Training Module," invited guests to see what it's like to walk on Mars. Guests stepped into compression pants, which were then zippered into AlterG low-gravity treadmills set to 38 percent gravity. Then, wearing Fusion VR head sets, they took a walk while viewing footage from a Mars rover.
Finally, the fourth dome, the "Mars Habitat Module," had two custom pressure booth simulators. Guests placed one of their hands into a spacesuit glove and attempted what should be a simple task: unscrew a nut from one bolt and screw it onto a second bolt. Performing it in conditions that mimicked those of a spaceship, however, made it much more difficult.
Work on the project began nearly a year ago—before some of the technologies used even existed. Civic Entertainment Group produced the overall activation with support from a number of partners including Production Glue, which provided creative, technical direction and production services.
Organizers estimated that about 3,500 people came through the experience over the four-day run. Visitors were encouraged to share on social media with the hashtag #CountdownToMars.
Other events to publicize the series included a world premiere of the show on Wednesday at SVA Theatre—where executive producers Brian Grazer and Ron Howard introduced the screening. The premiered also had snacks that included popcorn and Mars candy bars, as well as a panel discussion that included Mars actors and Dr. Mae Jemison, a former NASA astronaut and consultant on the show. The 800 guests were then shuttled down to the dome site. Another extension of the show's promotion includes a website, MakeMarsHome.com, programmed with virtual reality games that can be played using a Cardboard VR viewer.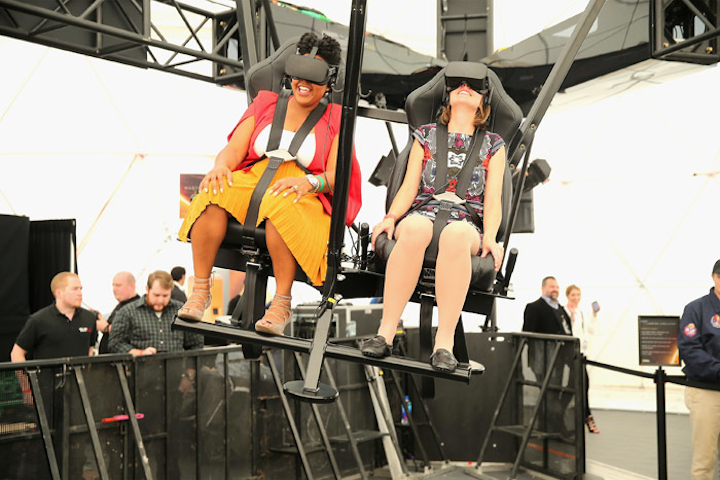 Photo: Jemal Countess/Getty Images for National Geographic Channel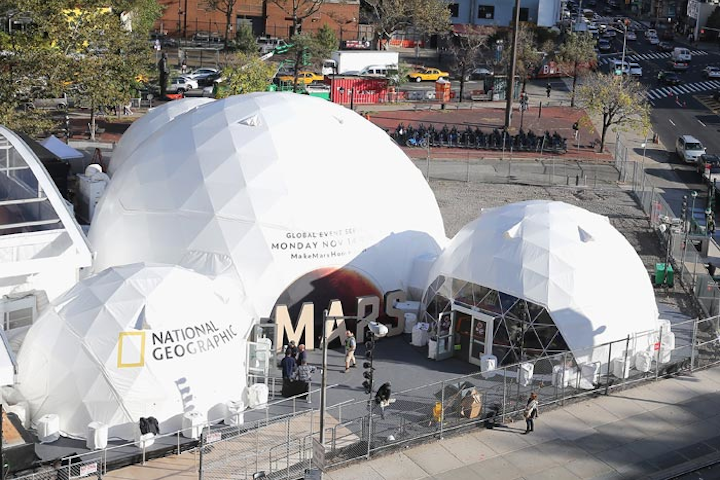 Photo: Jemal Countess/Getty Images for National Geographic Channel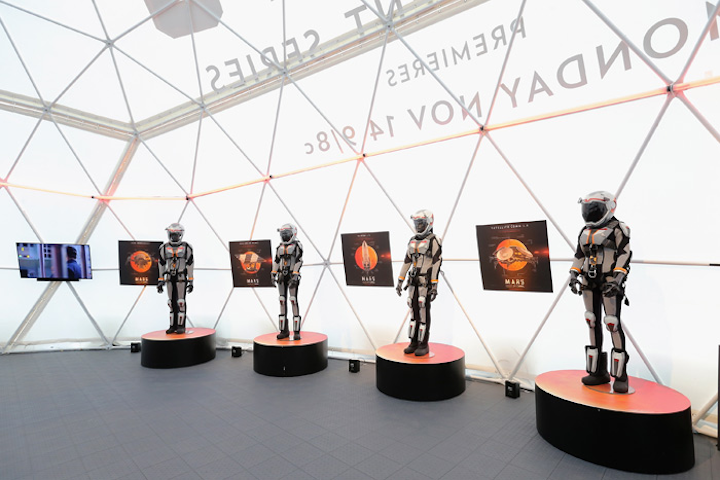 Photo: Jemal Countess/Getty Images for National Geographic Channel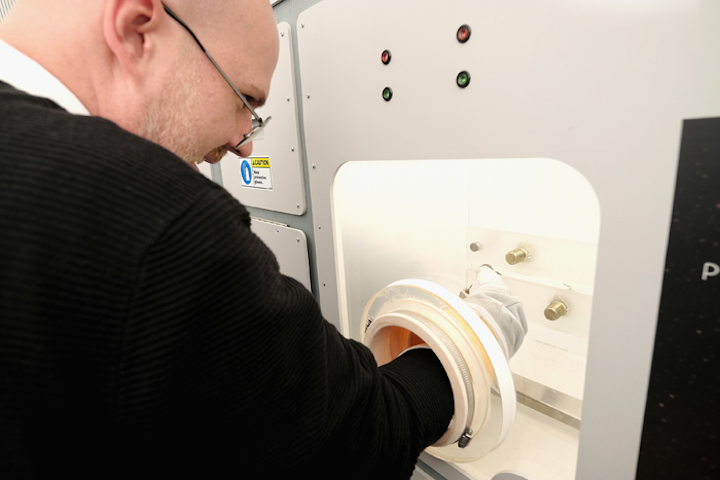 Photo: Jemal Countess/Getty Images for National Geographic Channel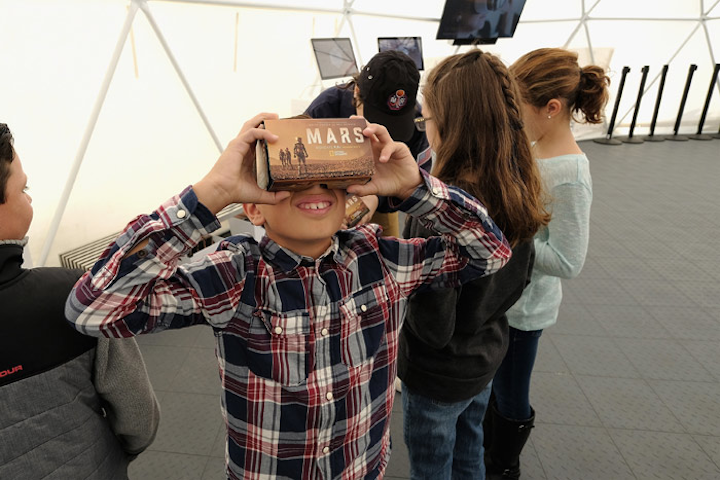 Photo: Jemal Countess/Getty Images for National Geographic Channel
Photo: Jemal Countess/Getty Images for National Geographic Channel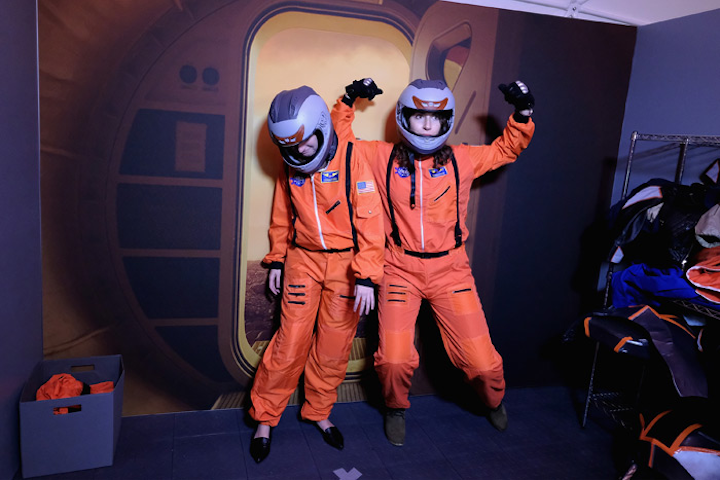 Photo: Jemal Countess/Getty Images for National Geographic Channel
Featured Venues/Suppliers: