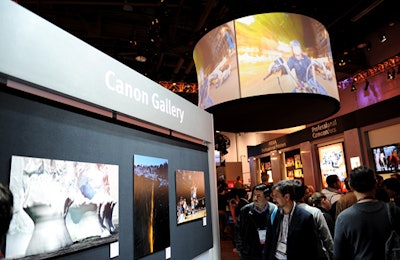 The International Consumer Electronics Show—which kicked off on Thursday and runs through Sunday—hosts 2,500 exhibitors, 20,000 product launches, and more than 120,000 attendees in the equivalent of 35 U.S. football fields spread across three separate Las Vegas convention spaces, the Las Vegas Convention Center, the Venetian Resort Hotel Casino, and the Las Vegas Hilton. Billed as the world's largest technology trade show, it also set its sights on being the greenest. But there is controversy regarding whether such a mammoth, temporary event requiring millions of miles of travel can be a truly environmentally conscious affair.
"Anyone can claim they're green based on a variety of criteria," said Green Meeting Industry Council executive director Tamara Kennedy-Hill. "As the world's largest consumer electronics show, CES is obviously looked to, and it can have a huge influence. They're aware and they're on the right track. But what is their minimum baseline? Do they have goals they're working toward?"
CES touts a list of environmentally-friendly achievements, including cutting its print production by nearly 50 percent in the last five years. The once 88-page program distributed to 250,000 attendees, exhibitors, and vendors is now electronic, along with the exhibitor manual and all press kits. Any printed materials use soy ink and recycled paper, and meet Sustainable Forest Initiative and Forest Stewardship Council standards. The show also purchases locally-sourced or organic produce, donates surplus food to area food banks, and uses food containers and utensils made of biodegradable hemp, corn byproduct, or other organic materials. CES saves almost 800,000 gallons of water per year by using energy-efficient dishwashers, recycling frying oil to be converted to bio-diesel, and depending upon a fleet 90 percent powered by propane or battery. Further, it facilitates multiple meetings in one location, eliminating what it claims to be more than 549 million net travel miles.
"With CES, it's hard to compare them with anyone because they're so big, but they're very much committed to green shows," said Taryle Spain, the director of client services for the Las Vegas Convention Center, the main CES venue. "They're one of our largest shows that's been committed to going into that direction, and that commitment began several years ago."
Spain credits CES with a number of green initiatives the convention center has implemented across the board, including a more streamlined recycling program that enabled the show to recycle 327 tons—or 68 percent—of the 483 tons of waste it produced last year. "A lot of shows struggle to hit 50 percent, so 68 percent is a huge accomplishment," he added. CES spokesman Tim Doyle declined to say whether the program is costing or saving the organization money. "It's a challenge, but we're committed to it, and we continue to look for lots of ways to green the show," he said.
Besides its own green efforts, CES also has created venues for its exhibitors to showcase sustainable products. New to CES this year is the "Electric Vehicle Tech Zone," showcasing electric vehicles, energy storage devices, and charging stations, where major automotive companies like Audi, Ford, GM OnStar, and Toyota will be exhibiting their latest innovations. It joins the "Sustainable Planet Tech Zone," which highlights new eco-friendly products and energy efficiency technologies. The show this year also added an Eco-Design and Sustainable Technology category to its annual Innovation awards.