Why Running Events Are So Popular With Participants and Sponsors
Track Shack Events co-owner Jon Hughes explains why the sport is so attractive to corporate sponsors.
April 11, 2012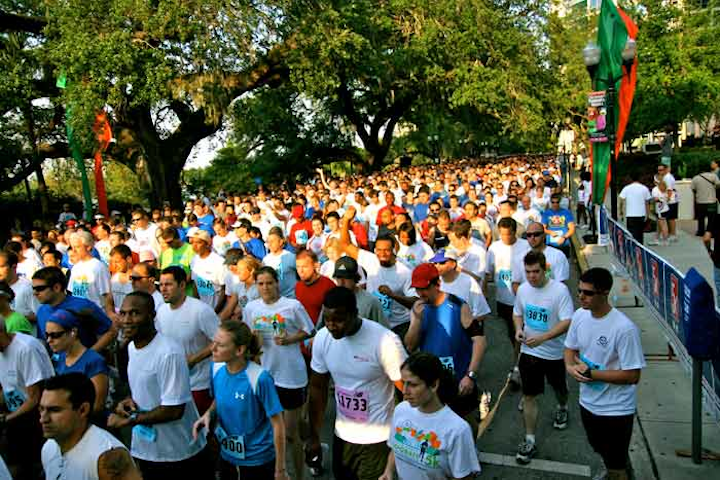 Photo: Courtesy of Track Shack Events
Nearly 16,000 runners are expected to participate in the IOA Corporate 5K Thursday night in downtown Orlando, making it the largest road race in Central Florida. The event, produced by Track Shack Events, has seen steady growth in participants and sponsors since it began in 1995. The Insurance Office of America has been involved with the event since the beginning and last fall signed a three-year title-sponsorship deal.
Nationwide, many of the biggest running events are sponsored by large corporations, such as the Bank of America Chicago Marathon and the ING New York City Marathon. "In communities where ING sponsors races, data shows that those in our target audience are more interested in doing business with ING than in markets where we do not have sponsorships," ING says on its Web site.
Track Shack Events co-owner Jon Hughes produces or consults on more than 40 running events around the country. He spoke to us about the popularity of the sport and why it is so attractive to corporate sponsors.
According to Running USA, last year 518,000 people participated in marathons and 1.6 million in half-marathons. That's compared to just 353,000 and 482,000 in 2000, respectively. To what do you attribute that growth?
The running-walking fitness boom continues. It is the most inexpensive form of exercise and recreation for people, so the events have continued to grow even through the recession. There's been phenomenal growth in the marathon and half-marathon distances. The IOA Corporate 5K has seen double-digit increases over the last three years in participation. And also, we've steadily grown sponsorship to where this year [total] sponsorship is going to increase by at least 10 percent over last year, to about $80,000.
Tell us about the people who are participating in these events.
It used to just be for the die-hards. Now it's almost reversed. You still have your competitive runners, which is a much smaller percentage of the population now. Really what's happening is people are doing it much more for the experience, the travel, and fun. There are so many events to choose from. Whereas before people used to be one and done, it's really become part of this running culture, a running, traveling, and vacation culture. People are using the runs as an excuse to go see a new destination and doing several per year. Another interesting phenomenon—back in the 1970s it was 85 percent male, 15 percent female; now it is, for a half-marathon, sometimes 60 percent female, 40 percent male. On the consumer side, that's not a bad thing.
Are there certain industries that are more likely to sponsor running events?
Health care is huge, they are one of the biggest. On the national scene, we've seen automobile companies getting involved. And of course athletic shoes, apparel, sports drinks. But also financial institutions, banking, insurance. And sometimes things you wouldn't maybe think of, such as Lasik surgery. It gets down to each company and their marketing plan.
What makes these events attractive for the sponsors?
The demographics are very good. A good portion of the participants are college educated. They have household income of well over $100,000 and even single income of over $75,000. They have credit cards, they eat out, they fly. And this is a very loyal group. You hear about how loyal Nascar fans are. I would venture to say runners are maybe second in that category. They appreciate people that promote their sport, and they realize sponsors are necessary for them to have these events. And what's great is a sponsor can get a local, regional, national, and sometimes even international hit.
How are sponsors connecting with participants?
When sponsors are fully engaged with the event, they are being seen pre-event, at the event, and post-event. Technology has helped in that organizers now use social media quite a bit, email and so forth, sending out messages about the event. And when that is done, the sponsor is being seen that many times as well. With the larger events, there is an expo prior to the event when the runners pick up their packet, so that is additional opportunities for sponsors to do sampling or give out freebies. The runners' packets can have their message inside, and we can also send messages to the runners' friends and family to their mobile device to tell them how they are doing, and that can be sponsored. And then post, there is follow-up. So there are a lot of opportunities to reach these participants.