How Peloton Embraced the Boston Marathon
A lineup of events for runners, fans, and the public sought to connect them in a deeper way to the fitness brand.
April 15, 2019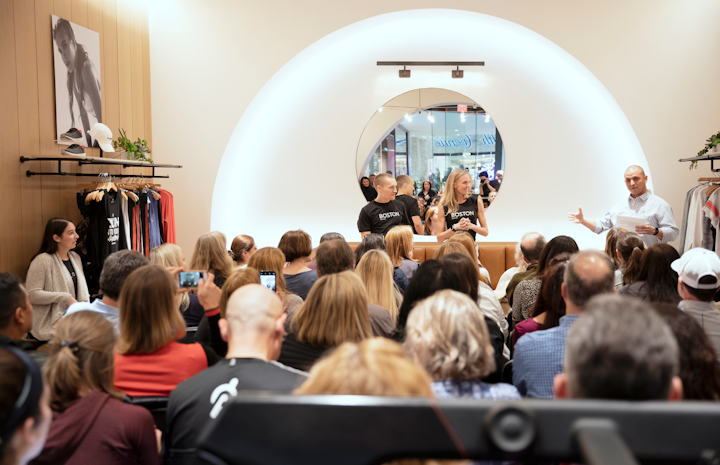 Photo: Courtesy of Peloton
BOSTON—They may have begun with a bike, but Peloton is going the distance to prove that they're much more. That's why it's no surprise to find the digital fitness company's footprint all over the 2019 Boston Marathon. However, Peloton began engaging with Boston long before Patriots' Day Weekend, when 30,000 runners and around a million fans will flood the city to take in the awe-inspiring feat of running 26.2 miles. Already a robust Peloton community, Boston saw a number of events hosted by the company beginning in mid-March.
"Our members, whether they're experienced riders on our bike or new, they are constantly craving inspiration, motivation, and connection with other members at the grassroots level in real life," said Jasmine Maietta, vice president of global brand marketing at Peloton. "We took advantage of some of the behavior that was already happening at the ground level. We showed up in a big way."
The lineup of events centered around the brand's showroom in Boston's Prudential Center, located just a few minutes from the marathon's finish line. Events included a panel called "Making Goals and Keeping Them" moderated by New England Patriots head strength and conditioning coach Moses Cabrera, featuring distance runner, triathlete, and coach Matt Wilpers, and Peloton instructor Becs Gentry, who is running the Boston Marathon herself.
"Some of the consistent requests were 'I would love to hear more about how instructors are preparing for their own personal goals in life.' Our instructors who have a ton of fandom at the grassroots level tend to draw people who ride with them at the showroom, which is another vehicle for Peloton to engage," said Maietta. "When we have our instructors showing up at the showroom, it's a mix of people who follow them on social and are really drawn to the message they have on social, and our members who wake up with them every morning. And some organic traffic of the mall itself."
A panel discussion on rest and recovery featured Peloton Tread instructor Chase Tucker and bike instructor Hannah Marie Corbin, where attendees learned the best stretches for pre- and post-race. An event called Woven to Win invited runners to stop by the showroom and customize their race-day gear with their Peloton usernames and instructor slogans. Race fans could also come to the showroom to make motivational signs for runners. Finally, after they cross the finish line, runners and members could head to the showroom's Recovery Zone to unwind with massages, stretching, and healthy food.

"We try to balance the learning and trying to help you get better as a fitness enthusiast with some of the things we think are delightful," Maietta said.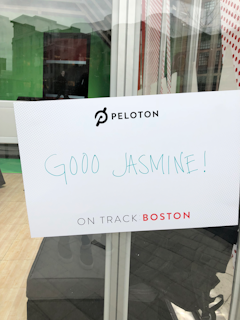 Marathon fans could make motivational signs at the Peloton showroom in Boston's Prudential Center.Photo: Courtesy of Peloton
While the company is not official sponsors of the marathon, Peloton set up a booth at the Boston Marathon Expo at the Hynes Convention Center, where each runner checks in to claim their bib numbers and attend seminars.


"There's really is an insatiable appetite with our members for engagement with the brand," says Maietta. "They also trust Peloton for their 60 minutes of sweat, but they also trust us when it comes to rest and recovery, nutrition, and using music to shape our mind."
Boston wasn't Peloton's first stop. In the last two years, the company traveled the country as part of their Peloton Tour, taking advantage of popular fitness-related experiences to give both members and non-members a chance to experience their products. They set up shop at the Wanderlust Festival in Utah, as well as last year's San Francisco Marathon. In addition to giving newcomers the chance to try the bike, these events helped "bring to life the brand in a way that helps humanize and bring some of the emotional benefits of the Peloton," Maietta said.
As Peloton expanded from their bike into the Peloton Tread treadmill, it only made sense to establish a presence at the Boston Marathon.
"When we looked at what the grassroots tour meant two years ago, coupled with the Peloton Tread's unique point of view, we wanted to take advantage of the Boston Marathon and marathon weekend to bring to life the idea that getting ready for an event like the marathon is much more than running, as is the Peloton Tread much more than running," said Maietta, who added that the company's goal was "to satisfy existing member love," while also generating new interest.

Future goals include marketing expansion into Canada and the United Kingdom.
"The more we feel like we're a digital leader in fitness, the more our members in real life want that intimate physical relationship with us," says Maietta. "And we want to make sure we're always staying ahead of what they want."