How to Use Gamification to Motivate Social Sharing at Events
A new app uses points and prizes to encourage attendees to share content and photos from events.
January 9, 2014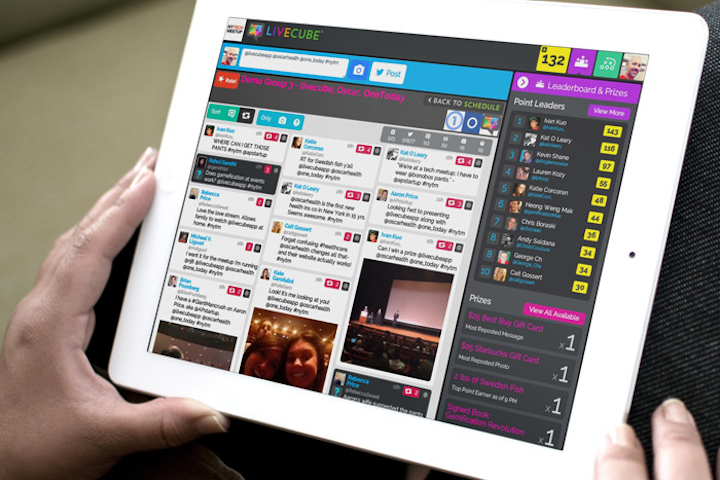 Photo: Courtesy of Livecube
The ubiquitous nature of smartphones can be a mixed blessing for planners: Perpetually connected attendees can amplify an event by sharing content on social networks, but they are also prone to distractions from email, games, Web surfing, and countless other options available in the palms of their hands. Livecube is a new Web application that uses gamification—game-based strategies such as competitions, prizes, and recognition—to motivate attendees to stay focused on event content and share it with others.
"If you think of the reality of sitting in the audience at an event, you pick up your phone and the event organizer has about 10 seconds to capture your attention before you're distracted by Candy Crush," says Aaron Price, co-founder of Livecube. "Using the game mechanics in the event app itself gives people incentives to stay focused, so people are adding valuable content instead of just occasionally tweeting, occasionally mentioning something, [or] probably misspelling a hashtag."
Prior to the event, the organizer creates a schedule and lists of speakers and prizes in the Livecube system. Prizes are determined by the host and can include things such as cash awards, gift cards, or items provided by sponsors. "We've had events where they've given extra vacation days, a one-on-one session with the C.E.O., or free parking. It's all about what works for the culture of the company," Price says.
At the event, attendees access a unique URL on their mobile devices and log in with their Twitter handles. The app has a built-in Twitter box that is already populated with the event hashtag to avoid misspellings, and hosts instruct users to tweet from within the app so they aren't distracted by their full Twitter stream. Users earn from one to three points for actions such as creating a profile, posting content from sessions, sharing photos, having their posts retweeted, or checking in to sessions. More desirable activities, such as posting photos, earn higher point values.
The system automatically organizes tweets by session, so for example, a speaker could easily choose to view only the tweets generated during his or her presentation. Additional filters include the ability to view only tweets with a photo or only those with a question mark, useful for hosts who want to monitor posts that require a response.
Planners also can use Livecube to generate revenue by selling it as a lead-generation tool to sponsors. When attendees click on a sponsor logo, they earn points and are also asked if they would like to be contacted by the sponsor to receive additional information.
The Livecube home page includes a leaderboard, and in the next month, an update will allow planners to create "Endgame Missions," a series of steps users must complete to earn a higher-level prize. "For example, maybe you would have to check in every day, post photos from multiple sessions, check in with more than one sponsor. It gives event organizers a way to incentivize multiday engagement instead of a one-off," Price says. The app will also soon include a survey and polling tool that will allow users to earn points for answering questions within an allotted time period.
Since its debut in September, companies such as Verizon Wireless and Random House have used Livecube. Depending on the client's needs, the app can be set up to run with Yammer, Salesforce Chatter, or a private messaging system instead of Twitter.
Featured Venues/Suppliers: