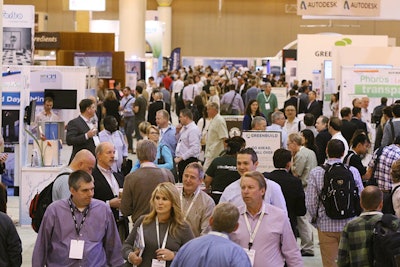 Photo: Courtesy of Greenbuild International Conference & Expo
Events, particularly large ones that require long-distance travel by attendees, are huge producers of greenhouse gas emissions. In addition to the impact of attendee travel by planes and cars, there are also emissions associated with hotel stays, catering, electricity, ground transportation, and more. That also means events are an opportunity for companies and organizers to have an impact on the environment by reducing and offsetting the amount of carbon released.
"Event planners are influencers, and they have a great audience," says Nancy Bsales, manager of carbon solutions for TerraPass, which helps companies and individuals analyze, reduce, and offset their carbon impacts. "It's hard work to run a sustainable event, but they also should realize the influence they have on the world around. And when you can lower your emissions, you are usually saving money, because it's energy based." Bsales and two other sustainability leaders—Aaron Elliott, a project manager for MeetGreen, and Dave Rochlin, a partner with ClimatePath—offer tips for event and meeting professionals interested in making their events carbon neutral.
Identify
1. Industry professionals should communicate to vendors and stakeholders that the carbon impact of an event will be assessed. "You can't manage what you don't measure. So relationships are very important, because you'll be looking for people to give you information after the event is over and the problem is often they are moving on to the next thing," Bsales says.
2. Organizers should encourage the general services contractor and exhibitors to minimize the amount of freight they will ship. Elliott says planners can also ask if transportation companies are part of the U.S. Environmental Protection Agency's SmartWay program, which partners with freight shippers and logistics companies to improve fuel efficiency and save money.
3. There are online tools available that allow planners to understand the environmental impact of an event. The MeetGreen Calculator is a comprehensive tool for benchmarking the sustainable elements of events. TerraPass offers a calculator that determines an event's carbon footprint based on information about attendee travel, the venue, water usage, and meals. The Cornell University Hotel Sustainability Benchmarking Tool allows planners to compare ranges of carbon footprint and energy and water use based on data from more than 4,700 hotels around the world.
Reduce
4. Industry pros should choose destinations that minimize travel. "In 95 percent of cases travel is more than 80 percent of your total footprint," Bsales says. An event that attendees can travel to via car or train will have a smaller environmental impact than one that requires air travel.
5. Hosts can opt for venues in accessible locations. "How far is the venue from the airport? Is there a group transportation option that I can encourage as a host, or are people going to hop into rental cars or take their own Uber?" Rochlin says. Planners can also look for venues that are within walking distance of restaurants and entertainment, or locations that offer pedicabs.
6. Organizers can also select venues that have a demonstrated commitment to sustainability, such as using renewable energy or providing recycling. "When it's embedded in their policies, it will make an event planner's job much easier," Bsales says. Planners can also ask the venue to put in the contract that they will purchase offsets for the emissions associated with energy from guest and meeting room usage. "It's not a huge amount in terms of dollars for a pretty big impact. It's pretty easy for a carbon offset company to give you a ballpark for hotel stays and venue energy," Elliott says. "And then we communicate and commend what they do through reporting."
7. Certain foods can minimize carbon emissions. "There's a lot of good data as far as emissions when it comes to food purchasing, but it's usually not taken into account because of lot of emissions happen at the farm level," Elliott says. Meat-based meals have a higher carbon impact than vegetarian meals, and according to the Environmental Working Group, beef generates twice the emissions of pork and nearly four times that of chicken. "The amount of CO2 for one meal doesn't seem like much, but when you are talking about thousands of people, this is where you can make a difference," Bsales says.
Offset
8. Purchasing carbon offsets can counter the impact of greenhouse gas emissions that cannot be eliminated. "The idea is there are projects out there that would have a positive carbon impact, but they need funding. Maybe I want to replant an area that has been deforested. If I can demonstrate the carbon benefit of that forest, and prove the money that is given to me is used for that project, the project will develop a pool of offsets and then those offsets are sold," Rochlin says. "It doesn't make the event's emissions disappear, but it creates a positive impact elsewhere that offsets it." Companies such as TerraPass and ClimatePath provide carbon offsets for purchase.
9. Offsets can be paid for in one of two ways: The host can choose to purchases offsets so the event has a net zero impact on the environment. In this case, the cost of offsets is usually either built into the registration fee or covered by a sponsor. Planners can also make the offsets an optional fee in the registration form. "If you do it as an 'opt in,' we see less than a 5 percent take rate. But if it's an opt out—it's checked and you have to remove it—it will jump up to almost 30 percent. So I'm finding more people moving toward the opt out," Bsales says. On average, she says offsets cost from about $5 to $15 per attendee, depending on how far they have to travel.