5 Washington Event Professionals to Be Inducted Into BizBash's Hall of Fame
A new crop of event and meeting professionals will be honored, joining a group of some of the most prestigious names in the industry.
November 2, 2015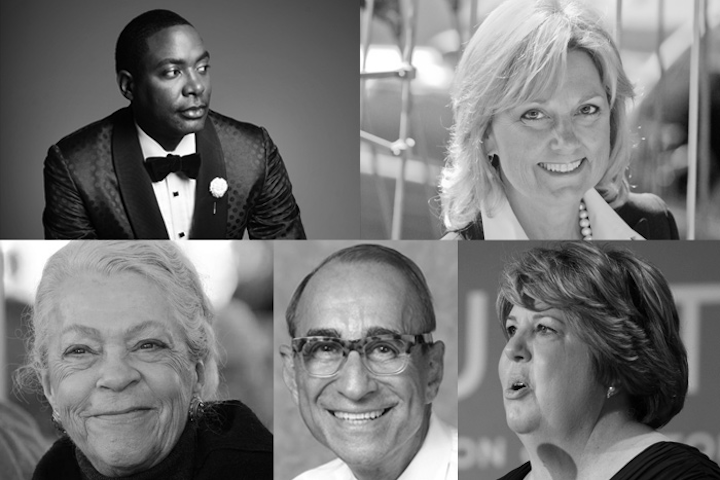 Photos: Derrel R. Todd (Wells), Courtesy of Carla Hargrove McGill, Courtesy of Lisa Block, Steve O'Toole Photography (Homan), Courtesy of Carolyn Peachey
On Wednesday, November 4, BizBash and Events DC will celebrate five veteran event and meeting professionals in the Washington area. The ceremony, to be held at the Carnegie Library, will induct Lisa Block, Carla Hargrove McGill, Bill Homan, Carolyn Peachey, and André Wells into the BizBash Hall of Fame. Chosen by the BizBash executive committee for their work, accomplishments, and contributions to the industry, the honorees join a distinguished group of industry professionals; the full list of BizBash Hall of Fame inductees can be found here.
Lisa Block
Vice president of meetings and conferences, Society for Human Resource Management
Block has spent the past 25 years leading event strategy and execution for the Society of Human Resource Management, a 285,000-member society for HR professionals headquartered in Alexandria, Virginia. The society's signature event, the Annual Conference and Exposition, attracts 20,000 and international participants and more than 650 exhibiting companies; the 2016 conference will be held in Washington. Block previously served as board chair for the Professional Convention Management Association.
Carla Hargrove McGill
President, Hargrove Inc.
After joining her family's business as a teenager in the '70s—performing various tasks such a decorating floats and working in the sign shop—Hargrove McGill worked her way up the ranks and took over as president in 2008. She and her husband, C.E.O. Tim McGill, are the third generation of the Hargrove family to lead the company, which is now the largest woman-owned general services contractor. As president, Hargrove McGill focuses primarily on the overall strategic direction of the company and is involved in key account acquisition. She is also a board member of Old Line Bank and the Foundation Schools and a volunteer leader with the Arundel Medical Center.
Bill Homan
Co-owner, Design Cuisine
For more than 37 years, Homan has been dedicated to leading the Washington catering and event industry, focusing on providing innovative menus, quality food preparation, meticulous service, and attention to detail. Homan takes a hands-on role in the day-to-day operations of the company and is the creative force behind many of Washington's biggest events for clients such as Bloomberg, Tiffany & Company, and the United States Department of State. Homan has also encouraged the company to support community projects and nonprofit organizations; in his personal life, he's an avid cyclist who participates in charity rides for organizations such as Share Our Strength and its No Kid Hungry campaign.
Carolyn Peachey
President, Campbell Peachey & Associates
Peachey is a longtime event planner who's had a hand in some of Washington's biggest and most prestigious events over the past 40 years. She launched her career at the John F. Kennedy Center for the Performing Arts, where she served as special events manager before starting her own firm in 1976. Peachey's roster of clients and projects includes the Kennedy Center Honors, the grand opening of the Harmon Center for the Arts, various Democratic and Republican National Convention events, multiple film premieres, and the Celebration of the Bicentennial of the U.S. Capitol.
André Wells
Founder and creative officer, Events by André Wells
Wells launched his full-service production firm in 2004 and has since become one of the top planners in Washington, producing hundreds of corporate, social, and nonprofit events each year in his signature glamorous, colorful style for members of Congress, President Obama, BET, Disney, and more. He also serves as a volunteer mentor and motivational speaker at local inner-city schools and is a member of various boards and professional organizations including the Alpha Phi Alpha fraternity.
Featured Venues/Suppliers: