6 Smart Tips for Safe and Efficient V.I.P. Arrivals
Experts share their advice for keeping keynote speakers, headlining entertainers, and other V.I.P.s secure and happy from airport pick-up to event check-in.
May 24, 2018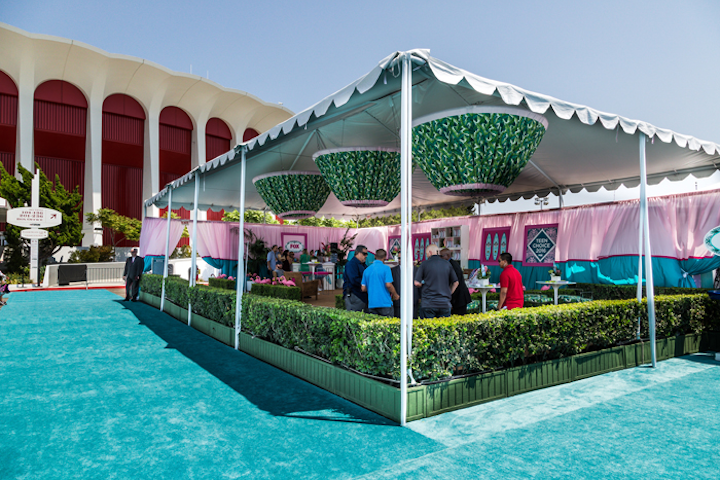 Photo: Sean Twomey/2Me Studios
While celebrities, politicians, and C.E.O.s are used to getting special access, seating, and favors inside an event or conference, things can get a little hectic during arrivals. But there are certain steps event producers can take to ensure a smooth—and safe—process for event V.I.P.s, starting at airport pick-up and leading to the moment they enter an event.
1. Coordinate the plan with the V.I.P.'s team.
No two V.I.P.s are created equal, and there's a big difference between what a C.E.O. needs versus what a politician or high-profile entertainer needs. 
"The more high-profile the V.I.P. is, the less flexibility we have," explains Cynthia Cortis, a director of event services at the Chicago-based association management company SmithBucklin. "Their handlers will give us very, very specific instructions on how they will be met, what they want in their room, how they get to the venue. The way they get into the convention center or the hotel has been walked a thousand times."
Edward Troiano, the founder of Knight Security in New York, agrees, noting that in terms of security, it's crucial to coordinate with the V.I.P.'s team. "You have to know what your talent wants and what their publicist or management team wants," he advises. "You can sit there and design everything—a back entrance through a loading dock, a quick exit out—but if your client wants to use the main entrance and see paparazzi and fans, there's not a whole lot you can do."
2. Ensure a smooth pick-up process.
Unless a V.I.P. is flying to the event on a private plane, the airport will present unique challenges for high-profile guests.
"You can't use a fake name at the airport, and there are only so many exits; you're pretty limited in what you can do," says Troiano, who has provided security for more than 40 high-profile celebrities throughout his 20-year career. "[For celebrities,] there are some things you can do to hide their appearance, but the biggest thing is you just want them to go from point A to point B without too much distraction."
He recommends having a pick-up car right outside the gate, and making sure all luggage is tagged so a greeter can go back and get it once the client is safely secured in the car.
Troiano notes additional challenges when it comes to hotels. Many older hotels do not have many options for side entrances or back doors—meaning a V.I.P. has to enter through the main entrance, possibly drawing unwanted attention.
"Make sure there aren't too many people greeting them and that you have a clear path to the elevator," he advises. "You don't want the hotel manager, hotel security, hotel guest services, five people standing on the street waiting for the client. Your client wants to come in and out pretty quietly."
The level of privacy needed, of course, depends on the type of V.I.P. you are working with—so when in doubt, coordinate in advance to learn what level of security the guest wants and needs.
3. Personalize the experience and make them feel special. 
V.I.P.s are no strangers to getting special treatment, but the more customized their arrival is, the more they're likely to enjoy and remember the event. 
Cortis, for example, regularly hosts high-profile C.E.O.s for conferences—many of whom have traveled overseas and are jet-lagged. She makes a point to figure out their favorite meals and drinks and have them waiting at the hotel.
"One V.I.P. [I work with] loves pizza, but he had some health issues and couldn't have any," she says. "So when he was arriving at the Ritz-Carlton in Singapore, we had the hotel surprise him with a fruit pizza made with all sort of fresh, local Asian produce. He loved it. Something like that doesn't have to cost a lot of money, but the more personalized it is, the more it shows that you're paying attention to what's important to them."
Jaime Geffen—the owner of Los Angeles-based Geffen Events who has coordinated V.I.P. lounges and hospitality suites at events including the Milken Institute Global Conference, Vidcon, and the Teen Choice Awards—says that V.I.P.s should feel special from the second they walk into an event. "A personal greeting is a warm way to welcome guests into the space," she says. "The greeters can share something with your guests like a welcome specialty drink, or some sort of wearable that fits the theme—for example, at Coachella, we gave guests flower crowns as they entered the V.I.P. space."
[PULLQUOTE]
4. Remember that V.I.P.s have limited time. 
While most events will offer a special check-in desk for V.I.P.s, there are additional steps that can be taken to expedite the process. Cortis likes to deliver event badges and materials to the guests' room in advance, so they can walk directly into an event. Depending on the person, she may also personally escort them into the venue so they don't have to stop and ask for directions.
"Of course, the more high-profile the person is, he or she won't need a badge," she adds, saying that in those cases, it's important to have a representative from the venue on hand to make sure there is a clear path to where the guest needs to be. "Make sure the doors are unlocked and that access is clear, and that if they're being taken through something like a kitchen, it's already emptied if needed for security."
Cindy Stark, another director of event services for SmithBucklin who has experience creating special registration categories for V.I.P.s, notes that high-profile attendees usually do not have time to linger and explore the event. "They're often coming to a three-day conference for just two hours," she explains. "In that short amount of time, we need to make sure they get the highlights of the event. They don't want to walk around an entire exhibit floor; they want us to hand-pick what the real innovations are."
5. Red carpets come with their own set of rules.
Naturally, a V.I.P.'s wants and needs change depending on the type of event. For a high-profile red carpet event, guests may want to be more visible and to spend more time there.
"For red carpets, you have to defer to what the client wants," explains Troiano. "They're likely promoting something—whether it's a dress, a movie, a TV show—so they want as much press as possible."
He notes that if a celebrity wants to interact with fans on a red carpet, security needs to accommodate that. The key is working with the team to learn their wishes ahead of time, and to plan accordingly.
In terms of V.I.P. lounges on red carpets or at event entrances, it's important to make them feel private, safe, and exclusive—without being too over-the-top. "Bringing a lot of attention to the space will take away from the experience and could make your V.I.P.s feel uncomfortable," explains Geffen. "They want to feel part of the event, not separated."
She says that very clear credentials and an informed security team can help ensure that only the right people are entering the lounge. "If there is an issue, there should always be one main point person on the team for security to work with to help assist with those who may need entry," she says. "Walkie-talkie radios are a must for quick communication."
Geffen also notes that with an audience of high-profile celebrities or influencers, the lounge needs to offer a comfortable, attractive space that they will want to share. "Nowadays, it is all about getting that special guest to post a photo in your space with proper branding and a fun element," she says. "An added bonus would be to have them use a special hashtag for this inside the space so you can track attendees and what they loved."
6. Sometimes you need to be discreet.
While it's important to ensure a smooth, comfortable, safe process for V.I.P. arrivals, many just want to be treated like normal people.
"One C.E.O. of a major airline is a really down-to-earth guy," says Cortis. "He was speaking at an event, so of course I got all the details from his assistant—but learned he does not like a lot of people following him. But we were still there when he was checking in, just to stand back and watch to make sure everything went smoothly. He would have been horrified to know somebody was there watching because he doesn't want to bother anybody—but we need to make sure our V.I.P.s are taken care of. Sometimes that means just very discreetly being there to handle any problems that came up, without letting them know that they are being treated differently."
Featured Venues/Suppliers: