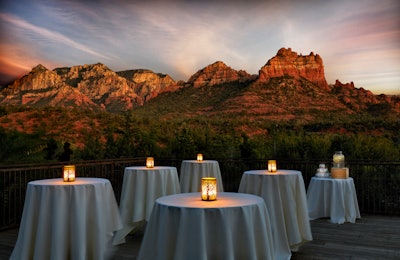 Photo: Courtesy of L'Auberge de Sedona
Fancy cocktail soirees with more than 100 guests, poolside parties with celebrity DJs, large concerts. These types of after-hour networking events can sometimes feel like ancient history these days as the industry continues to grapple with the COVID-19 pandemic. But while we aren't quite out of the woods yet, many companies have started hosting safe, in-person conferences—which means intimate, after-hours networking events are now part of the equation.
And to some extent, keeping things more intimate can have a silver lining, allowing for deeper conversations and more meaningful connections. But strong, thoughtful execution is key to getting the most out of these new-normal networking events. BizBash chatted with several event pros, who shared their top tips.
1. Make use of outdoor space.
Amanda Ma, the chief experience officer for Pasadena, Calif.-based experience agency Innovate Marketing Group, recently worked with a client to plan an indoor event—but less than a week before the event, local officials re-implemented the indoor mask mandate. The team had to pivot quickly. Though they kept part of it indoors (with doors and windows open), planners moved the food and entertainment outside. And "the [event] was even better than just our original indoor plan, because it lets us leverage the beautiful California weather and setting the space had to offer," notes Ma.
Of course, the weather doesn't always cooperate outside, so you'll want to be prepared. "There are obviously a bunch of different options with temporary, open structures like tents that help offset the effects of bad weather," says Lee Gimpel, the founder and principal of Better Meetings, a meeting design, facilitation and training company in Washington, D.C. "You could also give out tons of umbrellas if need be."
But Gimpel advises professionals to keep the ground in mind, too. "Even with a little rain, a beautiful field starts to look like a quagmire unless there's some sort of flooring structure," he points out, adding that organizers should also have plans in place to keep electrical equipment safe and dry.
Further Reading:
7 Safe and Festive Ways to Host a Small, Outdoor Gathering
15 Outdoor Event Venues That Can Safely Host Events
2. Arrange safe seating.
Having six to 10 attendees sit next to each other at a table while eating and discussing a prompt may be, for now, a thing of the past. You want guests to feel safe and comfortable so they can converse without worrying about possibly getting sick. But experts say you'll want to balance safety with the need for conversation and connections that add value to the event. Having people stand on opposite ends of an indoor or outdoor venue just won't cut it.
"While health and safety are top priority, conversations might as well take place virtually if the in-person environment doesn't add value to an experience," notes Amanda Stone, the CEO of A&M Agency, a marketing, events and project management company based in Nashville.
And if guests want to take a load off their feet, it's possible to give them that option in a safer manner. "Spreading out seating in a round, rectangular or U-shaped formation enables eye contact," Stone adds. "If food, beverages, worksheets or note-taking are part of the programming, then side, lap or boardroom tables are helpful. Soft seating such as armchairs with side or coffee tables can also set a more intimate tone."
Further Reading:
The Future of Floorplans: What Will Physically Distanced Event Layouts Look Like?
3. Respect preferences.
Everyone has different comfort levels right now. For some, just attending an in-person event is a big step. Ma suggests using color-coded bracelets so attendees don't have to explain their preferences for engagement and distancing. For example, red means keep your distance. Yellow means a first-bump is okay, and green means handshakes and hugs are welcome. They can also put their preference on a lanyard, and hosts should work it into signs and a script so everyone knows to respect preferences.
"We want to make everyone feel welcome and respected for their decision," Ma says. "Sending out good communication about what you are doing for on-site safety will provide the attendee a peace of mind."
Further Reading:
7 Tips for Making Attendees Feel Comfortable at In-Person Events
4. Keep food on the menu.
While guests have to unmask to eat, that doesn't mean you should ditch the food portion of the programming. "Providing a meal creates a sense of community and helps to get people to talk," says Lynette Moore, the director at Quorum, an 11,000-square-foot event and gathering space at the University City Science Center in Philadelphia.
Boxed meals have become a mainstay of pandemic gatherings, professional or personal, and Moore still recommends them. "This allows for guests to grab their individual meal, sit down and use utensils that only they have touched," she notes.
Recently, Moore's team had an event with a variety of individually boxed salad options. "You could choose your own protein. It was a nice way to do something that wasn't a sandwich and a bag of chips but also allowed people to feel safe," she explains.
Further Reading:
Best Practices for Serving Boxed Meals at Live Events
What Does the Future of Catering Look Like? 13 Industry Experts Share Their Ideas
5. Make it short.
Typical after-hours events often went late into the night, with attendees continuing the conversation in hotel lobbies and bars. But Ma notes times have changed, and it's best to keep things short and sweet these days. "One hour is good and just spread the attendees," she says.
Gimpel agrees with the spacing and recommends having a more organized flow where people know where to head next so people don't have to mix and mingle, which they might not be comfortable doing.
"For a setup like this, I would want to give the groups a topic to talk about and to also restrict the groups to a certain amount of time, say 10 minutes," he suggests. "At the end of that time, the groups could switch but in a more orderly way than just people wandering around the room as we would usually see." After the event, people can continue the conversation elsewhere based on local guidelines if they are comfortable.
The pandemic has forced event professionals to pivot, and the need for creativity continues even with more people vaccinated. Though it's different, careful planning and execution can yield similar—if not better—results as attendees benefit from deeper conversations at more intimate affairs.