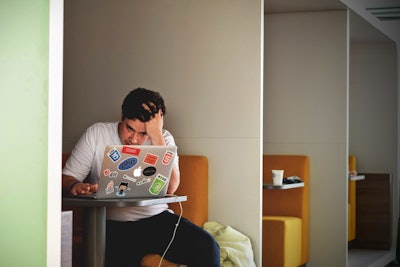 Photo by Tim Gouw on Unsplash
The new year is supposed to be all good vibes. Before the holiday break, you likely mapped out the road ahead. Perhaps you got approval for conferences you wanted to attend, a larger budget, or new and improved tools to track success.
And yet, you may be feeling rather blah. The job that once excited you each day suddenly feels like work.
It's understandable, especially this year. In 2021, there was a buzz about vaccines and ending the pandemic, but 2022 began with a rise in cases and delayed return-to-office plans. These feelings can affect work—and the event industry was already facing mental health issues.
Even in nonpandemic times, career ruts are common, particularly for those working in events. Here, the event pros that can relate shared their top tips for working through a career rut.
1. Take a break.
This one may seem obvious, but U.S. workers generally aren't great about using their vacation time. A Glassdoor survey showed only about half of Americans use their paid time off. Though the survey wasn't about events, we know the industry is go-go-go, even during the pandemic. But taking some time to yourself away from work can have huge benefits for your mental health. A study of middle-managers in Germany showed that vacation lowered stress and boosted overall well-being.
It can be hard to get away these days, though. Try something within driving distance, such as a staycation at a local hotel. And one pro says you don't even have to leave your house.
"When I'm in a rut, I step away from work and take some time to focus on myself—whether it's working out, spending time with family or listening to a podcast, practicing self-care helps alleviate that frustration," says Chelsea Wilson, founder and CEO of 3CS, a production-focused experiential agency based in Southern California.
2. Pivot (yes, again).
The pandemic actually had a silver lining for Jess Hopp, founder and CEO of The Planner Collective. In January 2020, she was burned out and ready to wind down her business. "The spark and joy were gone," she recalls.
But in March of 2020, as COVID stay-at-home orders forced the industry to rethink events, Hopp found herself embracing the new hurdle. "I was totally transformed and revitalized by the challenge of how to plan events virtually and scale marketing efforts online," Hopp says. "At the peak of 2021, I had a team of [more than 20 people] producing shows monthly."
You're probably tired of the word "pivot," but here it is: Reinventing yourself, or using your skills in a new way within the events industry, can feel like a refresh.
3. Remember why you started.
Heather Odendaal, founder of WNORTH and Bluebird Strategy, says it's easy to lose sight of why you entered the industry amid your hectic day-to-day tasks at work and at home. But reflecting on what called you to the profession can help.
"The thing I always come back to when I'm in a career rut are the aspects that I love most about this profession," Odendaal says. "I love to connect people, and being an event planner is where I can make a meaningful impact and build a place where valuable relationships are formed."
4. Reframe your purpose.
With everything going on in the world, planning an event may seem like small potatoes—irrelevant and unnecessary, even. But that's not true. "When you really step back and get the 1,000-foot view, our purpose as event planners is so much bigger," points out Kristin Martinez, event manager with Fast Forward Events and the San Diego Bay Wine & Food Festival. "The events we create bring so much value to so many facets of life, and it is easy to get lost in the minutia of what we do."
Martinez notes that the event industry helps...
The host city economically. Local restaurants and hotels are among the benefactors of events.

Vendors. Events provide marketing exposure for vendors and may help them achieve financial success, such as by networking or solidifying new clients.

Attendees. People can build relationships with one another, which can help them advance their careers, business and even just make a new friend.
"You are creating an environment for businesses, relationships and communities to grow and thrive," Martinez says. "Reframing your role in the execution of your events will change your view of your impact."
Creating a mission statement you can refer to when in a funk can also help. "[Ask yourself,] why are you in business? How do you want to serve your clients? What is the impact you want to make with your life?" suggests Melissa Park, a global event producer and owner of Melissa Park Events.
For example, here's what Park's looks like: "My mission is to provide a platform that enables me to inspire, educate and empower event and event marketing professionals with the tools and tactics they require to fast-track their success."
5. Connect with others.
Even before the pandemic, a career rut can feel lonely. Your friends and colleagues may love their jobs—what's wrong with you?
But just because they're happy now doesn't mean they haven't gone through a funk in the past. Wilson suggests leaning into your relationships for advice and support. "Taking matters into your own hands and talking through it with the right people will push you to make the change that you need," she says.
6. Hit the job market.
Sometimes, it's not the event industry you're struggling with—it's your current job. Like many relationships in life, our employment with a specific company doesn't necessarily last forever. Perhaps you feel you've achieved everything you can, or maybe the structure no longer suits your needs to be creative. Martinez says these are signals it may be time to look elsewhere—but don't just take anything.
"Be picky about where you go," Martinez advises. "There are a ton of jobs open right now, and you should be shopping for things that align with your core values. This will provide the coveted intrinsic value that can fuel you when your energy wins."