New York Planners Celebrate \"The Art of the Event\" at 10th Anniversary BizBash New York Expo & Awards
December 2, 2010
More than 3,200 event professionals gathered at the 10th anniversary BizBash New York Expo & Awards, held October 27 at the Jacob K. Javits Convention Center and featuring a full day of education, exhibits, entertainment, and networking. The theme of this year's show, "Your Event Canvas Is Always Changing," encouraged planners to think of their events as works of art in which to incorporate the new ideas, information, and trends they learned about throughout the day.

The excitement kicked off with BizBash's staff creating buzz before the expo, with elegant printed invitations designed by Alpine Creative Group and postcards printed by Position Design Lab. Special 10th Anniversary Prizes and offers were posted on industry sites, Twitter, Facebook, and BizBash's Web site, and these media outlets were also used to announce speakers and updates to the schedule.
Preparations began the day before the show with the exhibitor move-in at the Javits Center overseen by Metropolitan Exposition Services. After move-in, more than 400 guests connected over cocktails during the expo preparty, hosted by Strike Holdings at Carnival, with food stations that offered tasty mini grilled cheese sandwiches and egg rolls. Guests were also able to catch the show buzz on Twitter, thanks to a large screen with live updates, while channeling their inner kid with a range of carnival games, from a ring toss to a dunk tank.  Attendees posed in a photo booth sponsored by 5th Avenue Digital, watched images appear on monitors, and took home the branded photographs that were printed out for them. Out-of-town attendees stayed at the Carlton Hotel in Midtown Manhattan.

On the day of the expo, guests arrived at the Javits to find a beautiful atrium space with a registration lounge designed by CORT, who paired sleek, stylish white leather chairs with a burst of color in the form of contemporary orange sofas and ottomans. Frank Alexander NYC provided registration decor. Throughout the day, a DJ from Skam Artists made the lounge a place for attendees to meet and greet with a mix of uplifting and energizing beats.

The team from E-vents Registration helped attendees through the on-site registration process at the Javits Center using a bar-code scanning system. Computers and printers supplied by NMR kept registrants moving along in a timely fashion. Guests each received a recycled lime-green bag with show materials and literature from Backdrops Beautiful, Backdrops Fantastic, Brightroom, Position Design Lab, and the Stuffed Cupcake Place.

The hands-on Design Lab draped by Dynamic Drape & Lighting featured Mark Addison, director of experience design and founder of Eventstyle. Beginning bright and early, planners gathered to hear about the techniques behind transforming a concept into an event experience, topped off with case studies of Addison's own events. They also heard from a panel of design experts on the latest industry trends, before teaming up with fellow planners to create their own tabletop masterpieces on the show floor using materials provided by CORT, Dazian Fabrics, Nuage, Party Rentals Ltd., and Pink Powered by Moss.

Conference registrants entered the education rooms for the morning sessions, which began shortly after 8 a.m. and were sponsored by Marriott International. They fueled themselves with a selection of fresh muffins, fresh fruit, bagels, and hot coffee and tea. The first round of education covered "marketing moves to make now" and event planning documentation from start to finish. Additional education sessions addressed standards for "green" events and top-of-mind issues for nonprofit organizations, during which the first of 11 winners to receive planner appreciation prizes in honor of BizBash's 10th anniversary were announced. Corporate AV provided audiovisual equipment for these sessions, in addition to the mini stage and center lounge.

When the morning general session kicked off at 10:15 a.m., the Street Beats Group from BongarBiz energized the audience with their high-energy dance and percussion performance, which incorporated everyday objects, including trash cans and five-gallon plastic buckets. The always-inspiring BizBash New York Hall of Fame induction ceremony followed; this year's honoree was Arthur Backal, C.E.O. and founder of Backal Hospitality Group.

Immediately following the induction ceremony, Jennifer Gilbert took the stage to give her morning keynote presentation, "Making It in Events: The View From Here!" Attendees relaxed in black glitter chameleon chairs provided by CORT while listening to Gilbert speak about her experiences and how her path to success in the event world was fueled by a personal mantra: You're only as good as your last event. The general session was concluded with the announcement of three more planner appreciation prizes.

Impact Arts Events Group handled stage production and technology on the main stage and teamed up with video media designers Glow Design, who handled main stage video design. Audiovisual services and lighting design were provided by BML, while RoseBrand draped the room in show colors and provided a custom-cut illuminated backdrop on the main stage.

Once the general session concluded, attendees exited the main stage and headed right to the expo floor, which opened at 11 a.m. with hundreds of exhibitors ready to showcase their venues, products, and ideas. As they walked the floor, planners sampled treats such as mini caramel apples while trying out new interactive technology such as a bar countertop display which featured interactive fish swimming away from guests' fingertips as they touched the surface. Avenue 5 Films recorded the show on video, including footage from Event Leadership Institute taping in the main lounge. All of this was recorded against a stunning step-and-repeat provided for the interviews by Red Carpet Runway.

Attendees also stopped by the stylish Social Media Lounge, which showcased designs by AFR Event Furnishings that were complemented with floral arrangements by Frank Alexander NYC Event Decor, executive designer of BizBash Expo. Hosted by Liz King of Liz King Events, the AFR lounge was a hub of information on everything from creating a Twitter account to the latest and greatest social media trends. Adding to the excitement were Served Fresh Media's S.W.A.T. team of social media reporters, who kept the Twittersphere buzzing with tweets and video interviews of the day's action.

As lunchtime approached, conference attendees enjoyed a tasty selection of sandwiches from Centerplate and posed for a group photo taken by Gruber Photographers. Afterward, they listened as Lisa Cericola, style editor of BizBash, lead the "Catering Trends Forecast" session, where they used interactive audience-response devices from IML to ask questions of a panel of top New York caterers, who discussed the latest trends in the market along with the evolving role of caterers and their importance in the overall event process.

In the afternoon, the mini stage was a flurry of activity, with several 20-minute sessions both educating and entertaining. Among them were "How Online Marketing Tools Can Help You Engage Customers and Achieve Success," with Erik Mintz of Constant Contact; "What Color Is Your Event?" with Dianne Budion-Devitt, president of the DND Group; "What's the Best Way to Charge for Event Planning Services?" with Howard Givner; "Lighting Design in the New Millennium: A Change of Culture" with Derrick Roberts, director of business development, lighting designer/event producer of BML Blackbird; and "Invitation Trends: Affordable Luxury in 2010-2011," with Steve Paster, president of Alpine Creative Group. Attendees also enjoyed entertainment acts to consider for their own events, such as Cirque-tacular, Irene Fong and the Floating Ball, and Lissome Ladies, all of who performed against a backdrop provided by Atomic Rental.

At 2:30 p.m., attendees gathered at the main stage for the afternoon general session, which opened with entertainment from Drum Cafe, an interactive drumming troupe that had attendees standing up in their seats and tapping along to the beat with drumsticks that had 10th anniversary BizBash branding on them. Arthur Backal then gave his keynote presentation, "Surefire Tips for Establishing Winning Negotiations Amid an Ever-Changing Economy," in which he discussed his views on whether it would be a buyer's or seller's market in 2011.

After the general session, attendees continued networking into the late afternoon, while the anticipation grew for the 2010 Event Style Awards and Readers' Choice Awards presentations on the main stage at 5 p.m., sponsored by Party Rentals Ltd. Upon arrival, guests were greeted by a living red carpet flanked by two couture candelabra greeters, all provided by Champagne Creative Group. The presentation opened with a performance by Figaro Creative Concepts, whose smooth vocals entertained the audience. Attendees applauded as Event Style Award winners received stunning crystal "B" awards created by Society Awards and Readers' Choice Awards winners received medals.

Winners were congratulated at the post-show party that followed at SIR Stage37, where attendees enjoyed wines from City Winery and cocktails mixed with Vision Vodka. Guests mingled and relaxed in a lounge created by Luxe Event Rentals, while watching fellow attendees sing along with live band Rock Star Karaoke provided by Command Performance as aerial performers sponsored by Acroback contort above them suspended from the ceiling. They also enjoyed hors d'oeuvres from Creative Concepts NYC, including Peking duck turnovers and wild mushroom dumplings, while a Lady Gaga walking table from Screaming Queens Entertainment moved through the celebration with an array of mini cupcakes from the Stuffed Cupcake Place, who also created a 10th anniversary cake for BizBash that drew rave reviews from the crowd.

BizBash extends a very special thanks to the Javits Center staff, Metropolitan Exposition Services, MG Security Services, Dave & Buster's, official event photographer Brightroom, and all of our exhibitors, sponsors, and attendees—all of whom made BizBash's New York Expo & Awards an event to remember. Be sure to visit bizbash.com/ourevents for announcements and updates about the 2011 BizBash New York Expo, back at the Javits Center on Wednesday, October 19, 2011!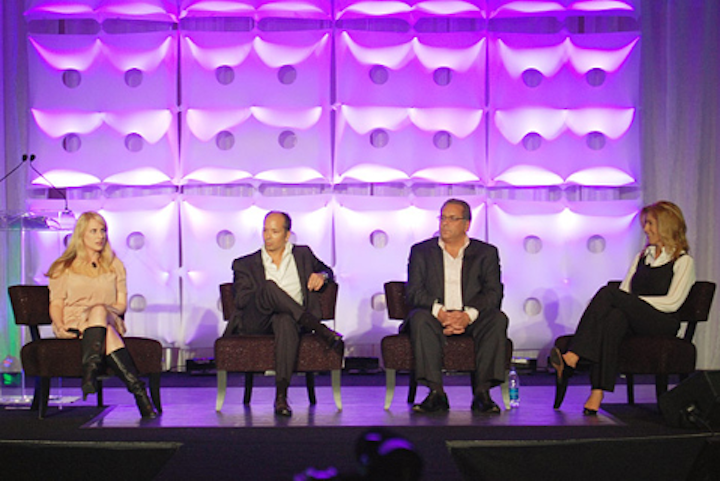 Photo: BizBash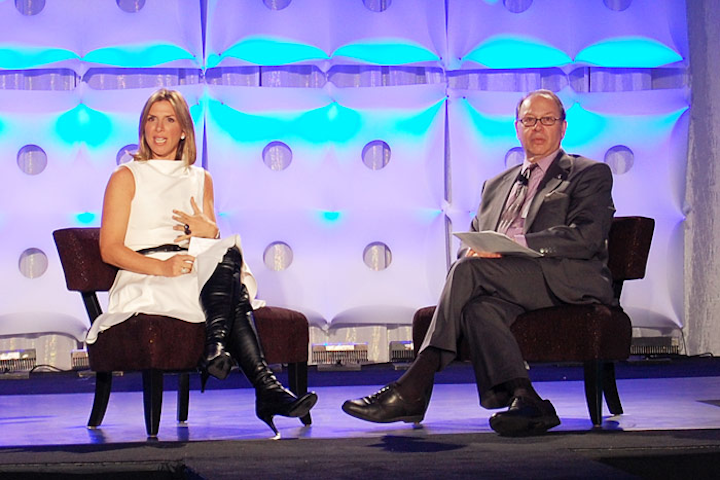 Photo: BizBash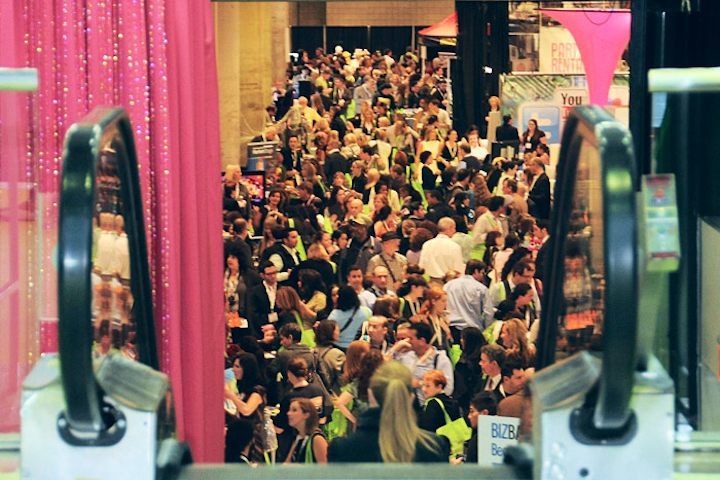 Photo: Brightroom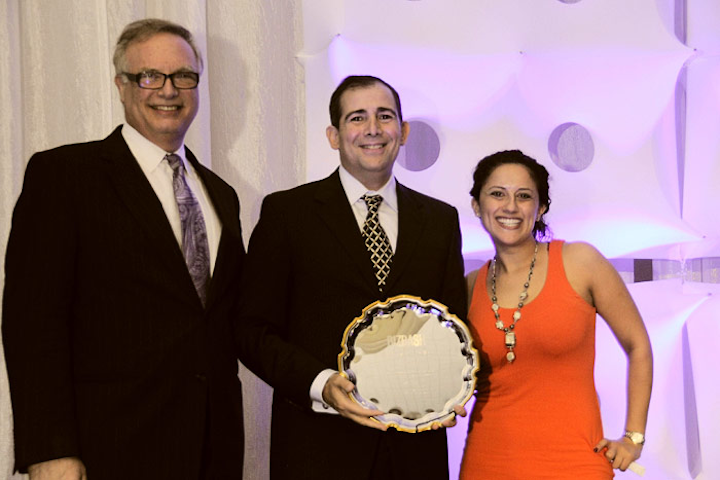 Photo: Brightroom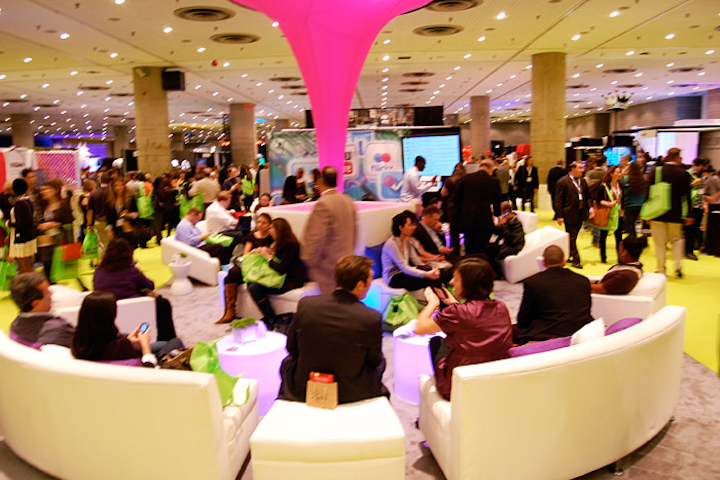 Photo: Brightroom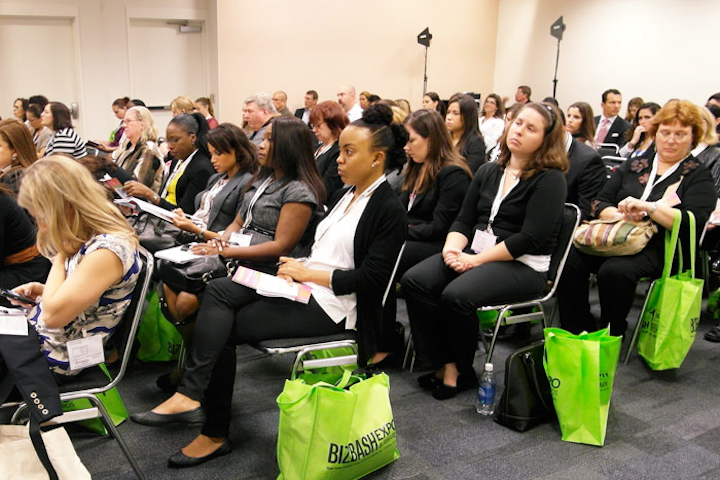 Photo: BizBash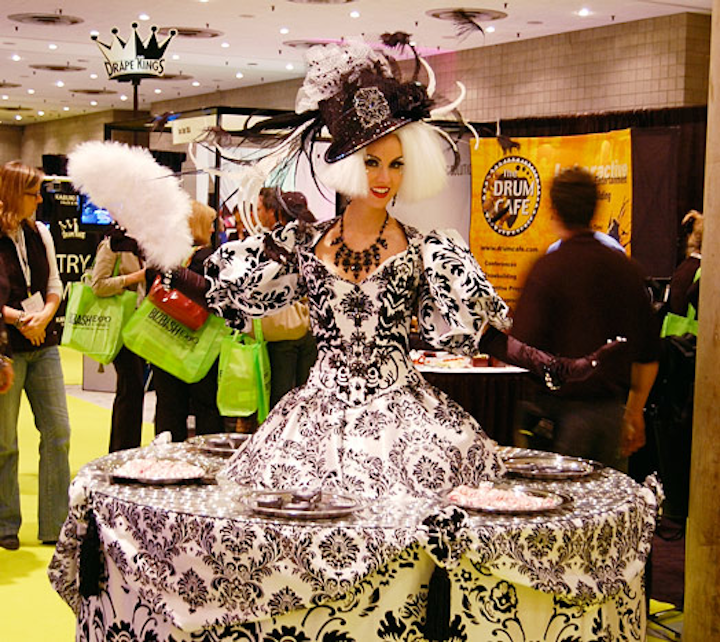 Photo: BizBash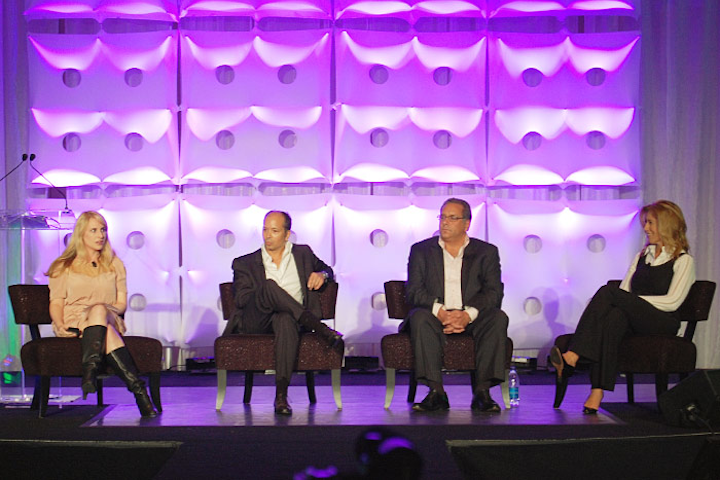 Photo: BizBash
Photo: BizBash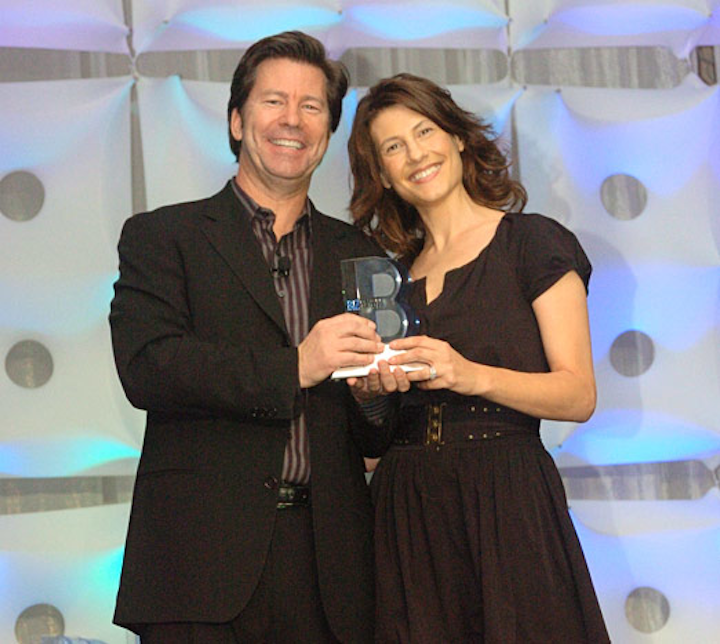 Photo: Brightroom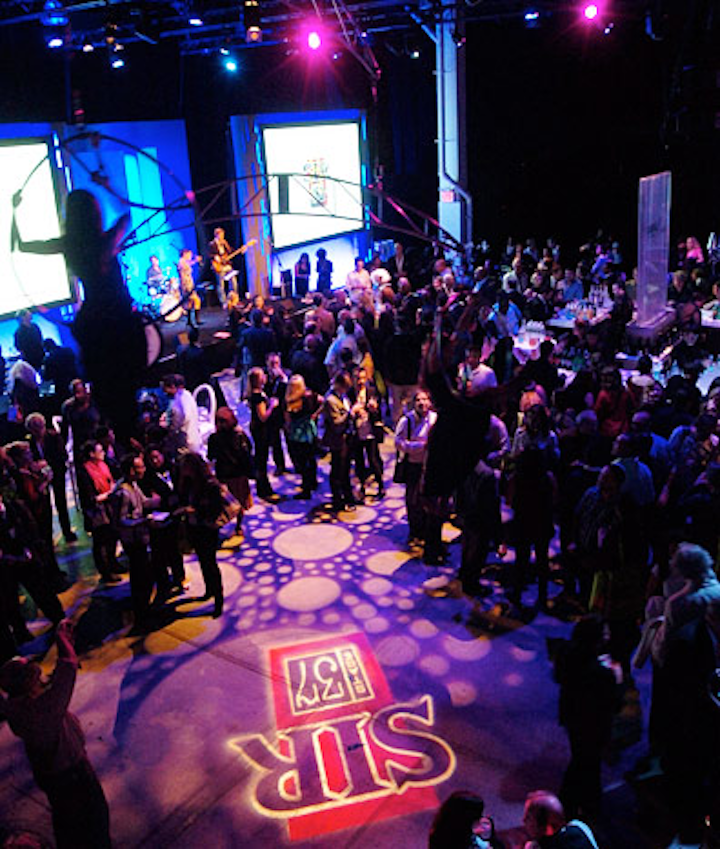 Photo: Brightroom
Featured Venues/Suppliers: