Fall Preview: 10 Most Anticipated New Chicago Event Venues
August 29, 2011
These new restaurants, hotels, bars, lounges, and raw spaces in Chicago are opening this fall and have indoor, outdoor, private, and semiprivate spaces for small and large groups, for meetings, events, holiday parties, and business entertaining.
1. Slated to open in October, Radisson Blu Aqua Hotel will take over 18 floors of the mixed-use Aqua Tower on North Columbus Drive. The $125 million property will have more than 28,000 square feet of meeting space, which includes a 12,500-square-foot ballroom and alfresco function space. The property will also house 334 guest rooms, two outdoor pools, an 8,000-square-foot fitness center and spa, and an indoor basketball court.
2. Hotelier Ian Schrager will open the first property of his new brand, Public, in Chicago in October. Taking over the former Ambassador East Hotel in the Gold Coast, Public Chicago will offer 10 meeting rooms, a full business center, 285 guest rooms, and lobby spaces with communal work tables and computer stations. A lounge area off the lobby will serve as a screening room or event space. New York-based chef Jean-Georges Vongerichten will oversee the menu of the on-site restaurant, which will offer farm-to-table fare, Asian small plates, a private dining area, and a '40s-inspired bar.
3. From the owners of Mercadito, Tavernita is set to open this fall in River North. With a copper tin ceiling, filament bulb lighting, and tile flooring, the venue's interior takes cues from Spanish restaurants. The Barcito, a lounge area with a glass-encased pintxo display, will seat 92 and hold 140 for cocktails, and will be available for private or semiprivate events. The 122-seat main dining room and a lounge area with room for 120 will also host semiprivate functions. The venue will be available for buyout, as well. Chef Ryan Poli's menu will offer oysters, crostini and flatbreads, and meats prepared on a Uruguayan wood-fired grill.
4. From the owners of Old Town Social, Nellcôte is set to take over the former Marché space around November. Catering to events and banquets, the 11,000-square-foot restaurant will be outfitted with crystal chandeliers, an Italian marble staircase, wrought-iron gates, and a so-called "flower wall" covered with live lavender. With all items priced at $15 or less, the menu will offer Neapolitan-style pizzas, house-made pastas, and meat and seafood dishes. The venue's name was inspired by Villa Nellcôte, a French estate where the Rolling Stones holed up to record Exile on Main St.
5. BLT American Brasserie is set to open in the former Brasserie Ruhlman space in late September or early October. Chef Laurent Tourondel, formerly of New York restaurants BLT Steak, BLT Prime, and BLT Fish, will offer a menu of everything from sushi to pizza and grilled meats. A private party room will hold about 120 guests for sit-down dinners or 200 for cocktails. A back patio on Chicago Avenue can be tented or left open-air, and will host events for 500.
6. Three Forks Steakhouse is set to open in late September in Millennium Park North. Three private dining rooms—the poker, wine, and captain's rooms—will hold 10 to 36 guests. Each of the rooms will have meeting-friendly audiovisual equipment. With cabanas and a bar, the open air Prime Roof Lounge will hold 100. The restaurant will be available for buyout and offer several private dining menus.
7. Texas-based chain Cantina Laredo will open its first Chicago location in River North in mid-September. Executive chef Larry Sinclair, formerly of Cantina Laredo Nashville, will oversee the menu of modern Mexican fare with offerings such as beef fajita nachos and Mexican apple pie served in sizzling brandy butter. The cocktail list will include specialty drinks made with hand-squeezed ingredients. The private Sky Room will hold groups of 30, the O Table will seat eight for semiprivate meetings, and an upper-level lounge will host functions for more than 100.
8. Greenhouse Loft is scheduled to open in the LEED-certified Green Exchange in November. Suited to meetings and corporate events, the 3,500-square-foot space will host gatherings for as many as 250. An area known as the loft can seat about 100 in a classroom-style format, while a sun-filled space called the Glass House can seat around 120 with tables, or more with classroom-style seating. Equipped with an 8,000-square-foot organic garden that can host alfresco receptions, a portrait studio, and a collection of midcentury furniture, the venue is in Logan Square, about 10 minutes north of the Loop.
9. The 8,500-square-foot, bilevel Bleeding Heart Bakery and Cafe opened in West Town on August 22. The upper level holds 60 and will be available for private events this fall; a rooftop garden and educational farm will open this spring and will also host private events. The diner-inspired interior is decorated with black-and-white tiles, vintage lighting fixtures, and a counter with swivel stools; brightly colored chairs and tattoo-inspired murals lend some punk-inspired flair. A display kitchen lets guests watch pastry-chef duo Vinny and Michelle Garcia prepare goods made with local, organic ingredients. Menu items include the Punk Rock Princess doughnut—a lemon-filled pink hibiscus doughnut with strawberry glaze—as well as scones, teacakes, cream puffs, macaroons, homemade candy bars, and cupcakes.
10. The owners of Bangers and Lace and Lumen plan to open a new spot at 1725 West Division Street in October. They describe the yet-unnamed venue as an "American sports bar for grown-ups," and say it will have a retro vibe, hearty fare, and plenty of flat-screen TVs for tuning into sports. With a private bar and floor-to-ceiling windows, the airy second floor will host events for 20 to 100 guests. The entire space will hold 250.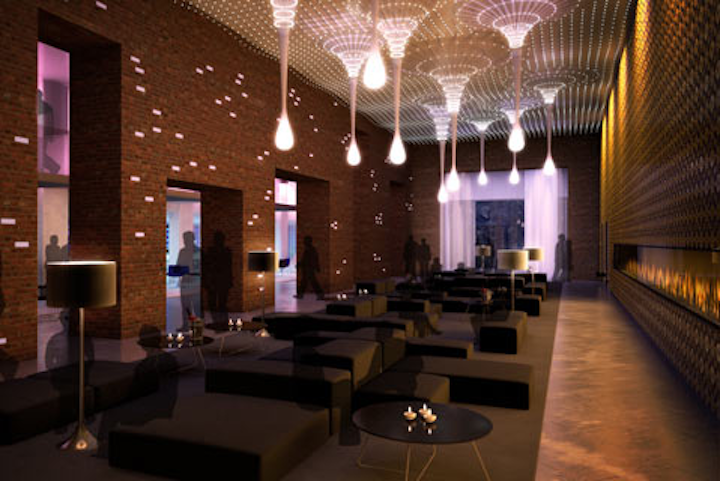 Rendering: Courtesy of Radisson Aqua Blu
Rendering: 2Point Perspective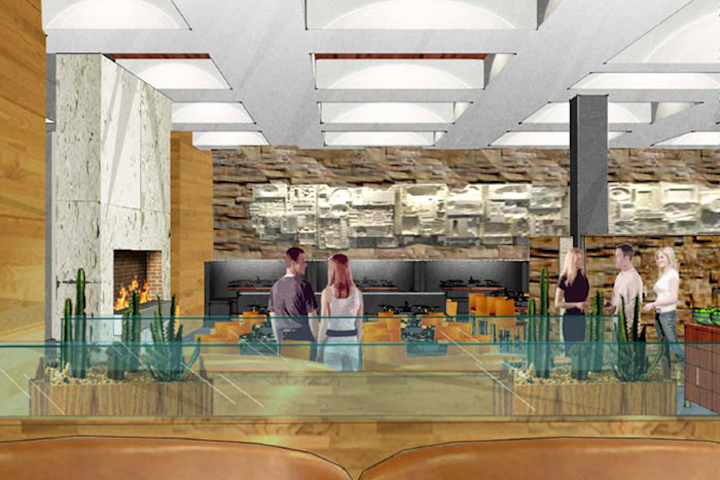 Rendering: Courtesy of Cantina Laredo
Rendering: Bill Watson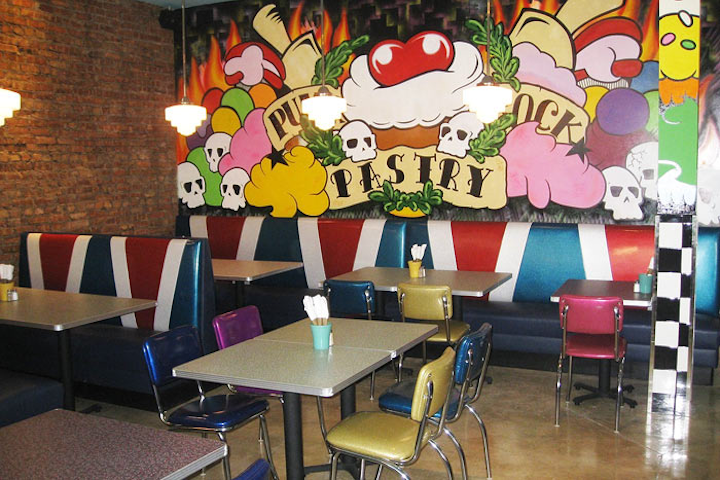 Photo: Courtesy of Bleeding Heart Bakery & Cafe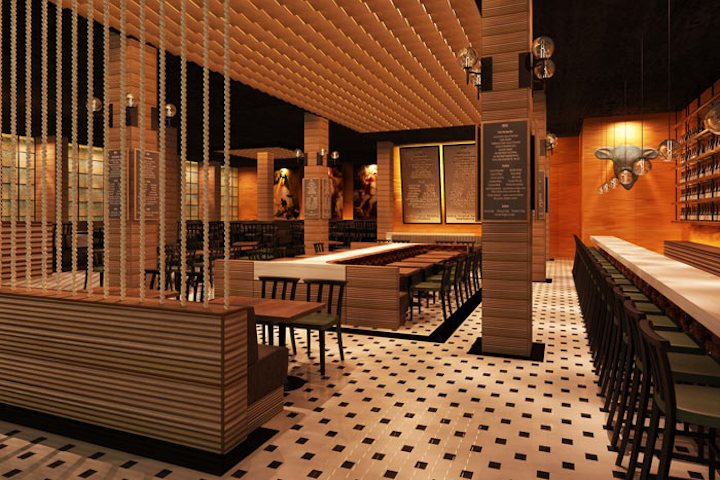 Rendering: Seed Design Studio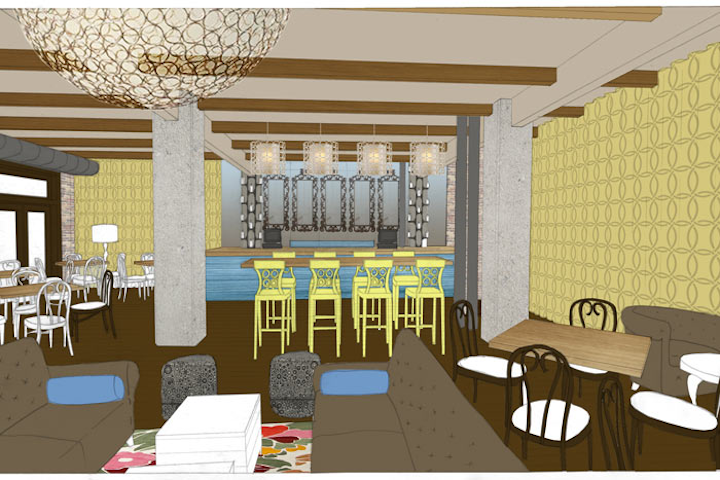 Rendering: Courtesy of Nellcôte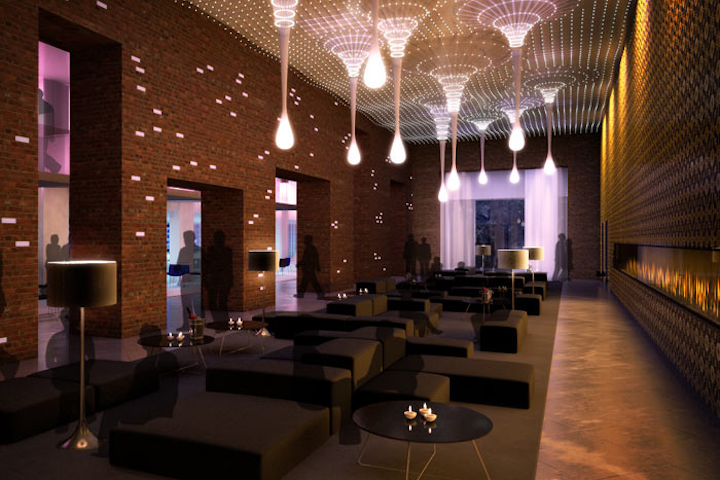 Rendering: Courtesy of Radisson Aqua Blu
Featured Venues/Suppliers: