HBO Screens 'Luck' in Vegas With MGM Marketing Blitz
February 1, 2012
After debuting its new horse-racing show, Luck, with a premiere at Grauman's Chinese Theatre and a party at the Hollywood Roosevelt in Los Angeles, HBO took the marketing push to Las Vegas for a screening at the Mandalay Bay Theatre on Thursday. Senior vice president of program advertising Zach Enterlin oversaw the Vegas portion with the HBO marketing team.
The screening drew cast members like Dustin Hoffman and Nick Nolte, and director Michael Mann—plus more than 200 of the nation's top handicappers who were in town for the $1 million National Handicapping Challenge. The event began with a pre-screening reception adjacent to the theater, where guests scooped up movie fare like candy and popcorn in bags bearing the show's logo. In the theater, it was an in-the-know crowd: During Mann's introduction, the big-name stars got a warm round of applause, but the room erupted when he introduced well-known jockey Gary Stevens, who plays a role in the series. Afterward, the group headed upstairs—way upstairs, to the 64th floor—to the Mix lounge for a post-screening party, where logoed gaming chips and playing cards dotted tabletops.
The evening also generated excitement around the "HBO Luck $50K Challenge," which gives Facebook users a chance to try their handicapping skills and win the cash.
The night was the culmination of a monthlong partnership with MGM's casinos and resorts in Las Vegas. Spencer Rice of Civic Entertainment Group, which produced the event, explained that the goal was to ensure that HBO reached MGM's customers from the moment they arrived in Vegas until they checked out of their hotels.
To that end, the team wrapped the facade of the Luxor, ran 30-second trailers on the Strip marquees of MGM's 10 Vegas properties and in-room on MGM's welcome channel, and took over sports books in the Mandalay Bay, Luxor, and Excalibur with signage, branded cocktail menus, and staff in Luck polo shirts. Luck key cards provided room entry across all properties, and custom blackjack felts and signage branded the casino floor of the Mandalay Bay. MGM also supported the series via digital and social outreach to its customers.    
"As the epicenter of all things luck related, Las Vegas was the perfect environment to screen our new series," Enterlin said. "More importantly, it provided a great partner in MGM Resorts International that allowed us to promote the series to potential viewers across their 10 Vegas properties and via their digital and social channels."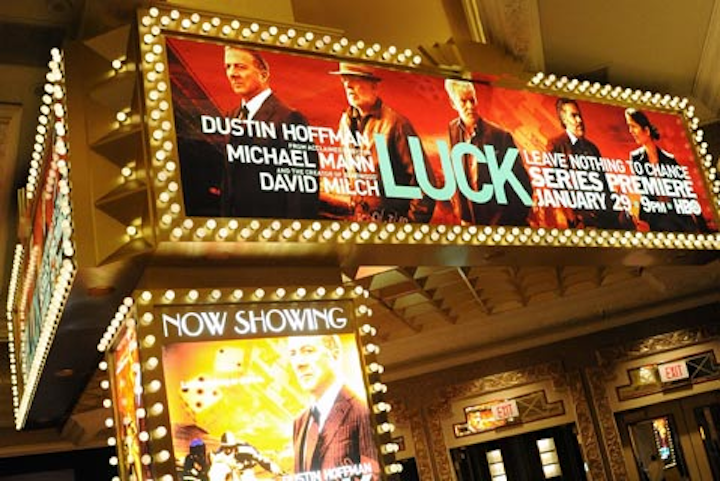 Photo: Jeff Kravitz/Film Magic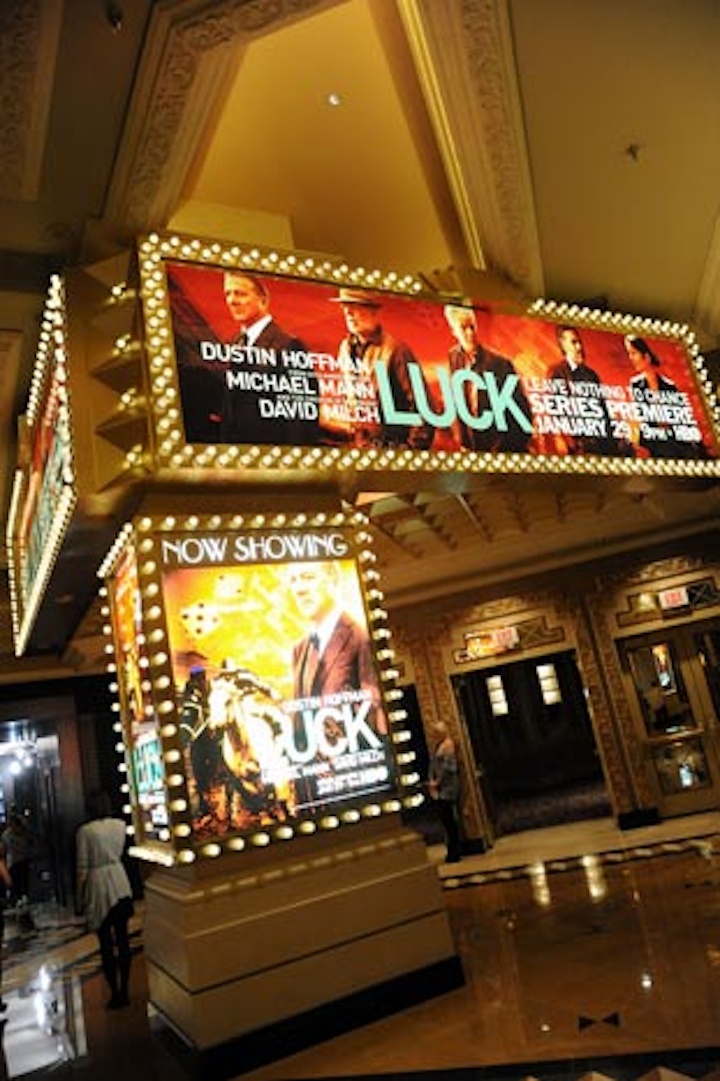 Photo: Jeff Kravitz/Film Magic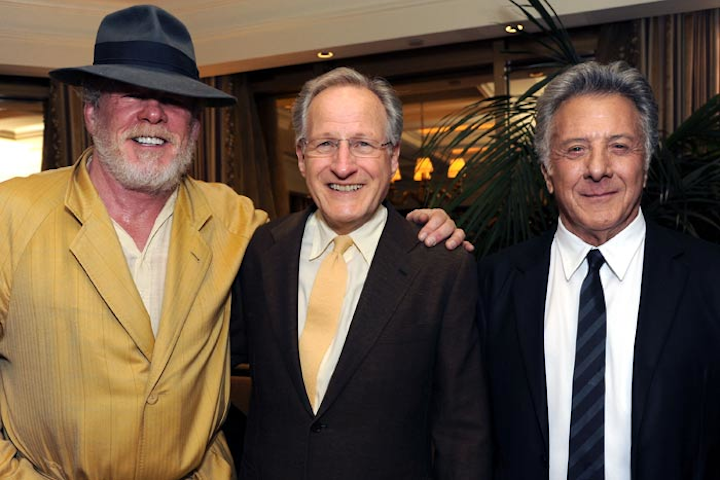 Photo: Jeff Kravitz/Film Magic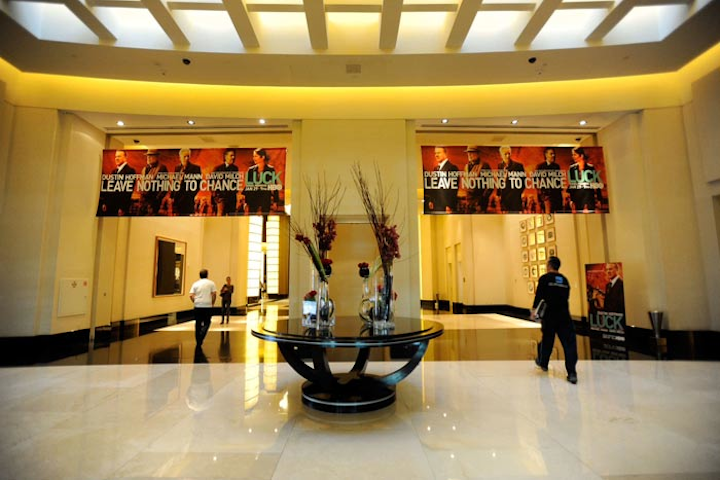 Photo: David Becker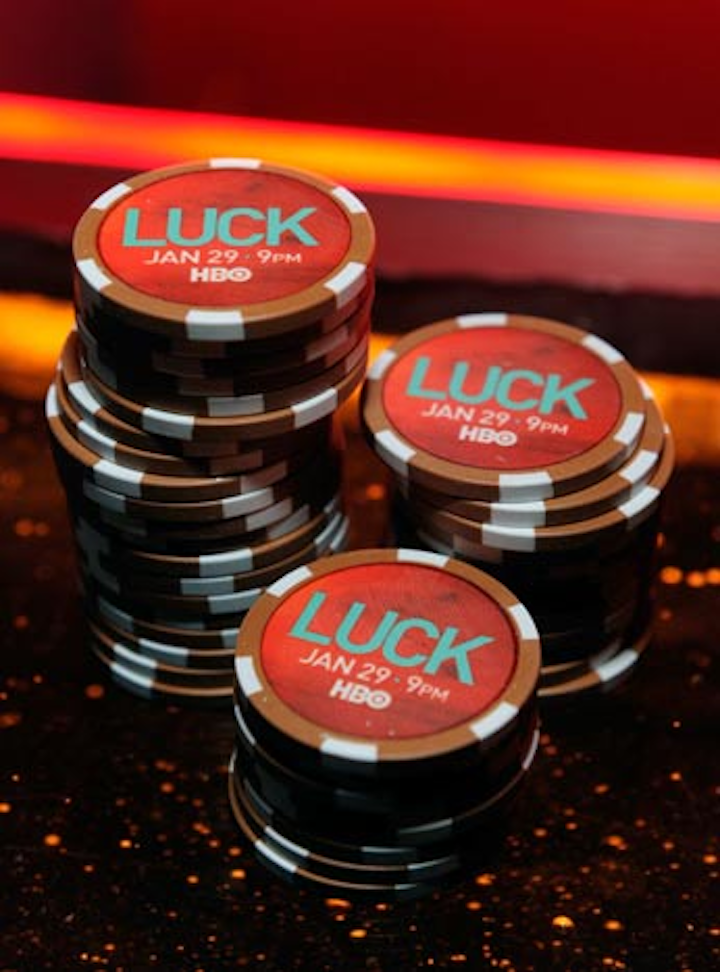 Photo: David Becker
Photo: David Becker
Featured Venues/Suppliers: