How This Virtual Baby Shower Generated Four Million Impressions on Social
Children's apparel brand Carter's engaged consumers through a massive sweepstakes campaign, a star-studded virtual event, and more than $400,000 in sponsor giveaways.
July 15, 2020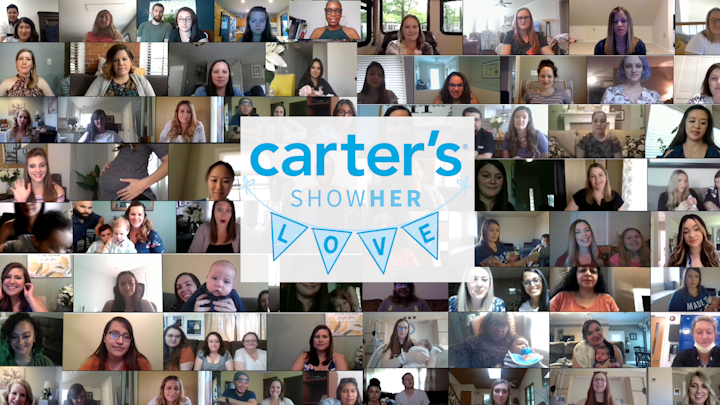 Screenshot: Courtesy of FlyteVu
As COVID-19 continues to disrupt the experiential marketing industry, more and more brands are thinking outside the box when it comes to virtual activations and events. Brands like MTV and Jack in the Box have hosted virtual proms, for example, while Teen Vogue threw a star-studded virtual graduation and e-commerce platform Klarna hosted a virtual drag brunch series.
So for children's apparel brand Carter's, hosting a virtual baby shower was a no-brainer. The company teamed up with Nashville-based entertainment marketing firm FlyteVu for the event, which took place on June 18 and was hosted by Kelly Clarkson. One-hundred moms and moms-to-be were invited to the virtual gathering, where sponsors handed out more than $400,000 in gifts.
The idea was for Carter's to connect emotionally with its consumers, explained Laura Hutfless, co-founder at FlyteVu, whose team secured all talent, produced the event virtually, and managed a number of brand partners. As COVID-19 swept the country, "I watched as my expectant friends and colleagues struggled with expecting during the unexpected, giving birth alone, canceling baby showers, and becoming new moms without the help of friends or family," Hutfless says. "There was an opportunity for Carter's to step in and fill the void to truly give these mothers, their core consumers, a once-in-a-lifetime experience by providing them with baby essentials to meet their immediate needs and alleviate the financial and emotional pressure."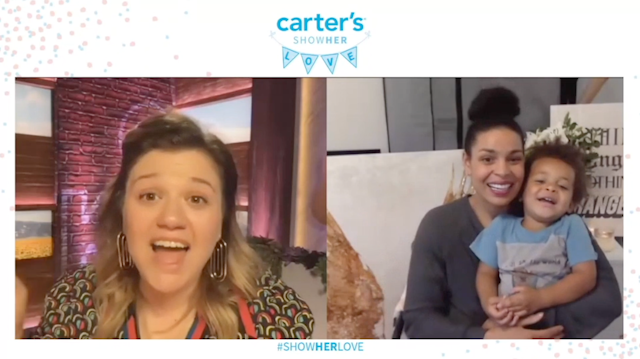 Singer and talk show host Kelly Clarkson hosted the virtual event; fellow American Idol alum Jordin Sparks also made an appearance, where she performed "You Are My Sunshine."Screenshot: Courtesy of FlyteVu
Attendees were chosen through a sweepstakes program, which was initially announced on The Kelly Clarkson Show. "We then launched a two-week social, digital, and PR promotional campaign with talent, influencers, and the Carter's community," said Hutfless. "We were operating on a tight budget, so we did not buy any traditional advertising and relied solely on the power of talent, social media, and storytelling. The best way to reach moms is via other moms, so we focused on influencers and media outlets who spoke to Carter's core demographic."
The sweepstakes drew a whopping 120,000 entries, from which the 100 winners were randomly selected. One of Carter's main goals for the event was to increase brand awareness and engagement, as well as to capture data on its consumers—and that's exactly what the program did. "It was Carter's best-performing sweep of all time, with an 18 percent increase in sweeps email open rate and 6.7 percent boost in positive social sentiment following the launch," notes Hutfless. "The program as a whole drove millions in new sales."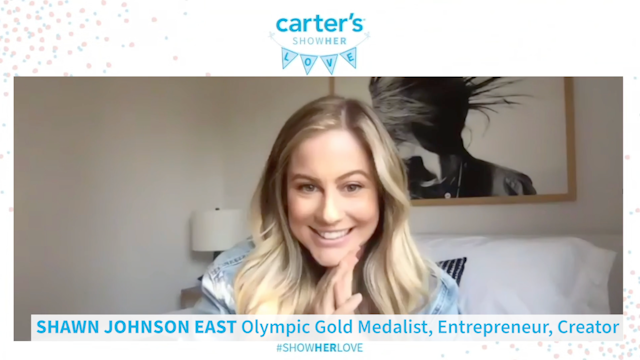 Throughout the event, more celebrities and influencers—such as gymnast Shawn Johnson East (pictured), actress Tia Mowry, and comedy duo Kristin Hensley and Jen Smedley of #IMomSoHard—interacted with guests.Screenshot: Courtesy of FlyteVu
Once the 100 moms were chosen, the baby shower itself was an hour long, and kicked off with an intention-focused meditation session sponsored by meditation app Calm. Throughout the hour, celebrities such as actress Tia Mowry, Olympic gymnast Shawn Johnson East, and comedy duo Kristin Hensley and Jen Smedley of #IMomSoHard appeared to chat with Clarkson; through technology from the platform Subvrsive, each attendee was given a moment "on stage" with the talent as well. The event also included interactive trivia games, plus surprises and giveaways from 18 sponsors including Kohl's, Johnson's, DryBar, HappiestBaby, and more. Carter's themselves provided free products for a full year to the attendees (with a grand prize of a lifetime supply to a few select winners), while Huggies gifted each with a free year of diapers.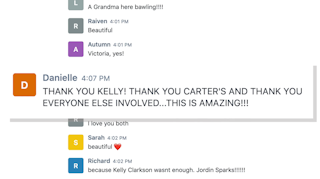 "My favorite part was seeing the moms' faces as they heard the announcements of the prizing and gifts," says FlyteVu co-founder Laura Hutfless. "There were lots of tears!"Screenshot: Courtesy of FlyteVu"So many brands had paused spending or weren't sure how to navigate the COVID crisis, and this event gave them the opportunity to speak to moms in an authentic way," explained Hutfless. "My favorite part was seeing the moms' faces as they heard the announcements of the prizing and gifts. There were lots of tears!"
The event—which was conceptualized, built, and activated in less than six weeks—culminated with a performance of "You Are My Sunshine" by artist Jordin Sparks. According to Hutfless, talent and influencer social posts garnered more than four million impressions. 
"Building new technology, securing talent, navigating sweepstakes legalities, and securing 18-plus partners are all challenges—but fitting that into a six-week timeline is next level," said Hutfless. "The success of this program is due to all involved—Carter's, FlyteVu, [PR firm] LaForce, Subvrsive—and all the partners who believed in and stayed focused on the greater mission. Carter's is truly a brand led by heart, and we are incredibly grateful that the team trusted us with our lofty idea."