7 Tips for Working With Flowers That All Event Pros Should Know
Keep in mind things like seasonality, budget, and donation potential when picking blooms for events.
May 18, 2017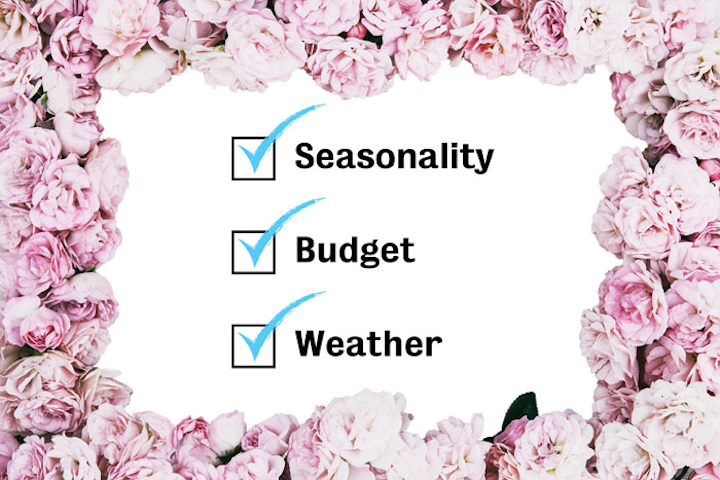 Photo: KKGAS/StocksyUnited
Flowers can add a major impact to events, so it's important to pick the right ones based on season, location, and other details. Here are tips for selecting the right blooms.
1. Seasonality
It's obvious to floral professionals, but perhaps not to event producers and designers (or social event hosts) who have a specific look in mind: Flowers are seasonal items. "Seasonality is key when deciding on flowers for weddings and events," says George Catechis of the Fleuriste. "This will allow your floral professional to buy at in-season, lower pricing, and further allow them to work with flowers at their peak best."
Typically, you can get the flowers you want all year, but Revel Decor associate director Bari Singh adds that it's not always the best idea. "Selecting stems that are in season will offer showier blooms and sometimes lower prices. Tulips, hyacinth, anemones in spring; peonies and dahlias in summer; chrysanthemums in autumn; and amaryllis in winter are a few examples."
2. Locality
Similarly, consider the location your flowers will come from. "Keep in mind most windows of time to buy local are narrow and offer limited options," Singh says. "To take advantage of locally grown floral, it is best to remain flexible with variety and specimen—pick a palette and let your designer [develop the look]."
3. Event-Day Weather
Think about the context of your event: At an outdoor summer event in full sun, for instance, delicate flowers will suffer. "A tent on a humid day will zap delicate blooms of turgidity such as hydrangea and tulips, while an event in subzero January can be challenging for the transportation of tropical blooms like orchids," Singh says. "Try to stick with stems that align with the environmental setting you find yourself."
Sandra de Ovando of Ovando Design and Production adds: "Extreme temperatures are not good for flowers. Try not to place flowers in direct sunlight or next to heaters. Conversely, when we deliver florals for an event in the dead of winter, we make sure to wrap and protect flowers and minimize exposure to elements."
4. Budget
While some flowers can get pricey, there are plenty of ways to maximize a budget effectively. "For big impact in a space and minimal impact on your budget, think about using flowering branches such as magnolia, cherry blossom, and quince," Ovando says.
Singh adds that greens can help stretch a budget as well. "There are just as many varieties of foliage, leaves, and grasses out there as there are flowers. These types of fresh cuts are generally more cost effective and, when used in proper combination, can offer just as much style, panache, and pop as flowers."
These budget considerations and practicalities might lead to surprisingly impactful and crowd-pleasing choices:"Don't discount carnations," Ovando says. "These flowers get a bad rep; however, they are beautiful—especially when used en masse—and last a long time, come in a variety of colors, and are available year-round."
5. Timing
Unlike with less-perishable decor items, timing is critical when working with flowers. "For large events, we get flowers in two to three days prior so that we can make sure they are hydrated and properly conditioned," Ovando says. "We prefer to get flowers in tight, or closed, buds and control the process of how they open so they are at their peak for the event."
6. Contingencies
Flowers can be unpredictable in ways that other decor is not—so making a contingency plan (and being flexible) is key. "Remember Mother Nature is in control when it comes to flowers," Catechis says. "Colors may not arrive in the exact tone expected, or selected flowers may suddenly be unavailable due to drought, heat, or frost. Be prepared to make last-minute changes in order for your flowers to look their best."
"Order extra stems," adds FiftyFlowers.com C.E.O. and co-founder Liza Atwood. "Some types can be a little more finicky or delicate, and since flowers are not perfect, there may be a few stems that are more to your liking than others. Better to have too much than not enough."
7. Donation Potential
There's no need to send still-gorgeous and fresh post-event flowers to the trash. Instead, plan to donate them. "There are many organizations out there that will take your flowers, break them down, and remake gift arrangements to take to hospitals and nursing homes," Atwood says. Singh adds that this involves prep: "Contact an organization that can help well in advance—three or four weeks. While a lovely gesture, successfully donating blooms relies on the work of volunteers and is easier done when considering others' schedules. Shelters, soup kitchens, and nursing homes are good places to start. Call, email, or use social media to get in touch with a manager or volunteer leader."
Featured Venues/Suppliers: