This Week in Los Angeles: a 'Nightmare Before Christmas'-Inspired Photo Op, Carousel-Theme Decor, the First Indigenous Peoples Day Celebration
West Coast bureau chief Claire Hoffman recaps the week's biggest event news.
October 12, 2018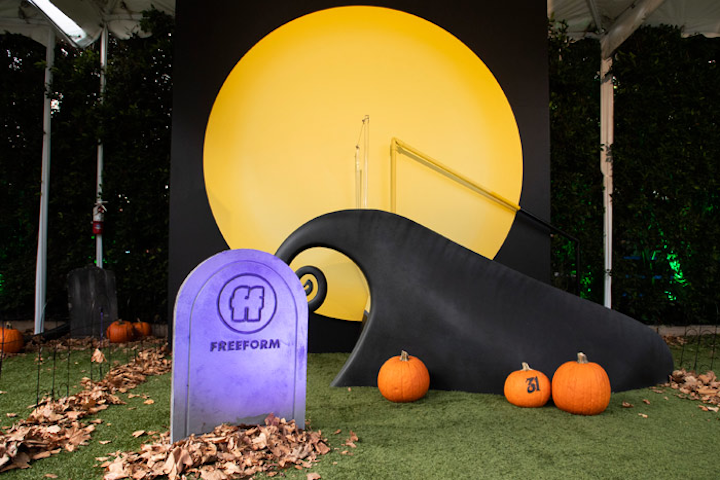 Photo: Matt Petit/Freeform
Welcome to BizBash's new Los Angeles-based column, where West Coast bureau chief Claire Hoffman recaps the week's biggest local news. Got a tip? Get in touch!
In Case You Missed It
Our list of 2018's most innovative brands posted on Tuesday! Learn how the country's biggest companies are using experiential marketing to stay relevant and reach new audiences—many through buzzy Southern California-based events such as the 2018 N.B.A. All-Star Game, Comic-Con International, the Girlboss Rally, and more.
In the News
Los Angeles celebrated its first Indigenous Peoples Day on Monday. Los Angeles Times: "The daylong festivities, which were slated to include performances by the Black Eyed Peas and Native American rock group Redbone, included a sunrise ceremony, a 5K run, and a Native American powwow. Addressing a few hundred people from the stage at the foot of City Hall, [City councilman Mitch] O'Farrell said Los Angeles is the largest city to adopt Indigenous Peoples Day in place of Columbus Day." https://lat.ms/2ypbsfJ
The Santee Passage food hall is slated to open in a 20,000-square-foot Fashion District space early next year. Eater Los Angeles: "Perhaps most interesting to the project so far is the talent behind it, including two particular names: Joseph Shuldiner and Kevin West. They're the ones largely responsible for the complete overhaul at Grand Central Market, bringing in varied vendors and winning awards along the way. Those two will be responsible for leasing at the new Santee Passage property, and lease negotiations are reportedly underway already." https://bit.ly/2QG24vO
Artist Guadalupe Rosales's first solo show at the Vincent Price Art Museum celebrates East Los Angeles culture and runs through January 19. Curbed Los Angeles: "Once you enter the exhibit space, you are transported into the East L.A. youth culture of the 1990s, replete with rave lighting, go-go boxes pasted with fliers for parties, photos of Latinx teenagers, and an altar dedicated to Rosales's cousin, who was murdered in East LA." https://bit.ly/2CA3lBN
Moves & Milestones
Chad Hudson Events, which is most known for its high-profile Hollywood premiere parties, will mark its 10-year anniversary next month. To celebrate, the event firm will host one of its WeHo Supperclub dining nights out on November 14; proceeds will benefit the Trevor Project National Suicide Hotline.
Banc of California Stadium has launched a new AR/VR mobile app powered by local developer ROK360. The app allows users to select different camera angles to view inside the space from anywhere in the world and toggle through different configurations and setups.
The Museum of Contemporary Art, Los Angeles, has elected Maria Seferian as its new chair of the board of trustees, while Carolyn Powers will serve as president of the board.
Venue Buzz
H.Wood Group's newest venue opened at the upcoming 1 Hotel West Hollywood on September 26. Harriet's is a stylish, indoor/outdoor rooftop lounge designed by John Sofio from Built Inc. with 1920s-inspired decor, featuring a burgundy, dark green, and white color scheme and plenty of string lights, greenery, and city views. Chef Lord Maynard Llera provides a menu of shared bites, while bar director Justin Campbell offers garden-inspired cocktails. The 2,836-square-foot space holds 175 people. 
Overheard
"This award and every single award given out tonight were voted on by the people. And you know what else is voted on by the people is the midterm elections on November 6. Get out and vote! I love you guys."
—Taylor Swift, continuing to break her longtime silence about politics after winning the Artist of the Year award during the American Music Awards. Swift became the show's most-decorated female artist at this year's event, which took place on Tuesday night at the Microsoft Theater. 
On the Scene
Last Saturday, we checked out the Carousel of Hope Ball at the Beverly Hilton. The biennial, star-studded gala, which raised more than $1.9 million for the Children's Diabetes Foundation and the Barbara Davis Center for Childhood Diabetes, honored longtime supporter Robert De Niro. Gladys Knight, Kenny "Babyface" Edmonds, and David Foster performed during the event, which had whimsical, carousel-theme decor.
What's Next 
One of next week's most high-profile events is the annual Amfar Gala Los Angeles, taking place on October 18 at the Wallis Annenberg Center for Performing Arts. Produced by Josh Wood Productions and Stamp Event Management, the benefit, which raises money for AIDS research, will honor Katy Perry and Toms founder Blake Mycoskie. 
Another buzzy benefit takes place on Sunday: the Hammer Museum's 16th annual Gala in the Garden, which will highlight the work of author Margaret Atwood and artist Glenn Ligon.
Shifting gears, the creativity-focused Adobe MAX conference will draw more than 12,000 people to the Los Angeles Convention Center from October 15 to 17. Keynote speakers include Ron Howard and Questlove, and more than 300 sessions, labs, and workshops will focus on graphic- and multi-disciplinary design, art direction, and other creative fields. Highlights include Tuesday-night's festive MAX Bash, which will include a performance from Beck.
Featured Venues/Suppliers: