This Week in Los Angeles: The Grove's Sparkly Tree Lighting, Vulture Festival's Neon Details, Inside a New Underground Dinner Series
West Coast bureau chief Claire Hoffman recaps the week's biggest event news.
November 30, 2018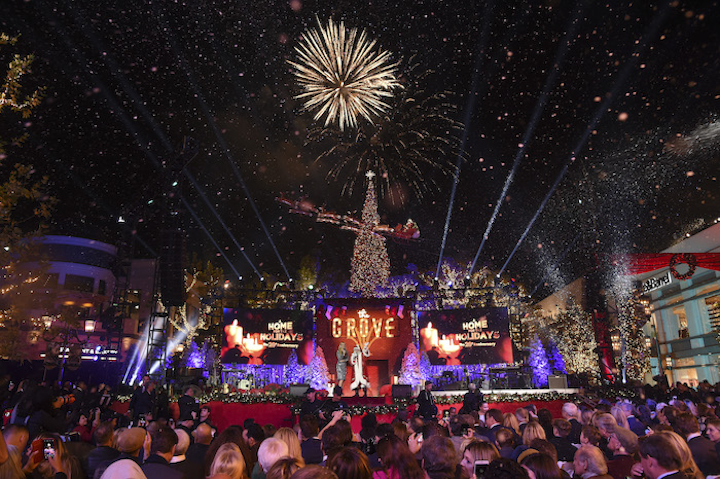 Photo: Tiffany Rose
Welcome to BizBash's new Los Angeles-based column, where West Coast bureau chief Claire Hoffman recaps the week's biggest local news. Got a tip? Get in touch!
In Case You Missed It
We took a look inside the new Beautycon Pop, the first pop-up from the group behind the buzzy Beautycon festivals, and learned how it's empowering and inspiring both consumers and entrepreneurs. We also rounded up some festive new venues perfect for holiday parties this year and caught up with Los Angeles Sports and Entertainment Commission president Kathryn Schloessman.
In the News
Fox will move the Emmys back to its traditional Sunday-night airing next year. Deadline: "The network has set TV's 71st annual trophy show for September 22—that's the usual Sunday before Premiere Week, after NBC's 2018 show was held on a Monday to avoid conflicting with its Sunday Night Football franchise." https://bit.ly/2Qp903U
A new underground dinner series is uniting the city's queer and Persian communities. Eater: Savage Taste is a queer, Persian pop-up dinner series in Los Angeles, run by [Parisa] Parnian out of her apartment since July 2017. ... The dinner series is one facet of Parnian's overall lifestyle brand, called Savage Muse, that encompasses her work as a designer, an illustrator, and a curator of experiences. She hopes to grow by hosting larger and larger events." https://bit.ly/2r7POcS
The Metro has secured a $100 million federal grant to extend the Purple Line to West L.A. Los Angeles Times: "The Los Angeles County subway project that will whisk commuters from the Westside to downtown in less than half an hour will receive $100 million in federal grants next year, the Federal Transit Administration said Wednesday." https://lat.ms/2P5DG5z
Moves & Milestones
The Los Angeles Convention Center has welcomed two new hires: Shaun Davis is vice president of operations and Ben Zarhoud is vice president of finance.
Santa Ana-based Signature Party Rentals rebranded earlier this month with an updated logo, a refreshed design palette, and a revamped website. 
The Motorcycle Industry Council—which produces the AIMexpo—has a new event leadership team. Based in Irvine, Cinnamon Kernes will serve as vice president and general manager, overseeing strategic planning and day-to-day management, and Andre Albert will serve as sales and marketing director.
Venue Buzz
Rolling Greens nursery opened its third and largest location, On Mateo, in mid-November. Formerly a scrap metal yard, the 45,000-square-foot Arts District location has a 20,000-square-foot greenhouse and a 15,000-square-foot furniture showroom selling new and vintage furniture, garden accessories, and home decor. For events, there is a tent that seats 250 and a 1,760-square-foot deck with a built-in bar. There is also 22,000 square feet of outdoor space, plus two gated street entrances and 52 parking spaces. The entire venue can be bought out for large events. In spring 2019, Rolling Greens will launch its first food and beverage program.
Overheard
"When we first decided to open a restaurant back in 2014, the food world hardly resembled what it is today. Vegetables had just begun to take hold of America's hearts, the #MeToo movement didn't exist, and aggression, addiction, and perversion weren't just acceptable, they were proof that you had what it took."
—Emily Fiffer and Heather Sperling, owners of Silver Lake's Botanica restaurant. The pair has launched a new column for Bon Appétit's Healthyish about the ups and downs of opening their first restaurant.
On the Scene
We checked out New York magazine's second annual Vulture Festival Los Angeles, which took place November 17 and 18 at the Hollywood Roosevelt and featured panels with Cynthia Nixon, Jim Carrey, Constance Wu, Roxane Gay, and more. 
What's Next 
The upcoming week is full of buzzy public events, starting with the massive Los Angeles Auto Show at the convention center. Running from today through December 9, the event features test drives, celebrity appearances, virtual-reality simulators, and more than 1,000 new vehicles on display.
For the Gen Z crowd, today kicks off the Teen Vogue Summit. After a series of workplace immersions today, the event will take over 72andSunny tomorrow for appearances from Serena Williams, Storm Reid, Cara Delevingne, and Teen Vogue's 2018 class of 21 Under 21, among others. With similar goals, Galore magazine hosts its second-annual Girl Cult Fest tomorrow evening with appearances by Amber Rose, Bella Thorne, and more.
Later in the week is the return of Refinery29's 29Rooms, which takes over the Reef downtown from December 5 to 9. This year's event will showcase 29 original, interactive rooms from local and global artists, all centered around the theme of "Expand Your Reality." (Check out photos of the recent New York edition.)
Featured Venues/Suppliers: