NACE Gala Has Everglades Theme
NACE members gathered at the Gaylord Palms Hotel for an Everglades-themed gala that was more upscale than swampy.
February 15, 2006
For members of the
National Association of Catering Executives
(NACE), the
Gaylord Palms Hotel & Convention Center
in Orlando was the ideal venue for their annual educational conference. The three-day event drew NACE members from all over the country, who experienced a unique taste of Florida. Events and networking breaks inspired by the sights, landmarks, and foods of Key West, St. Augustine, Daytona, and South Beach led to a closing night gala and awards ceremony called "Welcome to the Everglades."
Gaylord director of catering operations and gala chairman
Greg Greca
created a high-end version of the hotel's signature Everglades event with the help of the Orlando NACE chapter and his own in-house committee. "We do the theme often, but on a smaller scale," Greca said. "When people think Everglades, they often think swamp. But this was no swamp. It was an upscale, black-tie event that was fun and filled with great food."
The 45-minute cocktail reception began with hors d'oeuvres including gator dumplings, crawfish ceviche, and frog legs with peppercorn sauce. A jazz trio played as animal handlers exhibited live alligators, three-toed sloths, hawks, and other Everglades-indigenous animals for photo opportunities.
To get to the main event, attendees walked aross a bridge and under a "Welcome to the Everglades" sign. Blown fog and dim lighting created a mysterious and swampy environment. Performers and stiltwalkers from
Metropolis Productions
dressed as fireflies and butterflies greeted guests and roamed the room. Firepot lanterns dotted camouflage netting hung from the ceiling. Lush foliage, including numerous kinds of palm trees, and scenery such as a shanty shack, a roadside orange stand, a general store, and a porch with rocking chairs decorated the perimeter of the room. But the focal point was an underlit, three-sided ice bar with Everglades plants frozen inside.
Continue reading about the
closing night gala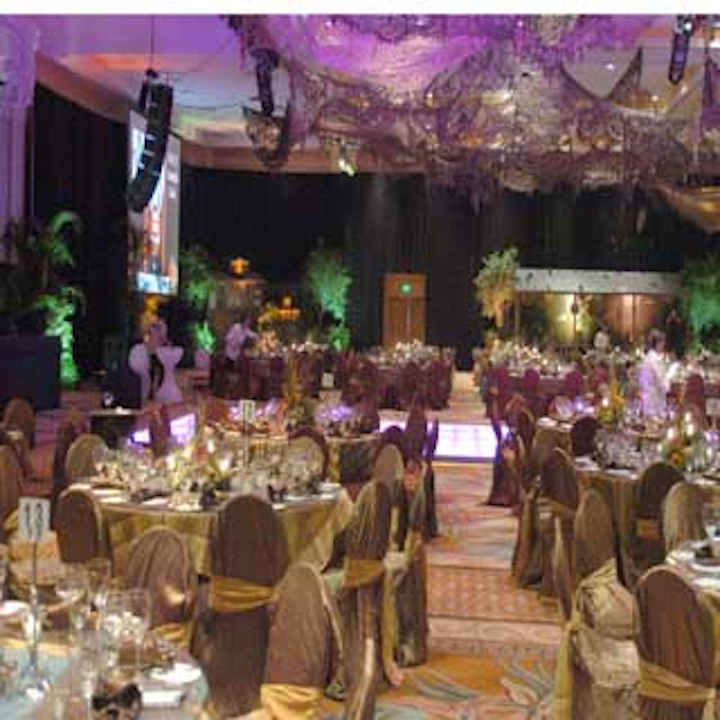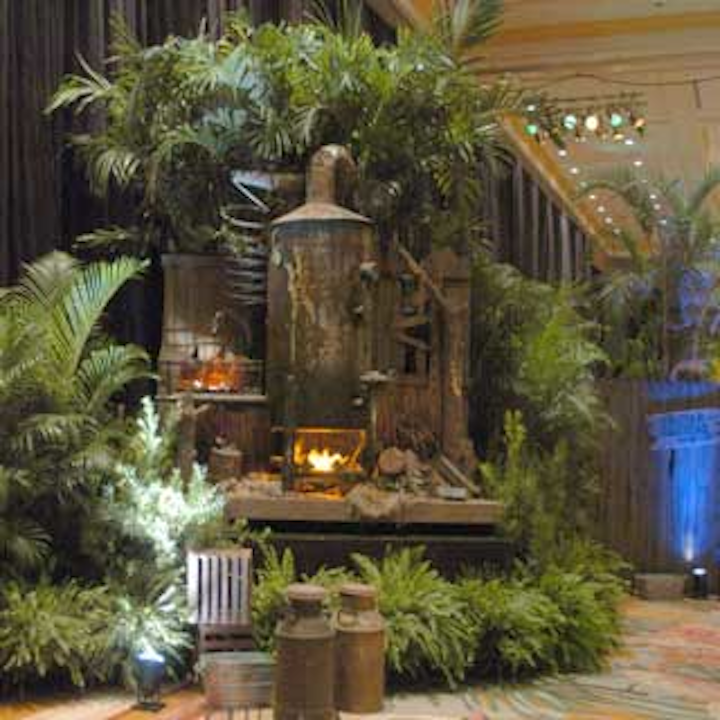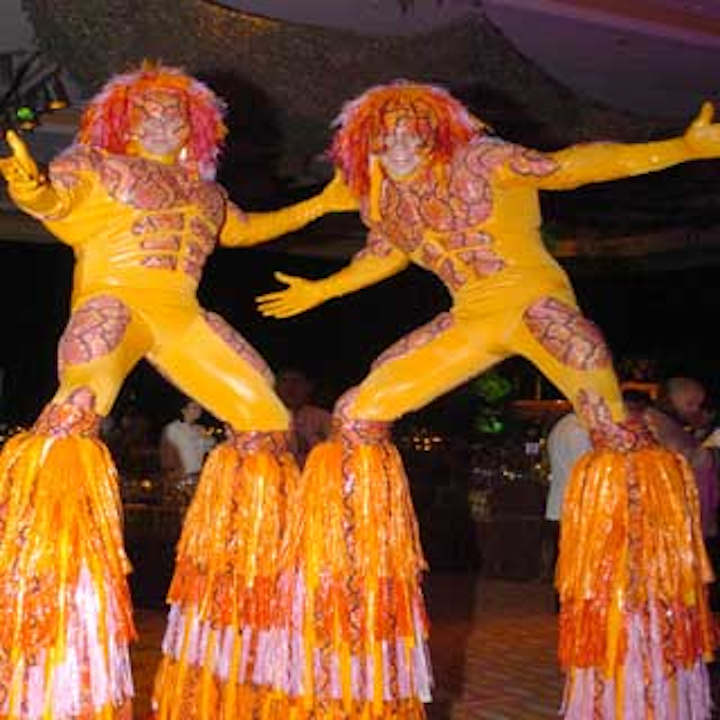 Featured Venues/Suppliers: