What It Took to Create New York's First Festival of Light
The city's inaugural event showcasing the work of artists and lighting designers brought thousands to Dumbo.
November 12, 2014
For four years, Ira Levy and Liam O'Braion endeavored to list New York City among the international cohort of cities hosting festivals of light—annual, large-scale celebrations with installations from artists and lighting designers in Lyon, France; London; Berlin; Montreal; and Sydney, Australia. Their shared vision became a reality over three nights last week—November 6 to 8—as thousands of people flocked to the archway under the Manhattan Bridge in Brooklyn's Dumbo neighborhood to celebrate the inaugural New York Festival of Light.
A triumphant O'Braion addressed the crowd gathered at Thursday night's launch party by imparting his motto from the planning phase: "We dare to dream. We don't try, we do." The doing proved to be a bigger challenge than either O'Braion, an event producer, or Levy, founder of Levy Lighting, anticipated. "New York was a hotbed for creativity, but through the years everything has become so complicated in terms of permits, approvals, and funding," Levy said. "I think Europe is more about creativity, and people do things just for the sake of doing them. Here, it's 'how does this make us more money?' That's the question that most people will ask you."
The festival's primary sponsor was Satco Products Inc., a New York-based manufacturer and distributor of lighting products. The festival's Kickstarter campaign raised more than $7,000 from 71 backers, which Levy said helped the festival to nearly break even this year. Moving forward, he hopes to entice sponsors from outside the lighting industry by framing the New York Festival of Light as a grassroots event, akin to Coachella or Burning Man, with funding from "one or two sponsors, like Target or Red Bull." Additionally, New York is the sister city of the Berlin Festival of Lights, also held in October, the idea being that the two cities will eventually share backers looking to promote in both markets.
Before the festival could secure sponsorship, however, it first needed to find a venue. Levy and O'Braion courted a Manhattan location for about six months, working to gain approval from the city's Street Activity Permit Office. A year ago, Levy and O'Braion presented a small-scale teaser festival, called First Light, in a NoLIta garden on Elizabeth Street—part photo op, part preview for things to come in 2014. But getting the go-ahead from the Street Activity Permit Office this year was holding up the timeline. "The more I thought about it," Levy said, "I was like, why does it need to be in Manhattan? The people that are really going to come out are not from Manhattan anyway."
Dumbo—with its waterfront views, historic buildings, and plaza space surrounding the base of the Manhattan Bridge—offered an ideal location with room for future growth. Plus, the Dumbo Business Improvement District's relationship with the New York City Department of Parks & Recreation and the Street Activity Permit Office smoothed the way for the festival to stay on schedule. "What a spectacular backdrop, to have the Manhattan Bridge at our disposal for this kind of light, it's so amazing," said Alexandria Sica, executive director of the Dumbo B.I.D., as camera phones clicked away at the launch party. "You're seeing it like you've never seen it before."
Levy estimated that about 3,000 people flooded the illuminated streets of Dumbo each night of the festival, having learned of its existence from television and digital media, by word of mouth, or via the hashtag #NYFOL on social media. Overcrowding became an issue on Saturday night, and organizers opted to close the event early. "Attendance at the first annual New York Festival of Light was unexpected and unprecedented, yet underscored our belief that the public would welcome, appreciate, and be delighted by the wonders of light. Overwhelming crowds on the final night and concern for public safety prompted us to end the festival two and a half hours earlier than originally planned," Levy said. "I was upset that people couldn't experience all we had to offer due to the response but at the same time elated to see so much enthusiasm by the crowd."
Disclosure: BizBash C.E.O. David Adler and editor in chief Anna Sekula are on the New York Festival of Light's advisory board.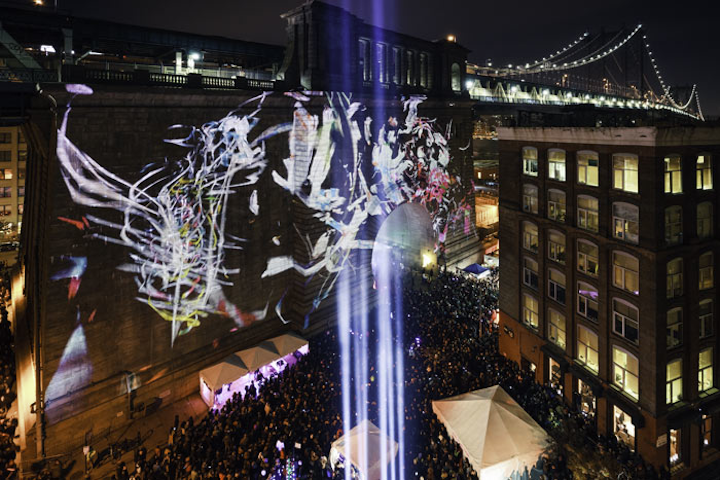 Photo: Nicolas Lemery Nantel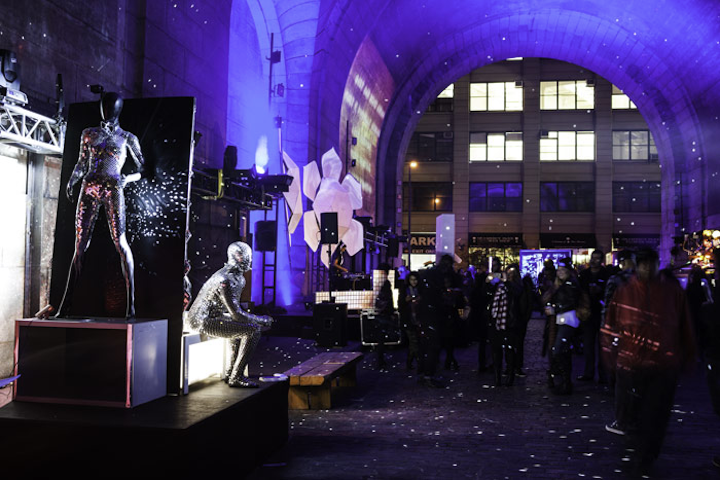 Photo: Nicolas Lemery Nantel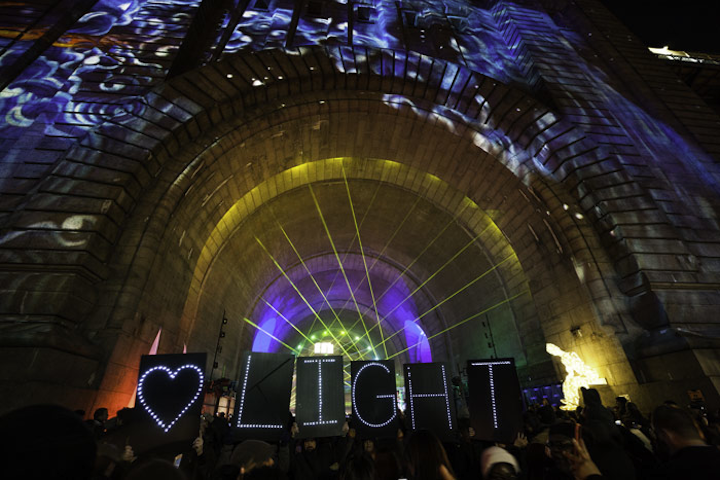 Photo: Nicolas Lemery Nantel
Featured Venues/Suppliers: