How the Met Gala Avoided Chinese Clichés
Organizers of the museum's influential fund-raiser found elegant ways to incorporate Chinese imagery, the focus of the Costume Institute's spring exhibition.
May 13, 2015
Careful to avoid clichés, there was little, if any, sign of red and gold to be had at this year's Costume Institute gala at the Metropolitan Museum of Art, which celebrated all things Chinese with the exhibit "China: Through the Looking Glass." Indeed, the respectful homage to the Far East relied on a soft palette of mainly pinks and blues, featured on everything from centerpieces to the stage curtain to even the Michael Kors-designed uniforms worn by ushers.
"Anna said, 'Do China, but not too literally,'" said benefit producer Raul Avila in reference to the edict on decor provided by Vogue editor in chief Anna Wintour. Wintour was the event's co-chair (her 17th time) alongside actresses Jennifer Lawrence and Gong Li, philanthropist and film producer Wendi Murdoch, and Yahoo C.E.O. Marissa Mayer, whose tech firm served as the evening's sponsor. Business magnate Silas Chou served as honorary chair.
Vogue's director of special projects, Sylvana Ward Durrett, oversaw the planning of the benefit, which raised more than $12.5 million, working with the Metropolitan Museum of Art's in-house staff, including vice president for institutional advancement Nina Diefenbach, deputy chief development officer for events Kristin MacDonald, and deputy chief special events officer Bronwyn Keenan. Decor for the event was created by 59 Productions and Avila, who has worked on the gala for nine consecutive years.
Two years in the making, this year's exhibit, according to the museum's director and chief executive officer, Thomas P. Campbell, is "probably the largest exhibition we've ever undertaken at the Met." Initial conversations on how to celebrate the museum's department of Asian Art's centennial blossomed into becoming the focal point of the Costume Institute exhibit. The exhibit, which opened to the public on May 7, spans all the Chinese galleries at the Met—a total of 30,000 square feet, or three times the size of a typical show.
As guests, including Beyoncé, Reese Witherspoon, Lady Gaga, Jennifer Lopez, and Sarah Jessica Parker entered the museum on the evening of May 4, they were met by a 30-foot-tall porcelain vase replicated entirely in white and blue roses. The impressive floral installation was in keeping with aesthetic motifs from centuries of Chinese art that inspired other decor elements. From there, and up the Great Hall staircase flanked by 6,000 bamboo stems, an inaugural viewing of the exhibition was had. Cocktails followed at the Temple of Dendur in the Sackler Wing, where a giant full moon was projected onto the back wall, a dozen planted cherry trees were in full bloom, and a female quartet played "In the Mood for Love."
At 8:30 p.m., the 640 guests sat for dinner in the American Wing's Charles Engelhard Court, which Avila had transformed using some 200,000 stems of wisteria to visually lower the ceiling of the space. Central Park-facing windows were covered in de Gournay hand-painted wallpaper created by traditional Chinese artists, while the northern bank façade was covered in sheer de Gournay curtains.
Catered by Glorious Food, the evening's menu featured an appetizer of vegetable, chicken, and shrimp dumplings with ginger soy sauce served in bamboo steamers. Entrées of roasted duck with hoisin sauce or red snapper with ginger lime sauce were accompanied by white and vegetable fried rice, scallion pancakes, and bok choy with spring vegetables, all served with a Côte de Nuits~Villages, Albert Bichot, 2012, and a Chablis Premier Cru, Domaine de la Cornasse, 2012.
Dinner tables covered with de Gournay tablecloths featured centerpieces of red peonies in blue and white porcelain vases and chargers holding gold-rimmed plates. In a nod to this year's ode to China, chopsticks were placed at each setting and, for those auspicious of unlucky numbers, table number four was omitted from the seating chart.
Following dessert, which consisted of gilded pomegranate filled with pomegranate ice cream alongside fortune cookies, coffee, and Chinese teas, Rihanna emerged from behind an 80- by 30-foot de Gournay curtain. To create a scaled-down runway for her performance, staffers quickly cleared the center orchestra dinner table, removing all stemware in a matter of minutes.
Overall, it took Avila and his team one week to set up and five full days to break down. "It was more labor-intensive than in past years because of the theme," said Avila. "We didn't want to be cliché yet wanted to do something people would understand. We had to be more conscientious of color choices than ever."
Following the gala, a quartet of after parties ensued throughout the city: Yahoo hosted the official after-party at Top of the Standard (also known as the Boom Boom Room) in the meatpacking district, while Michael Kors held court at the Mark Hotel on the Upper East Side, Lady Gaga and Alexander Wang took over the Diamond Horseshoe in Midtown, and Rihanna commandeered the Up & Down nightclub in Chelsea.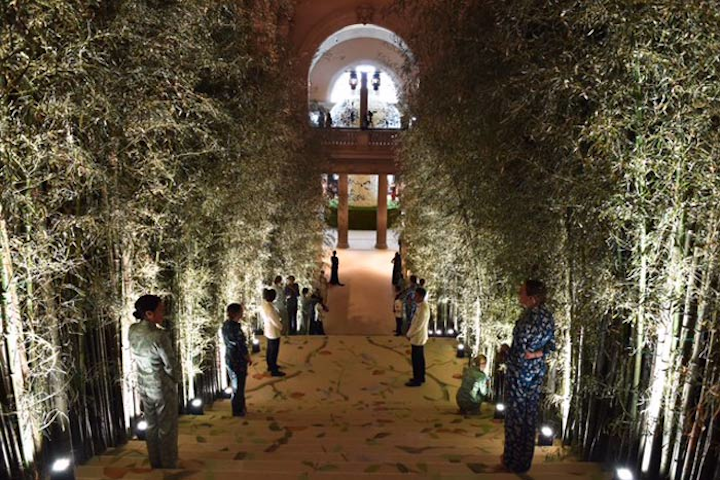 Photo: BFA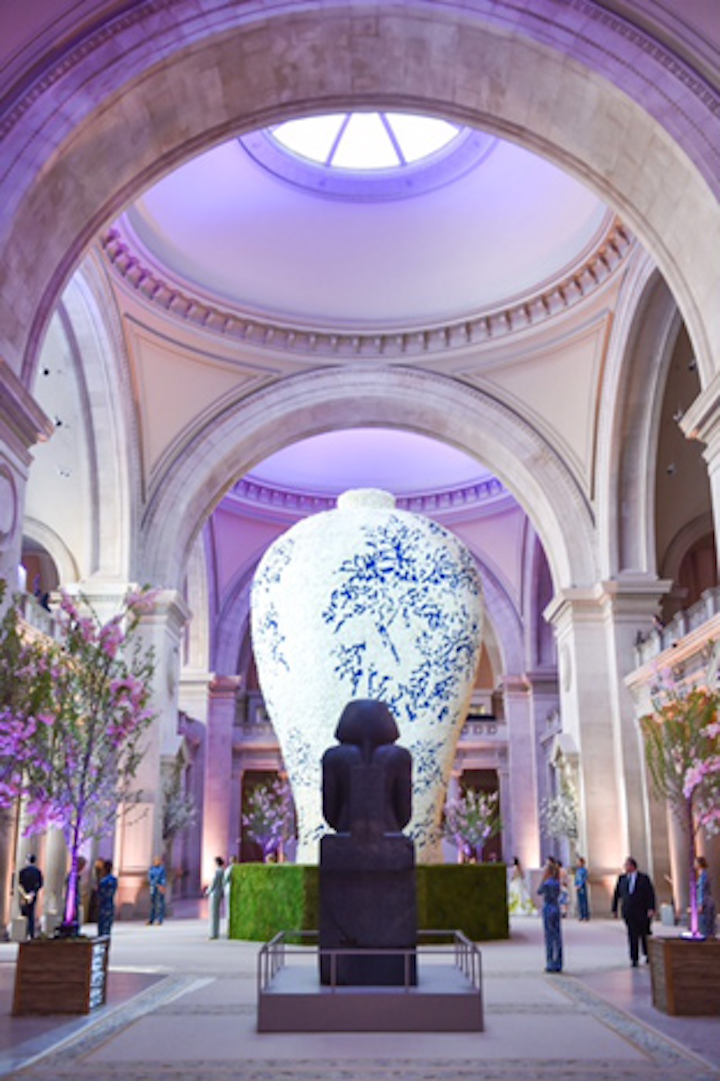 Photo: BFA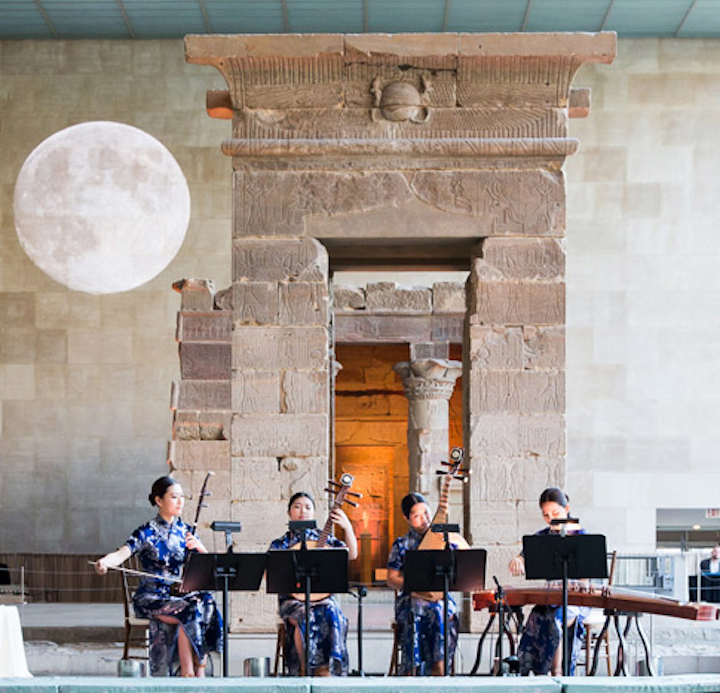 Photo: BFA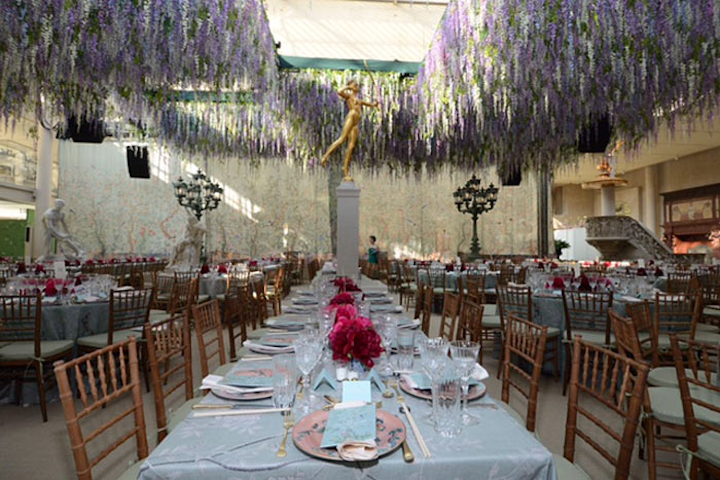 Photo: Courtesy of the Metropolitan Museum of Art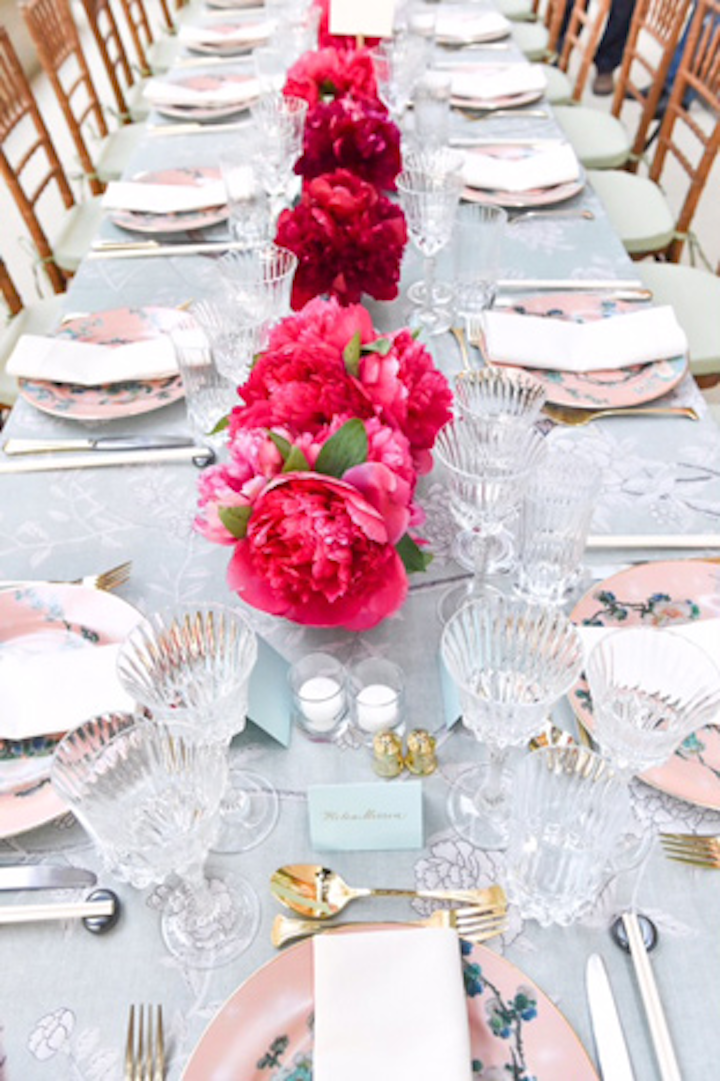 Photo: BFA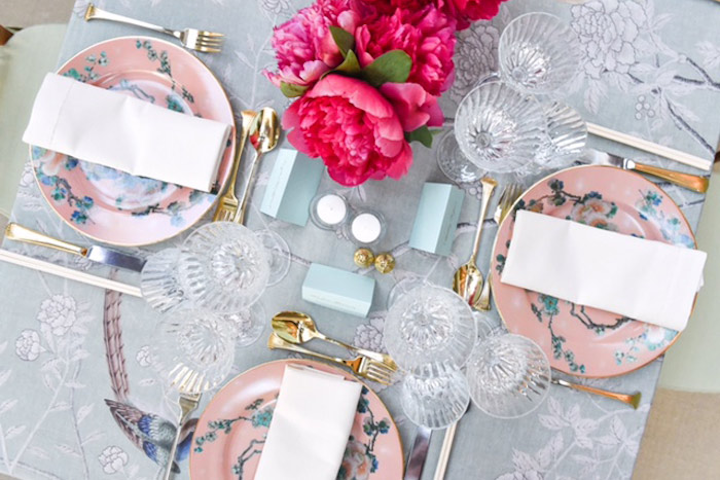 Photo: BFA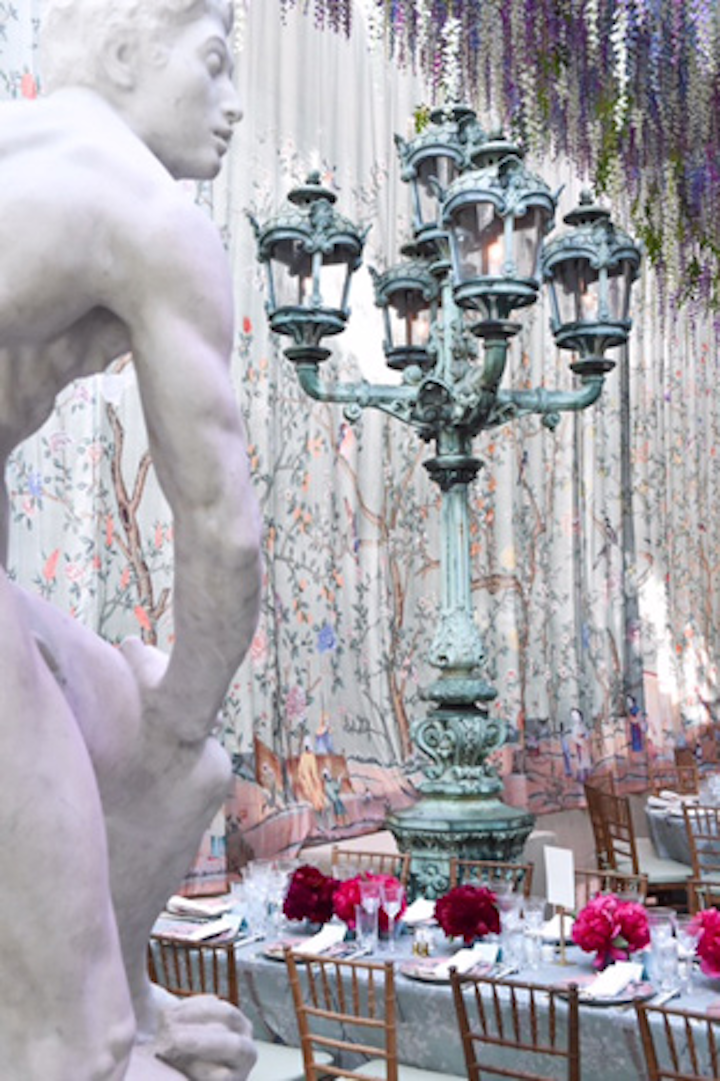 Photo: BFA
Photo: BFA
Featured Venues/Suppliers: