Event Design Inspiration: The Energy of Orlando
May 22, 2018
There is a thin line between staying both on brand and on trend without losing sight of one or the other. When creating an event that captures the essence of your client's brand without sacrificing what's hot in event design, be specific in your vision and detailed in your execution. CORT Events recently put on a V.I.P. event celebrating the spirit of Orlando, showing how you can make the most of your surroundings while staying true to your client's brand. 
https://vimeo.com/266189656/328b82f145
To transform the Varsity Club at Camping World Stadium into an event space that captured the magic of Orlando, we started with the diverse central-city location in a semi-tropical environment as our inspiration. We wanted the event to reflect that cool, casual effervescence of modern Florida and did so by playing up current trends such as floral and tropical prints and paying attention to the details that reflected the city.
Evan Carbotti, owner and designer at Carbotti Experiences, spoke to how Florida's unique aesthetic led to a hip, yet elegant event that included many hot trends such as mixed materials, neon, and tropical-patterned pillows and graphics. Carbotti said, "We're bringing in the new energy that's happening downtown. We're bringing lots of printed elements and modern pieces with eclectic mixes of furnishings and using all new CORT products that we haven't used in the past. They're really on trend; they're funky. There are a lot of different textures." They combined different style furnishings, like the modern Island double sofa with the classical Napoleon collection to surprising and successful effect.
We took inspiration from the city and through design consultation, as well as 2- and 3-D space planning, created environments that realized that design vision.
Bryan Loper, regional sales manager of the Southeast Region at CORT Events, coordinated the execution of the event and spoke to the importance of a team that understands design and prioritizes the client. "We have a very experienced team with us," said Loper. "They've been in the industry for a long time, so ultimately they are able to best serve our clients and give them that perfect customer experience."
Homing in on what makes a customer unique and identifying why their event is special can help guide your event design process. Take time to understand the inspiration and energy behind an event and your result will be unique and capture your client's brand vision.
Kevin Dana is executive director of marketing and product development at CORT Trade Show & Event Furnishings. To learn more about CORT's exhibit and event rental collections or its Social Tables integration, visit www.cortevents.com.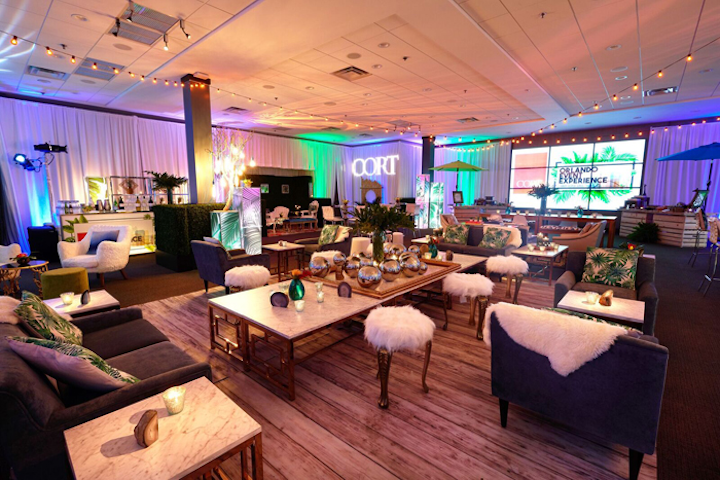 Photo courtesy of CORT Event Rentals
Featured Venues/Suppliers: