Why Virtual Gift Bags Could Be Right for Your Next Event
March 5, 2013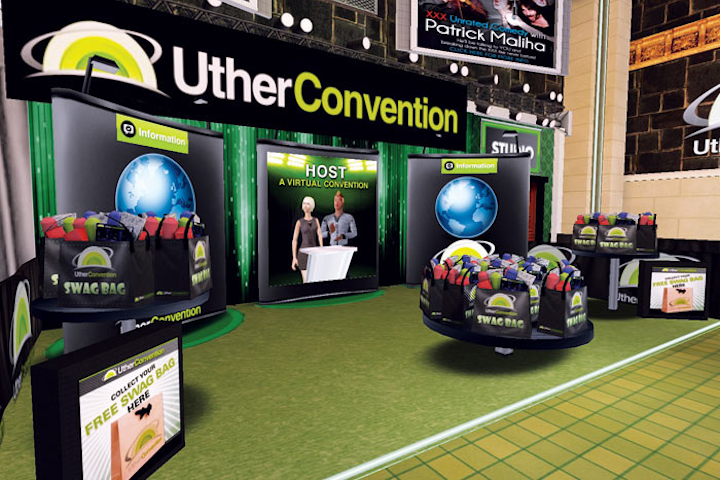 Photo: Courtesy of Utherverse World Development
When 6,000 attendees of the virtual event UtherConvention logged on from their computers, the first things they saw before entering the "exhibition floor" were three tables of virtual gift bags they could claim to peruse actual swag offerings from event exhibitors and sponsors.
Having a virtual gift bag made sense for the three-day conference that focused on virtual world commerce. Sponsors filled the gift bags with items such as free virtual clothing for their avatars as well as codes attendees could redeem to get real-life objects such as branded T-shirts. The gift bags helped make the experience more realistic for attendees and created value for exhibitors and sponsors, says Anna Lee, chief business development officer for UtherVerse, which created the convention and arranges virtual gift bags for other companies' events.
"I go to 20 live conferences a year, and when they give you a bag when you walk in, you pick through the good stuff, and the rest gets discarded," Lee says. "With this, nothing gets discarded. It's a simple click, and it drives them straight to a Web site. Virtual conventions will not replace live conventions, but virtual swag bags have more value than a live one because they're sending people to the [gift giver's] site."
Offering virtual swag isn't limited to online events. For live trade shows, meetings, and events, organizers can give attendees virtual gift bags put together by companies such as GiftHit, which operates in New York, Boston, Miami, and Silicon Valley. The company offers the opportunity to send "e-gifts" that are delivered by Facebook wall post, email, or text. The recipients redeem them at brick-and-mortar businesses, typically local shops curated by GiftHit staff, according to co-founder Arielle Goldman, who says the concept of cyber-gifting translates easily to event gift bags. "You could either give the bag during or after the event in the form of the email: 'Thanks for coming, here's a favor from us to you,'" she says.
Hard Rock Hotels & Casinos now give guests virtual gifts through its "Sound of Your Stay" program, a partnership with BMF Media Group. At check-in, guests receive a code for downloadable playlists created by musicians and celebrities. The music can tie into causes, such as the one Sara Bareilles created for the Breast Cancer Research Foundation.
Virtual gifts connect people with brands without loading them down with tchotchkes to pack for the trip home. Sponsors like the concept because it drives traffic to their Web sites and creates marketing targets—to redeem items, attendees supply their contact information.
At UtherConvention, sponsors could track redemption rates, and show organizers could track how many attendees picked up their bag. Nearly all of them did, according to Lee, who adds that the company plans to make one change for the next virtual show: "We're going to make the bags bigger because of the demand for them."
Featured Venues/Suppliers: