'Tis the Season for SWAG @ Axis Promotions
October 17, 2017
Picking the perfect corporate holiday gift is no easy task! For many, the sheer thought may be daunting—what do I give my clients, my employees? Fear not! Our branding experts have compiled a list of holiday do's and don'ts guaranteed to make this year's shopping season the jolliest (and easiest) yet.
Do understand your audience and recipient! Keep the who (recipient) and why (why are you giving them a gift?) in mind when brainstorming. 
Do brainstorm! At Axis, we create Pinterest boards and pin inspiration from retail, trend reports, and high-end gift guides.
Do think about the overall aesthetic of the gift! Packaging is essential. If you have a smaller budget, a metallic padded envelope, paper tube, or brown kraft paper and twine may make your gift stand out and seem "unusual"—it will be viewed as clever, creative, and memorable by the recipient.
Do plan ahead! Shipping costs can add up fast. Keep in mind the gift's weight when planning; the heavier the gift, the more costly the shipping.
Do include food! Everyone loves a tasty treat; just make sure to package it well—a custom box, belly band, ribbon, or sticker can help make your gift memorable and leave a lasting impression. 
Do be charitable! If you plan on donating to charity in place of sending your recipients gifts, send them a small memento along with a note card to excite them and explain the donation's purpose. 
Don't insist on giving a gift that your budget won't allow. For example, if your budget is $5 per gift, don't give an umbrella just because you are determined to give an umbrella. One strong wind and a $5 umbrella is going to end up in the corner garbage can with your logo on it. Instead, give a nicely presented gift of four or five gourmet cookies with a hand-written note (and it doesn't necessarily have to be your handwriting—just your sentiment). The recipient will remember you favorably instead of getting angry when his or her cheap umbrella breaks in the middle of a rainstorm.
Don't throw safety and compliance to the wind. The last thing you want this season is to be involved in a product recall. 
Don't use your logo obnoxiously; subtly brand your gift. For example, don't give nice wine glasses with your logo plastered on the front of them. Think of your recipient; are they really going to serve their dinner guests wine in glasses with a corporate logo imprinted on them? Instead, etch your logo or message subtly onto the base; or better yet, don't brand them at all. An elegant branded gift card or branded ribbon is memorable. Trust us; they will think of you every time they use those beautiful wine glasses.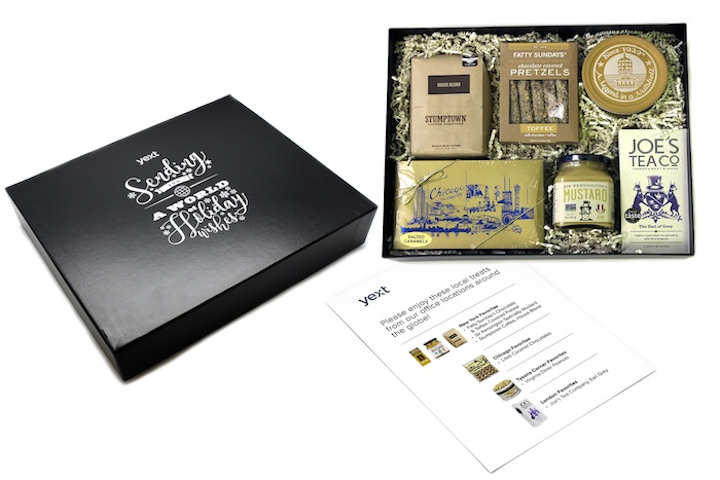 Photo: Courtesy of Axis Promotions
Featured Venues/Suppliers: