What Goes Into an Award Show Gift Bag?
Gifting suite producers share a behind-the-scenes look at what works and what doesn't when giving away the goods to celebrities and attendees.
February 13, 2019
From luxury vacations to underarm sweat patches, the products and services featured in gifting suites and gift bags during award season can be pricey, trendy, or just plain quirky. Here, the suite producers who handle major events like the Emmys, Grammys, and more let the cat out of the (gift) bag and offer a peek inside the curation process.
How are the gifts selected?
"We are always looking for an eclectic mix of fabulous and functional," explained L.A.-based marketing company Distinctive Assets founder Lash Fary, who just completed his 20th year producing the official backstage lounge for the Grammys, which included ReFa's Japanese micro-current beauty rollers, 23andMe DNA testing kits, Good Girl Chocolate, and more.
"There are so many different types of people who receive our gifts; we like there to be something for everyone. Inclusion isn't just about the retail price point, it's also about whether it is an item that would be used and appreciated. These are folks who have access to everything and can afford to buy anything they want, so we just want this to be fun for them…. Hopefully we are also introducing them to some new brands and experiences they wouldn't otherwise know about."
Karen Wood, president and founder of Backstage Creations in L.A., conceived of the gift suite concept back in 1994, not as a marketing opportunity at first, but as a way to lure in talent who were notorious for being late to rehearsal. She has since become one of the top gifting suite producers in the industry, handling award shows like the Emmys, SAG Awards, the MTV Movie Awards, and the upcoming iHeartRadio Music Awards, which take place on March 14 at the Microsoft Theater in Los Angeles. Wood explained that it's not one size fits all when it comes to award show gifting.
For example, "If you're looking at something like iHeartRadio, you have a lot of musicians who are Top 40, very fashionable, very trendy; cutting-edge musicians tend to be a little bit more daring with their fashion choices than actors, so we definitely look at different types of designers for a music show than we would for a show like the Emmys, which is a black-tie show and maybe a bit more conservative when it comes to fashion."
In addition to brand outreach, Wood said that her team does product research, scouting out popular brands and electronic gadgets at C.E.S. or at a fashion trade show in Las Vegas, as well as tracking what celebrities are posting about or what brands they are following on social media.
What's hot?
While there is no set formula for a successful award show gifting suite or gift bag, most contain a combination of fashion items, travel packages, beauty products, and of course celeb-friendly sunglasses. Wood said that her team has featured pairs from high-end brands like Ferragamo and Fendi, but new kid on the block Zenni Optical has been an instant fave among attendees.
"We've been surprised to see talent at everything from the Teen Choice Awards to the Emmys really responding well to it. So it's not really about celebrities needing to wear the most well-known designers, they're totally open to wearing something that may be more affordable and still look very fashionable.... Because with us, it's never really about the price tag, it's more about the fit."
Zenni's brand communications officer Sean Pate said that the brand has noticed "organic social love from V.I.P.s" who've taken the glasses home from award shows and posted them on their social media channels at a later date.
That type of exposure and celebrity product placement is why brands pay promotional fees to be included in the suites and gift bags. Interestingly, Wood said that luxe travel packages, which are a staple item, "play well with the media, even though most of the celebrities don't redeem [the voucher] or take the trip that is offered to them," but it's a "sexy, high-end item that gets talked about a lot."
Another item that's been receiving a lot of, well, buzz, especially in L.A., is cannabis. "This year, we are so excited about the legalization of cannabis in California so we will be including a number of items in that category to the top Oscar nominees in their 'Everyone Wins' gift bag like infused edibles from Coda Signature and a V.I.P. membership to MOTA, L.A.'s first cannabis-friendly exclusive club," Fary said. "But there are quite a few regulations surrounding distribution of cannabis so we are treading lightly this year as we dip our toe into those waters."
Navigating the tricky environment of award show gifting is not new to Fary though. In 2016, the Academy of Motion Picture Arts and Sciences filed a lawsuit against Distinctive Assets over the gift bags because of trademark issues; the suit was resolved and Oscars branding was removed from the bags, which have a six-figure value and are sent to nominees during the week leading up to the ceremony.
What are some gifting gaffes?
Wood, who only handles official gifting suites, said that she won't feature competitive brands that might dilute the show's sponsorships. "All of the products that we have in our suites are vetted through the producers, so we ensure that they are not competitive with advertisers or sponsors, and it's not a conflict for them. We also make sure the products are appropriate for the caliber of celebrities."
In terms of risqué products, Fary has learned to play it safe. "We shy away from anything overtly sexual in nature. Though we used to include those items, they became a press obsession and detracted from the overall messaging of the gift bag."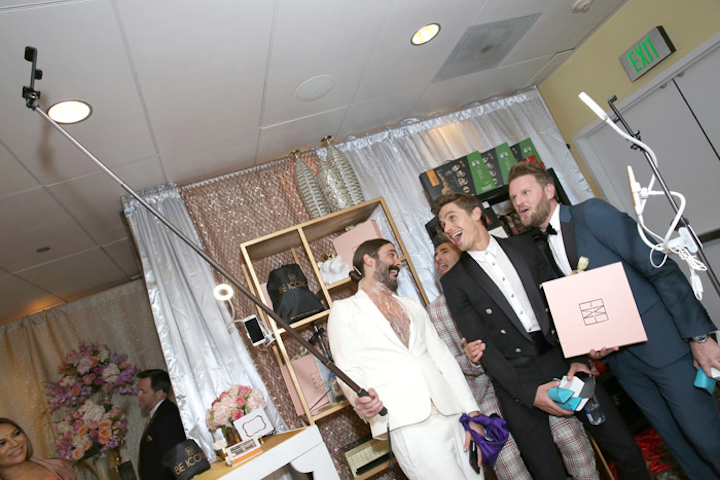 Photo: Rebecca Sapp/Getty Images for Backstage Creations
Featured Venues/Suppliers: