How Event Planners Are Stepping Up During the Devastating California Wildfires
In Southern California, planners are sharing resources and offering their services to help displaced events and weddings—often with 24 hours' notice.
November 15, 2018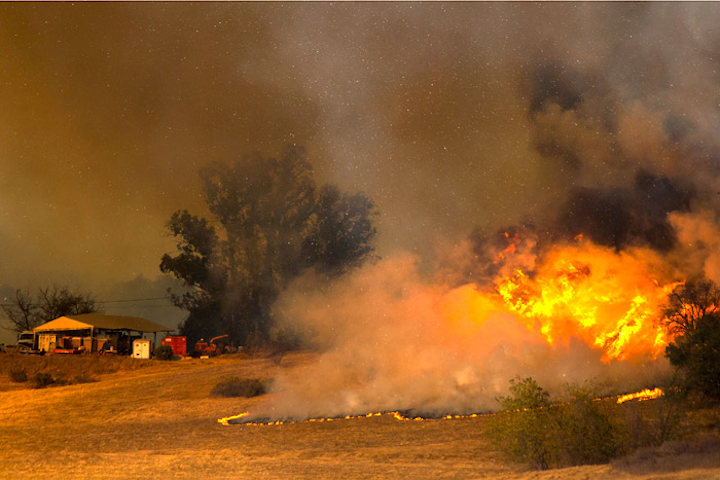 Photo: David McNew/Getty Images
The posts started popping up last Friday morning. "Looking for a venue to accommodate a 50-guest wedding tomorrow." And "This venue has openings for displaced brides." Members of Facebook groups for Los Angeles-area event professionals were reaching out to each other, offering their services (often for free), or helping place weddings and other events with a day's notice.
It's perhaps no surprise that the event industry has stepped up during this week's widespread wildfires in California. Earlier this year, we spoke with event planners in Northern California about their 2017 wildfire recovery, and they shared tales of hosting weddings with no electricity and relocating large events with five days' notice. (Northern California has been devastated again this week by the Camp Fire, now considered the deadliest in the state's history.)
A similar story is currently taking place in Southern California, where the Woolsey Fire has consumed almost 100,000 acres in Ventura and Los Angeles counties, including Malibu, Thousand Oaks, and Topanga. In addition to being a well-known celebrity haven, the picturesque Malibu area is a popular destination for weddings and other events—all of which have had to be moved on short notice after mandatory evacuation orders.
Alexandra Rembac, the creative director of event planning firm Sterling Engagements, sprung to action as soon as she saw the news of the fires. "I posted on social media, texted several of my friends who run venues in the area, and just extended support in every direction I knew how," she says. "There's a few groups on social media specifically directed towards brides, and there were multiple planners coming together assembling lists, advice, and beyond. Jessica Carrillo with [local wedding planning firm] Art & Soul Events started a resource post and Google Drive that everyone within our network was adding to, accessing, and offering to displaced brides."
Rembac says that she personally helped support two displaced Malibu weddings, one that had been planned for Calamigos Ranch and one for Saddlerock Ranch on November 17. "The [couples] both originally booked off-premise locations, yet ultimately are being displaced to incredible hotels who are stepping up and working tirelessly to accommodate the last-minute booking," she explains. "One of the brides had guests flying in from London and Japan, and while the [original] venue offered to reschedule with her at a later date, this was just not an option."
She continues, "The best advice I gave to her was, 'Try to breathe and surrender to the process as much as you are able. Have faith that people are going to go out of their way to accommodate you and transition you as seamlessly as possible. Ultimately, in the end, you get to marry your best friend with all of your family and friends surrounding you. This is what's most important right now and will likely be in years to come.'"
Sandy Radicevic, the president of event rental firm Premiere Party Rents, has a similar story: Her team was scheduled to work on five weddings in the area last weekend. Three were able to move to locations in Newport Beach, Rolling Hills, and Santa Monica, while two were postponed until 2019.
"We had trucks dispatched at 5:30 a.m. [on Friday] on the way to Malibu Rocky Oaks Vineyard and Cielo Farms," she says, explaining that they first thought the crew would simply need to use a different freeway to access the venues. "Within 10 minutes we realized the severity of what was happening and did not want to send our crews into the fire evacuation zone. … We called them at 5:45 a.m. and instructed the trucks to turn around. As it turns out, within two hours the flames had already made it to these locations. The owners of these properties barely made it out." (Both venues ultimately survived the fires.)
Throughout Southern California, venues that are not in evacuation zones have been offering their services. One of those is Wanderlust, a yoga studio and event space in Hollywood. Dezhda Gaubert, the venue's event sales manager, says she was contacted by a planner on Sunday who had been cold-calling venues to see which were available.
"Luckily, this event already has a caterer and rentals booked so they can simply relocate their services," she says, noting that normally the turnaround time for booking an event at their space is five days. "[But] that can definitely be done in just a few days if everyone communicates quickly and cheerfully throughout that quick process. … Our industry is all about hospitality and assisting others, and these kinds of terrible situations bring out the best of us."
Rembac agrees that the event industry is well-suited to dealing with disasters. "It's our job to know how to come up with solutions as [problems] come up, which often is on zero time," she says, noting that suppliers such as Rob Pausmith with Très L.A. Catering and some local venues are working extra hard to help with displaced events, including Bella Vista Groves, Eden Gardens, Epona Estate, Westlake Village Inn, Hyatt Westlake, and North Ranch Country Club.
The fate of many iconic event venues in the area remains to be seen, as new flare-ups continue to happen. "These venues are our second homes," says Radicevic. "Both of my kids were married at Saddlerock Ranch. For us, it was an extremely emotional few days."
One thing is sure, though: The hospitality industry will continue to find solutions. Despite his own venue suffering damage, Malibu Rocky Oaks owner Howard Leight chartered a yacht on Tuesday stocked with water, fuel, shovels, snacks, dog food, and beer. (Surfers and kayakers helped him bring the supplies to shore in Malibu.) Another event planner is helping plan a community Thanksgiving for displaced families, while others were spotted on social media using their organizational skills and networks to coordinate donations to the Red Cross.
The industry also has not forgotten last Wednesday's mass shooting at Borderline Bar & Grill in Thousand Oaks. "I had a photographer, Katrina Jayne Tartaglia of Katrina Jayne Photography, reach out to me and start to organize a group to plan or volunteer or organize something for the Borderline tragedy," says Rembac, who has known the Borderline owner for 18 years. "It's really beautiful to see everyone come together during such a horrific time in our community."
The tragedies may have long-term impacts on the Southern California event and wedding industry.
"We will come out stronger and I think more evacuation plans will be buttoned up, fire plans will be discussed, and clients will be more prepared in advance because of that," says Rembac. "I am confident that our industry will come together to help each other rebuild and support each other as we all do it."
And as every event planner knows, the show must go on—and sometimes the results are better than expected. Teri Kinne, the owner of Teri Kinne Events, relocated a 125-guest wedding with 24 hours notice this past weekend. "I moved the venue, vendors, family, guests, and dogs to a new location. It was such a bear to navigate the logistics of turning this huge ship around overnight and staying calm, cool, and organized," she says. "But once the rabbi walked down the aisle to begin the wedding, it miraculously unfolded beautifully—with the background of a smoky, pink sunset."
To help event, meetings, catering, and hospitality professionals affected by the fires, donations can be made to the Search Foundation by clicking here. Be sure to write "CA FIRES" in the comment section.
Featured Venues/Suppliers: