Summer is on its way, which means it's time to start entertaining interns, summer associates, clients, and corporate groups. Check out Washington's new bars, restaurants, hotels, and outdoor and fresh-air-friendly venues for corporate picnics, company gatherings, and other types of summer entertaining.

1. Taking over the former Club Five space near Dupont Circle, Public Bar occupies 7,600 square feet on two interior levels and a rooftop deck. Each level offers dedicated presentation capabilities and a segregated sound system, allowing for multiple private events to take place at once. The main level, referred to as Courtside, can host 150 to 200 people and offers 31 TVs and a large U-shaped bar. The second-level lounge, dubbed the Suite, has a private bar, six large-screen TVs, and a range of lounge seating options for 125 to 150 people. The Sky Box, which is the rooftop deck, can host groups of 75 to 125 with its two bars and banquet seating options.
2. Cocktails can be had on Blue Duck Tavern's renovated patio, which reopened April 22. The revamped digs have new furniture, lanterns, and a new communal table made from a 50,000-year-old piece of kauri wood, which seats 12. The entire patio can seat 42. The Foggy Bottom outpost also has a private chef's table for 18 inside.

3. Opened on December 5, Arlington Rooftop Bar and Grill is one of the newest additions to the burgeoning Court House and Clarendon section of Arlington. This 7,000-square-foot restaurant is comprised of a main dining room, mezzanine, and its namesake rooftop bar, which opened in April. The rooftop can accommodate as many as 145 people for private parties during warmer months. The space has its own centrally located slate bar and will have 20 movable tables with seating for 65. The indoor area can be bought out and will hold 319 people, with 284 seated in the main dining room and an additional 35 on the mezzanine. Alternately, the mezzanine can host a semiprivate reception for 67.

4. Perfectly suited to after-hours entertaining, sports bar and restaurant Redline opened in Gallery Place near the Verizon Center in December. The 6,000-square-foot space is outfitted with 40 flat-panel TVs, an 11-foot projection screen, a 22-foot electronic sports ticker, and two Vegas-style electronic sports-book boards displaying the current odds. There is seating for 130 people, and the choice seats are the eight horseshoe-shaped leather booths that have built-in taps for guests to serve themselves. An electronic meter keeps track of how much is poured, and all the booths are available for reservation. Partial and full buyouts are available.

5. One of the most coveted private rooftops in Washington, the Top of the Hay at the Hay-Adams Hotel, underwent a multimillion-dollar, five-month renovation before reopening in late January. The all-new, L-shaped space features floor-to-ceiling windows, a wraparound terrace, and five separate rooms hosting groups of 15 to 300; those rooms all offer panoramic views of the White House and downtown Washington. Designed by interior designer Tom Pheasant and architectural design firm Hartman-Cox Architects, the updated decor boasts a new palette and mosaic tiles, marble floors, and custom-designed carpets.

6. Cigar and martini lounge Ozio opened a newly redesigned rooftop bar earlier this month. Just blocks from Dupont Circle and downtown Washington, the new 3,800-square-foot space can host 300 for events between its open deck space and nearby interior room. The deck is outfitted with a retractable glass roof, a DJ booth, and two granite bars. Indoors the venue can accommodate as many as 800 people throughout its four floors of lounges.

7. Book a private wine tasting at Fairfax County's Paradise Springs winery, which opened a brand new 12,000-square-foot facility in late April. The space includes a 2,000-square-foot deck able to accommodate groups of 50 seated or 80 for receptions. The venue also has a new tasting room with a view of the glass-encased barrel aging room; the tasting room can host 150 for receptions. Tours of the vineyard that take you through the entire winemaking process and end with a tasting are available.

8. Renowned chef Todd Gray's newest seafood eatery Watershed opened in April. In Hilton Garden Inn, the restaurant has patio with both traditional two- and four-top table setups, as well as cushioned couch seating for 60 and live entertaining on Fridays. The space can host also as many as 100 for receptions. Additional seating is available in the main dining room for 62 and four private rooms for 40 to 150 guests, plus an additional 35 in the lounge and raw bar.

9. Opened last summer in Farragut Square, Eden debuted its newest themed space with the opening of Green Room in January. Encompassing the 2,000-square-foot first floor of the nightclub, Green Room can host 250 for private events. In an effort to bring the outdoors in, the new space is adorned with bamboo, live waterfalls, greenery, wooden walls, and green LED lighting throughout. The club also has a rooftop space, Garden of Eden—which has similar decor to Green Room—that consists of two areas, accommodating nearly 250 and 40, as well as its own private bar and DJ booth.

10. Just a short walk from the Capitol and Union Station, the 20 F Street NW Conference Center opened last summer with a 2,500-square-foot rooftop patio and traditional indoor meeting space. The rooftop has offers views of downtown and can host groups of as many as 450 for a reception or 140 for a seated dinner.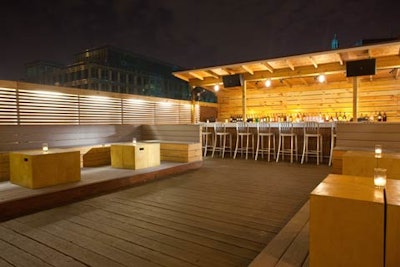 Photo: Courtesy of Public Bar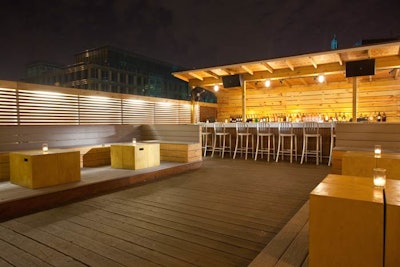 Photo: Courtesy of Public Bar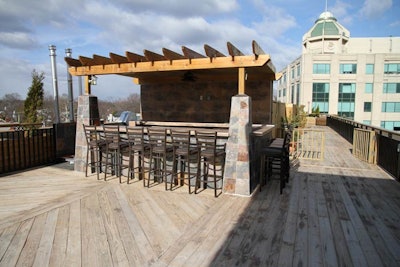 Photo: Courtesy of Arlington Rooftop Bar and Grill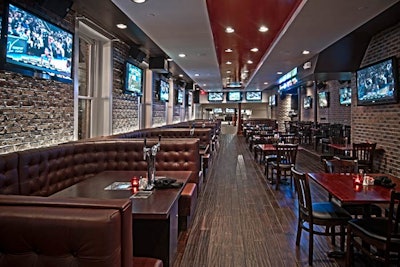 Photo: Juan Luis Gonzalez/media644.com
Photo: Courtesy of The Hay Adams Hotel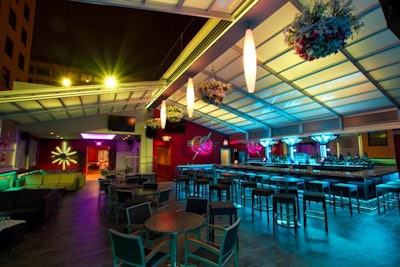 Photo: Courtesy of Ozio Restaurant and Lounge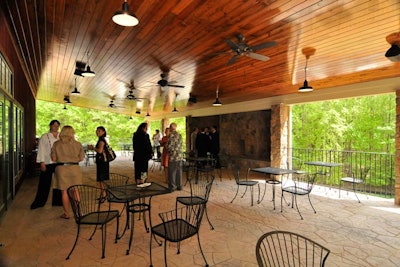 Photo: Courtesy of Paradise Springs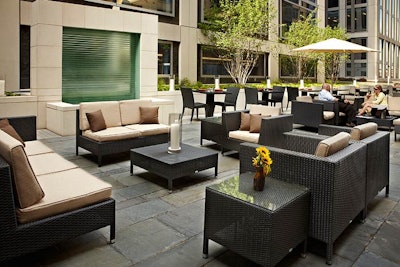 Photo: Greg Powers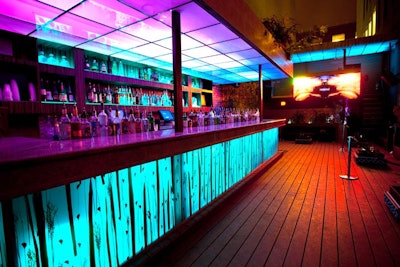 Photo: Navin Sarma Photography