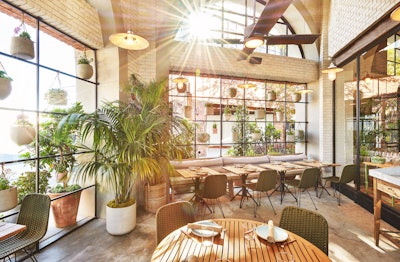 Photo: Courtesy of Girl & the Goat
We're rounding up the biggest venue news of the month—in one convenient place. Got a tip? Get in touch!
In Case You Missed It
This past month was all about venues on BizBash. First, we rounded up seven event venue safety measures we hope are here to stay, ranging from on-site telemedicine stations to increased air quality to efficient tech solutions. Then we checked out the creative way Marriott is showcasing its hybrid event capabilities to planners and took a trip up north to spotlight some innovative new patio experiences throughout Canada. We also explored the logistics of gathering on a cruise ship during COVID-19.
Looking for some more local news? We've also been rounding up the newest spots for events in cities throughout North America, including Austin/San Antonio, Boston, Calgary, Chicago, Denver, Houston, Las Vegas, Los Angeles, Miami/South Florida, Montreal, New York, Orlando/Central Florida, Philadelphia, Phoenix/Scottsdale, San Francisco, Toronto, Washington, D.C. And yes, there are more cities to come. Whew!
Here are six more things you should know this week...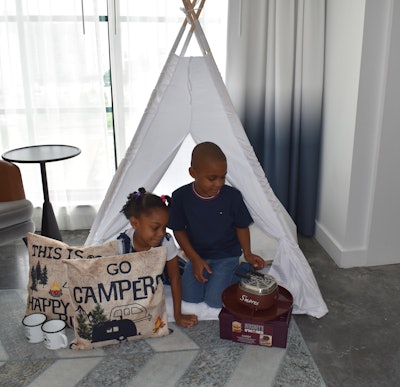 1. Hotels continue getting creative with their on-site experiences.
As business travelers and families dip their toes back into travel, hotels are accommodating them with some fun, unconventional offerings. The Canopy by Hilton Bethesda North in Maryland, for example, is offering a new Urban Campout package for children, which offers a teepee-style indoor tent, sleeping bags, s'mores ingredients, coloring books, an indoor star machine, a guide to local hikes and—for the parents—a bottle of wine. Another kid-friendly summer offering comes from Kimpton Hotels & Restaurants, which recently partnered with scooter company Micro Kickband to offer free, kid-sized scooters at 30 of its properties nationwide. Guests can book custom-designed scooters, along with helmets, for complimentary use during their stay.
For the adults, meanwhile, W Hotels has launched a new book club initiative celebrating the LGBTQIA+ community. A collaboration with the "them." media platform, "them. x W Hotels Summer Book Club" runs through August; monthly book sections are announced on Instagram, and guests at select W hotels across North America can request a copy to read during their stay. Readers can share their thoughts on social media with the hashtag #whotels. "This year—in light of smaller gatherings—we wanted to celebrate Pride with anyone, anywhere, who would like to connect through the written word," explained Carly Van Sickle, senior director of global brand marketing for W Hotels Worldwide.
2. Hotels are still offering full buyout options for meeting planners.
Hotels also continue offering private buyout options. The Hyatt Regency Tamaya Resort & Spa near Albuquerque, N.M., for example, is offering safe "bubble" experiences for meetings this year. The spacious hotel, separated from the rest of the area by a private two-mile access road, can give meeting planners full reign over the entire 550-acre property and its on-site activities like biking trails along the Rio Grande River, horseback riding at the Stables and more.
"Although many people and companies are beginning to meet again, we are continuing to see interest in buyout bubble opportunities for meetings," said Chrisie Smith, director of sales, marketing and events at Hyatt Regency Tamaya. "Our off-the-beaten-path location provides an ideal destination where planners can have the keys to the castle and create a truly customized and unforgettable experience for attendees to reconnect safely during this time."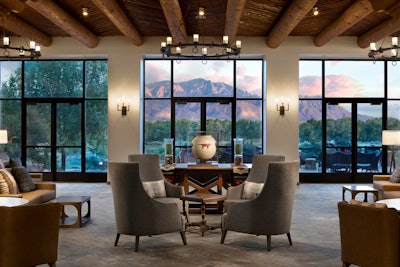 3. Is it time to redesign your hotel website?
Alyssa Fate of TravelBoom Marketing has some interesting insights into the art of hotel website redesign, which she shared on the company's blog this week. Fate explains when it's time for a website revamp, why it's necessary, what the best practices are now and more. Check out the whole article here.
4. This venue is helping bring large-scale events back to Toronto—safely.
As Canada slowly begins to ease its lockdowns, venues are looking for ways to bring back events—and one revamped space just pulled it off. Launched by Innov8 Group, The Markham Fairgrounds Complex—more commonly known as MFG Complex—sits on 104 acres in the Greater Toronto Area and features more than 90,000 square feet of exhibit space, which is currently set up with hundreds of custom-built viewing pods that seat up to six people each. This month, it's hosting Ontario's first large-scale, outdoor live event since the lockdowns: Together Apart, a cirque show running through Aug. 1.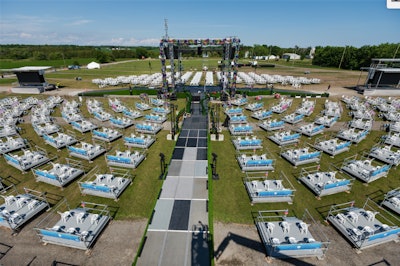 5. A new ad campaign is geared toward filling open hospitality jobs.
The American Hotel & Lodging Association (AHLA) and its charitable giving arm, the American Hotel & Lodging Foundation (AHLA Foundation), have announced a new Hotels Are Hiring campaign across five major hotel markets. Aiming to fill more than 100,000 open jobs, the campaign promotes the benefits of working in the industry; it runs through early August on digital platforms, radio and in print.
"On the heels of the worst economic crisis on record for our industry, hotels are now facing a rapidly emerging issue of staffing shortages, particularly in vacation destinations. Hotels are in the midst of a hiring spree as we welcome the return of leisure travelers, and this campaign will help raise national awareness about open positions and the benefits of a career in hospitality," explained Chip Rogers, president and CEO of AHLA. "Hotels, especially those in urban markets, have a long road to regaining what we lost during the pandemic. Ensuring we can fill positions to meet a rise in guest demand is a critical step as we work toward a full recovery."
6. A Barbados resort has opened the Caribbean's first on-site hotel PCR COVID testing lab.
After eight months of research and collaboration with Barbados's Public Health Laboratory, The Crane Resort has opened the Barbados COVID Lab, the first COVID lab associated with a hotel in the Caribbean. The lab accepts online bookings and is free of charge for hotel guests. If a guest tests positive, The Crane offers a luxury "isolation suite" with a private pool, free of charge, to wait out the self-isolation period.
To celebrate its opening, the Barbados COVID Lab is currently offering a "Jetsetter" package for $109 that includes personal VIP service through customs, immigration and the various Ministry of Health processes at the airport, plus a one-way transfer to the resort and a rapid antigen test on departure.