Top 10 Innovative Brands 2019: #3 Taco Bell
In 2019, the fast-food chain debuted its "most ambitious marketing activation yet."
November 19, 2019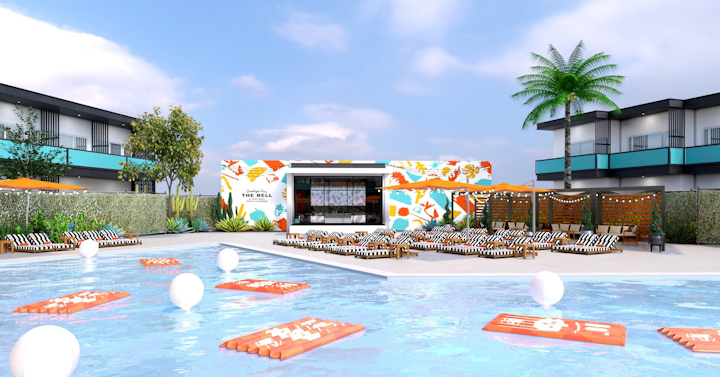 Photo: Courtesy of Taco Bell
During a Sunday Night Football game earlier this month, Baltimore Ravens linebacker Matthew Judon proudly stated during his on-air intro: "Body built by Taco Bell." And the Twitterverse responded with a universal "same."
It's this loyalty from fans, paired with the Tex-Mex chain's innate ability to cater to its consumers with over-the-top yet culturally relevant event marketing stunts, that sets the brand apart from other fast-food companies.
"Fans remain at the forefront of everything we do at Taco Bell. Unlike traditional forms of engagement, experiences create an opportunity for a brand to evoke a true emotional connection," explains Matt Prince, senior manager of public relations and brand experience at Taco Bell. "The experiences we create tell a story about the endless ways to differentiate a brand and turn followers into brand lovers and advocates, not just passive observers and consumers."
Some of these experiences are as simple as offering up free tacos, like the recent World Series promotion "Steal a Base, Steal a Taco": When Washington Nationals shortstop Trea Turner stole second base during Game 1 of the series, he activated the Doritos Locos tacos giveaway and was deemed this year's "Taco Hero." This year, the brand upped the ante by partnering with BetMGM so that fans could wager real dinero on which player they thought would steal the first base.
And while these types of gimmicks have been a marketing staple of the Irvine, California-based company—a subsidiary of Yum! Brands—for years, in 2019, the brand decided to go más grande.
Enter the Bell: A Taco Bell Hotel & Resort. Opened in Palm Springs, California, in August, the temporary space, which was a takeover of the V Palm Springs hotel, included more than 70 guest rooms outfitted with branded wallpaper, artwork, and bedding such as pillows resembling hot sauce packets, plus an outdoor pool with branded lounge chairs and floats. In addition to specialty food items, guests could order from a room service menu that included build-your-own breakfast tacos.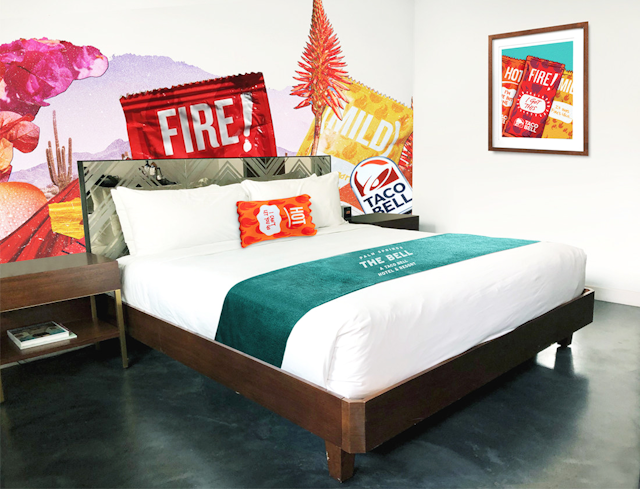 Hotel rooms came furnished with pillows resembling hot sauce packets.Photo: Courtesy of Taco Bell
"[It] was the most ambitious marketing activation from the brand yet. We imagined, built, and executed a hotel and resort destination experience for 400 lucky consumers," Prince says. "The Bell was way more than a place to stay. It was a 'tacoasis' of food, fun, and all things Taco Bell. The experience was elevated and aspirational, but reflected the quirkiness, unpredictability, and whimsy that our fans know and love."
Reservations for the hotel sold out in two minutes, with pricing beginning at $169 a night. Taco Bell worked in partnership with Edelman and United Entertainment Group to bring the hotel concept to life.
"If you can get married at Taco Bell's Las Vegas cantina and wear Taco Bell fashion and visit a restaurant of the future, you should be able to vacation at a Taco Bell Hotel and Resort. We decided our fans should, and we made it happen," Prince explains, referring to past activations by the brand.
Although Prince remains hush-hush on Taco Bell's upcoming events and experiences, the future appears to be bright. In addition to exceeding expectations in terms of revenue, the chain recently announced a nationwide delivery partnership with Grubhub. (Yum! Brands acquired Grubhub for $200 million in 2018.) Plus, the brand started to roll out digital kiosks in its restaurants, with plans to add them to more than 6,500 locations by 2020. And earlier this year, Taco Bell signed its largest master franchise agreement, committing to developing 600 restaurants in the next 10 years in India. The deal makes India Taco Bell's largest market outside of the U.S.
In March at Horseshoe Resort in Ontario, Taco Bell ambassadors handed out Cheetos Crunchwrap Sliders from a "slide-thru" window to consumers who tubed down a hill.Photo: Shan Qiao Photography