10 New Venues for New York Holiday Parties
November 3, 2009
Based on our recent readers poll, it looks like holiday parties are back in season after disappearing in 2008. However, like many events since the downturn, these end-of-year festivities may be on the thrifty side, so here are some places that won't require too many extra bells and whistles.
1. Bowlmor Lanes recently gave its former pool hall a makeover, and now the 16,000-square-foot spot near Union Square is home to Carnival, a circus- and carnival-style venue. Complete with Coney Island-style amusements and live circus performers, the nightclub sits under a big top and offers a full catering menu to match its theatrical motif. For guests less likely to partake in the dunk tank and other wacky activities, there's a lounge off the gaming floor and billiard tables. Carnival holds as many as 500.
2. Styled after old-fashioned soda shops and ice cream parlors, the West Village restaurant Sweetiepie is a nostalgic and whimsical place for small  gatherings or afternoon tea parties. Decked out with marble floors, pretty fuchsia banquettes, and mirrored walls, the 75-seat boîte dishes out items like silver dollar pancakes, grilled cheese sandwiches, and "Sweetiepig," a giant ice cream sundae made for sharing. For complete privacy, there's a 45-seat room in the rear.
3. Get the ball rolling at Brooklyn Bowl, where a minimum of 16 people can reserve two lanes at Brooklyn's bowling-entertainment facility. Bookings can include snacks and entrées supplied by the in-house Blue Ribbon eatery and drinks from the bar. On dates where a performer isn't scheduled to appear at the venue, holiday parties can also rent the stage area and bring in entertainment.
4. If bowling is a too familiar pastime, the newest fad is table tennis, and Spin New York is a social club and event space for just that. Not only does the Park Avenue South spot offer competition-style cushioned flooring, 17 individual tables for play, and professional coaches, it also has a bar and lounge area serving food and drinks. As many as 50 can hold court in the 1,000-square-foot Fred Perry room or a maximum of 299 people can book the entire venue.
5. With all the decor at subterranean bar Baddies—soft red lighting and couches contrasted by black walls, a black tiled bar, and artwork of skulls and guns—there's no real need to bring in much more than food and drink, which upstairs restaurant Kingswood can provide. The menu for events include canapes like a miniature version of Kingswood's signature burger, chicken satay with lemongrass and lime, and tempura tiger shrimp with red pepper aioli. Measuring 1,000 square feet, the nightlife venue is best suited to events no larger than 100 people.
6. Although it's been open since 2007, the Flatiron location of salad and sandwich spot 'Wichcraft only just introduced a full dinner menu, which it serves to seated diners in a second-floor space. The small but cozy site is offered up for private parties of 40 seated or as many as 65 standing. Although more appropriate for the warmer months, a small 25-person terrace is also available.
7. When B.R. Guest renovated and reopened its space below Vento, the idea was to make 675 Bar more like a neighborhood hangout than a swanky club. In line with this, the 200-person lounge is filled with vintage couches, retro coffee tables, and games like foosball, Ms. Pac-Man, Jenga, and billiards. Adding to the overall atmosphere is a menu of small plates including chocolate-covered bacon, pork and veal meatballs, and whoopie pies.
8. A few doors down, B.R. Guest's even more casual Bill's Bar & Burger is an all-American burger and beer joint. Checkered tablecloths adorn the tables surrounded by mismatched chairs in this late-night den, where hot dogs, chicken wings, milkshakes, and french fries make for a no-frills menu. Gatherings of as many as 60 can take over the back room; the entire restaurant seats 75 or holds 100.
9. At Karaoke Boho. the spin-off of the East Village's Sing Sing Karaoke Bar & Suites, 20 rooms provide space for private sing-alongs; the largest fits 40 people. This West Village spot also serves a menu of Korean dishes and offers a 2,000-song playlist of pop, rock, and R&B tunes.
10. Far from the madding crowd, Midtown East's East Side Social Club sits on a nondescript block between Second and Third Avenues. Although the restaurant is not open yet, it's set to debut in mid-November and will be modeled after an old-school Italian social club and evoke an atmosphere reminiscent of 1940s and '50s-era film noir. East Side Social Club will seat 113 people.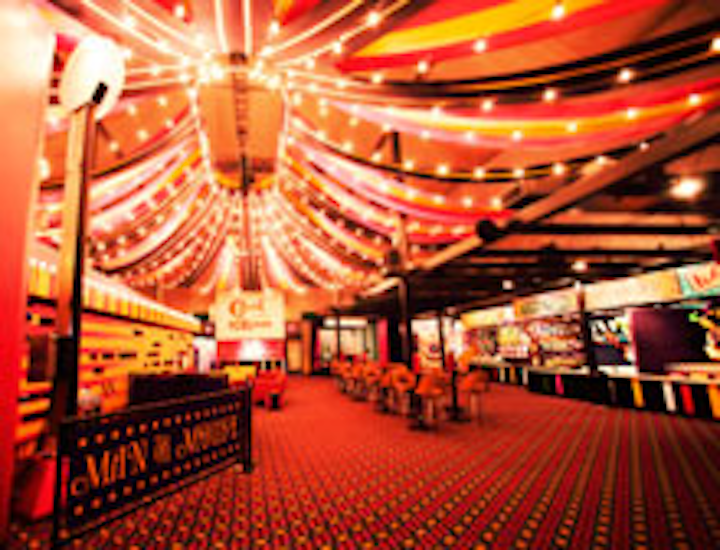 Photo: Courtesy of Strike Holdings
Photo: Courtesy of Strike Holdings
Photo: Courtesy of Sweetiepie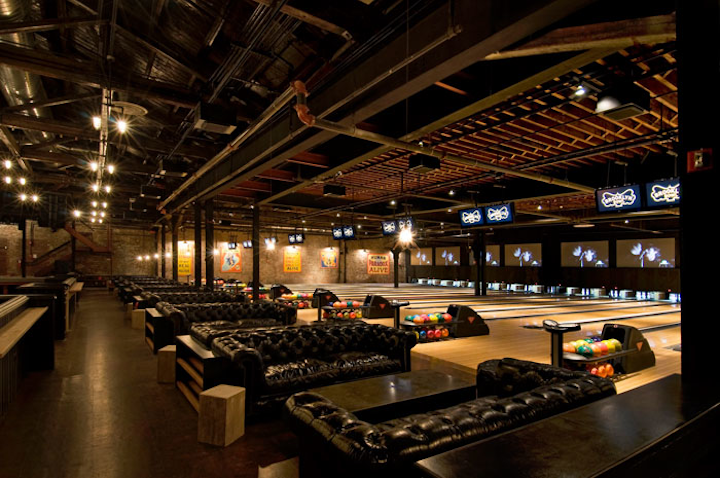 Photo: Courtesy of Brooklyn Bowl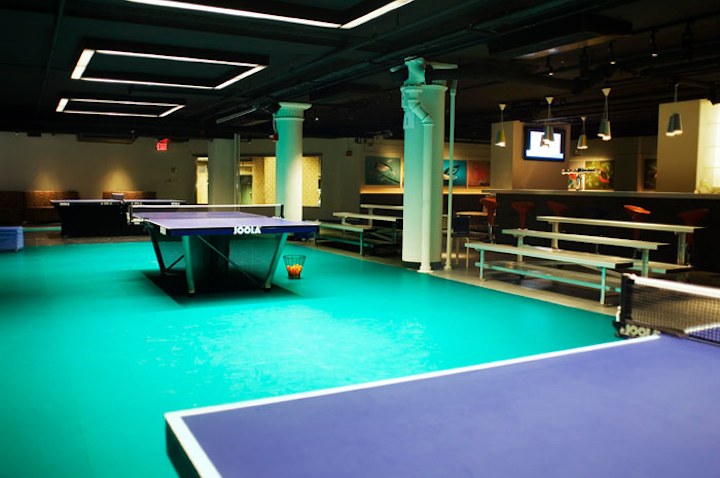 Photo: Courtesy of Spin New York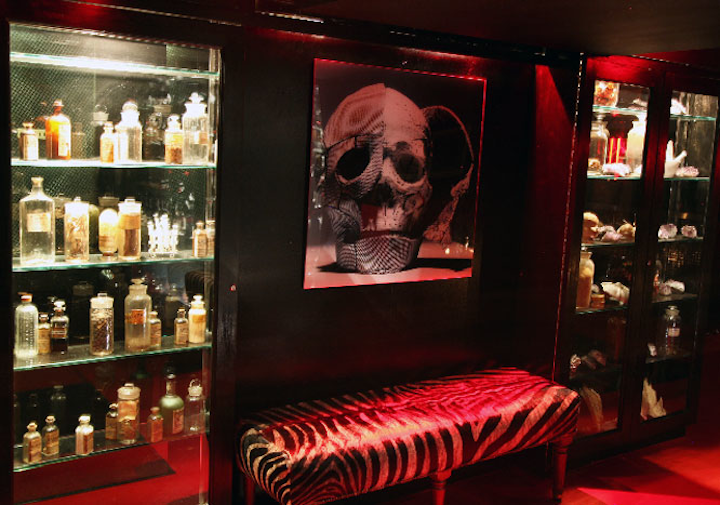 Photo: Courtesy of Baddies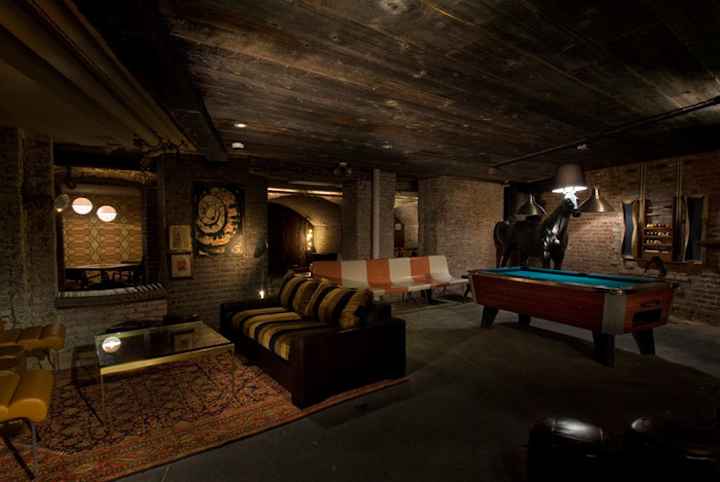 Photo: Paul Gelsobello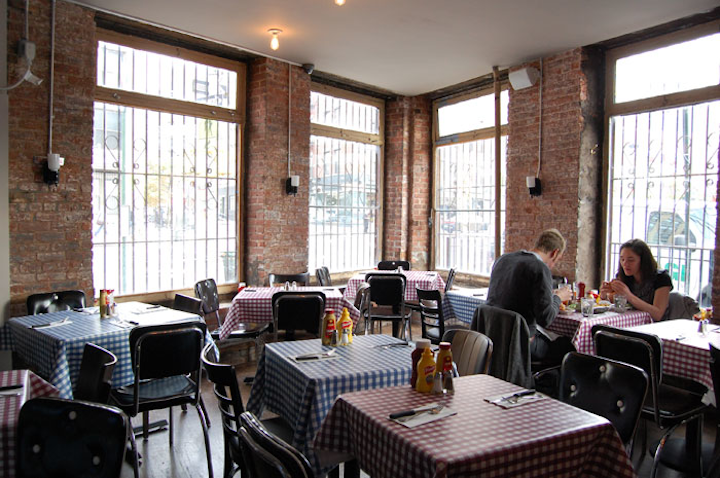 Photo: Jessica Torossian for BizBash
Featured Venues/Suppliers: