2010 Preview: 10 of New York's Most Anticipated New Venues
January 4, 2010
A tumultuous 2009 brought a slew of changes for the city—dozens of restaurants and bars closed, and institutions like the Rainbow Room and Tavern on the Green are changing hands. Still, New York remains heavily populated with places for entertaining, business functions, and events. Here's a look at spaces set to open in 2010.
1. Javits Center North
Years in the making, the Jacob K. Javits Convention Center's expansion is expected to open in June. The first phase of a $463 million project will be a 100,000-square-foot site on the Midtown West block bounded by 39th Street, 11th Avenue, 40th Street, and 12th Avenue. Connected to the existing center by a 15-foot-wide passageway, this new addition to the north side of the campus is tentatively dubbed Javits Center North and will increase exhibition space by 40,000 square feet, with the other 60,000 devoted to prefunction, registration, and food service areas, as well as a truck court and loading docks.
2. New Meadowlands Stadium
Last year brought the opening of Citi Field and the new Yankee Stadium, and spring 2010 will see the debut of the new home for N.F.L. teams the New York Giants and New York Jets. The $1.6 billion sports arena will have 82,500 seats in 2.1 million square feet of space—that's more than twice the size of the old facility, which will make it the third largest stadium in the league. In terms of areas available for private functions, there will be clubs designed by the Rockwell Group as well as 280,000 square feet of outdoor plaza space.
3. Mondrian SoHo
Following in the footsteps of the Standard, the Mondrian is another West Coast property set to make its first appearance in New York. Owned by Morgans Hotel Group, this 270-room hotel will have a modern interior design—already the cause of much buzz—from Benjamin Noriega-Ortiz as well as an outdoor bar and a restaurant from former Top Chef contestant Sam Talbot. The Mondrian SoHo is scheduled to open in the third quarter of this year.
4. Eataly
The next big venture for the B&B Hospitality Group—Mario Batali and Joe and Lidia Bastianich—is Eataly, a 32,000-square-foot site housing an upscale food and wine market, restaurants, and an 8,000-square-foot rooftop beer garden. Inside the Flatiron district building once occupied by the International Toy Center, the venue is slated to open in the summer and will follow the Eataly concept created in Turin, Italy, by Oscar Farinetti and Luca Bassigo. Farinetti and Bassigo are collaborating with Batali and the Bastianichs on the project.
5. Gansevoort Park
Set to open this summer, Gansevoort Park is the 249-room Park Avenue sister to the Hotel Gansevoort in the meatpacking district. It will offer a 13,000-square-foot trilevel rooftop, a spa, and a 10,000-square-foot restaurant. There will also be a Plunge pool and lounge and an area for events.
6. Museum of the Moving Image
The Astoria home of this museum is expanding, with a reopening scheduled for fall 2010. The $65 million project designed by Leeser Architecture will double the size of the current facility, adding a 10,000-square-foot outdoor garden, a 264-seat theater, a 71-seat screening room, and high-tech upgrades to allow video to be projected on surfaces throughout, turning the venue into a virtual environment of moving images.
7. Xanadu Meadowlands
Despite some delays, this mammoth entertainment complex in northern New Jersey is projected to open this year, likely in the late fall. The 2.3 million-square-foot facility will be divided into themed "districts"—areas for sports, entertainment, youth culture, food and home, and fashion—and include the largest U.S. location of Legoland, the Pepsi Globe observation wheel, restaurants, an indoor snow dome, a skydiving tower, movie theaters, and a concert and live theater venue.
8. Trump SoHo New York
The multimillion-dollar hotel project from the Trump Organization has been slowly rising in SoHo and, according to the most recent announcement, will open its doors on February 1. Beyond 391 rooms, the Trump SoHo will house the 190-seat Quattro Gastronomia Italiana, an 11,000-square-foot spa, and three bar and lounge areas. To top it off, SoHi penthouse is available for events of as many as 150, and the third-floor function spaces total more than 10,000 square feet.
9. Ma Pêche
Beginning with the tiny but wildly popular Momofuku Noodle Bar in 2004, chef David Chang has since become a recognized name in the culinary world and is set to make an even bigger impact with the opening of this full-size restaurant expected sometime this winter. Inside the Chambers Hotel—the former location of Geoffrey Zakarian's Town—Ma Pêche will serve French-Vietnamese fare from chef Tien Ho.
10. Patina Group Restaurant at Lincoln Center
Accompanying Lincoln Center's campus renovation will be the addition of a Patina Group establishment, slated to open in the fall with chef Jonathan Benno, chef de cuisine for Thomas Keller's Per Se, at the kitchen's helm. Designed by architectural firm Diller Scofidio & Renfro as a glass-enclosed structure with a sloping roof, the as-yet-unnamed restaurant will offer outdoor terrace eating, an upscale dining area, and a private dining room.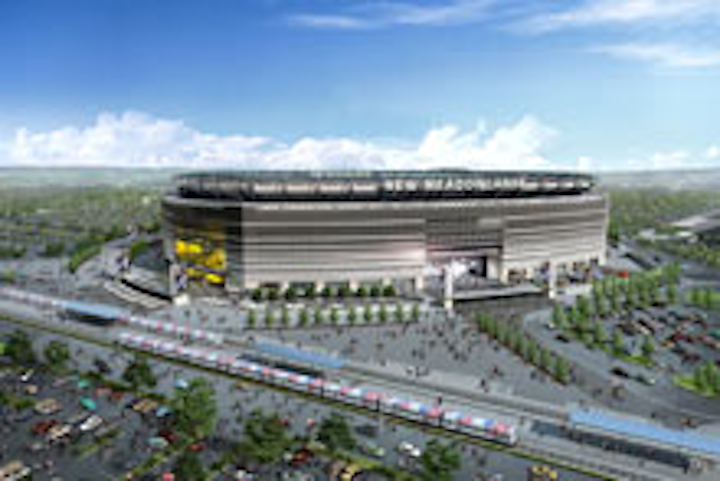 Rendering: Courtesy of New Meadowlands Stadium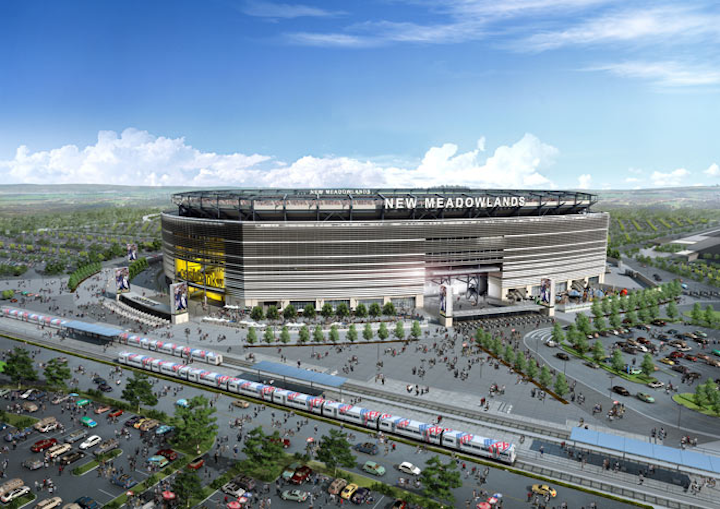 Rendering: Courtesy of New Meadowlands Stadium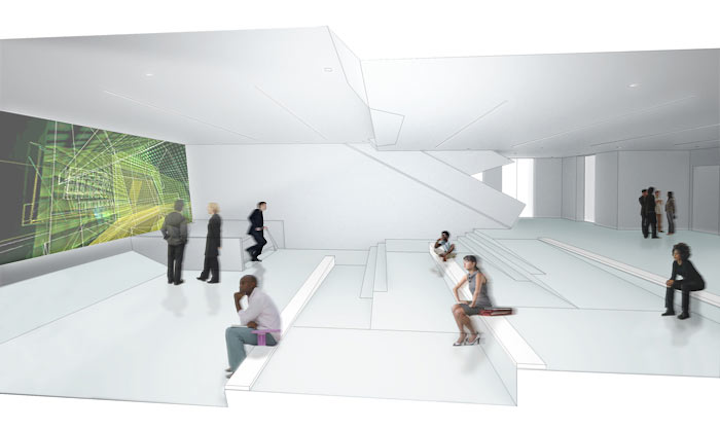 Rendering: Lesser Architecture/Museum of the Moving Image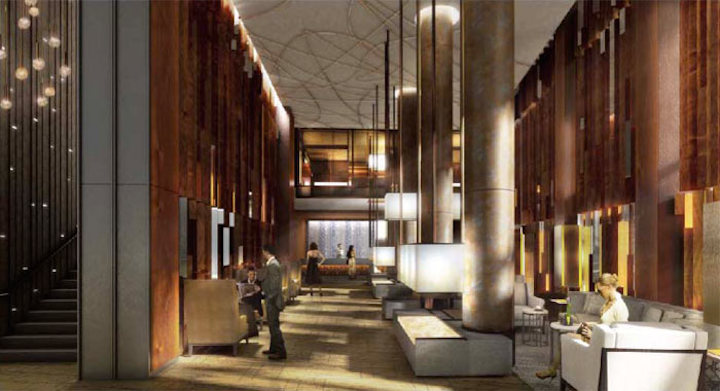 Rendering: Courtesy of Trump Hotel Collection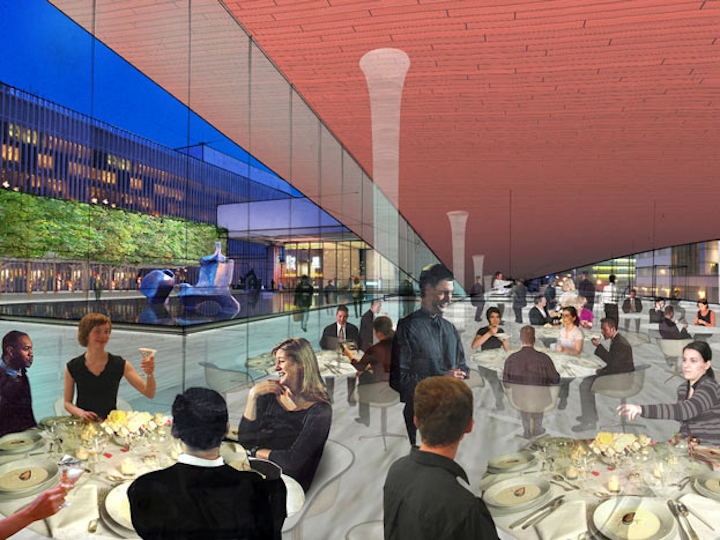 Rendering: Diller, Scofidio & Renfro
Featured Venues/Suppliers: