Chicago's Top 100 Events of 2011
December 30, 2011
Mayor Rahm Emanuel has taken over the role that Richard Daley occupied for more than 20 years, but Chicago's free, come-one-come-all traditions and spirit live on. Apart from the famous city-sponsored affairs, this year's calendar is packed with everything from glitzy benefits to big-business trade shows, internationally renowned music fests, and a holiday parade with Mickey Mouse as its grand marshal. Here's a look at the Top 100 Events that put Chicago on the map year after year by drawing major sponsors, top industry players, and international tourists and press; these are also the traditions that locals hold dear.
Parades & Holiday Events
1. Bud Billiken Parade and Picnic, a nationally telecast event, is the nation's oldest and largest African American parade and features a 315-unit procession with celebrity guests. August
2. Up From 4: Magnificent Mile Lights Festival is attended by more than one million guests from all over the United States. The spirited affair ushers in the holiday season with a parade that has Mickey and Minnie Mouse as its grand marshals and includes a processional lighting of 200 trees along Michigan Avenue. This year's 20th annual festival, presented by Harris Bank, will end with an Allstate-sponsored fireworks show over the Chicago River. November 19
3. McDonald's Thanksgiving Parade is nationally broadcast on WGN America and reaches an estimated 75 million households. Locally, some 425,000 spectators watch the festive procession. November
4. The St. Patrick's Day Parade begins with the famous green-dyeing of the Chicago River and is always held on the Saturday before St. Patrick's Day, so that whole families can attend. March
5. The Gay & Lesbian Pride Parade drew a record-breaking crowd of 450,000 and saw a rainbow-hued procession of more than 90 floats in 2011. June
6. Up From 7: The 26th Street Mexican Independence Day Parade is known as one of the city's most colorful parades and offers floats, mariachi bands, and dancing in the streets for a crowd of 400,000. September
7. The Puerto Rican Parade includes a procession of floats, folk and salsa dancers, and reggaetón music groups; some 300,000 spectators typically attend. June
8. The Memorial Day Parade, a bugle-scored salute to past and present service members, takes place annually on the holiday weekend and draws around 10,000 spectators. May
9. The Columbus Day Parade, produced by the Joint Civic Committee of Italian Americans, follows a fitting route down Columbus Drive and includes marching bands, majorettes, and lines of local politicians. October
10. Chicagoland Toys for Tots Motorcycle Parade sees more than 10,000 motorcyclists delivering toys to be distributed to underprivileged children. December
11. New to the List: Eve of the Eve takes place in Union Station the night before New Year's Eve. Some 2,000 revelers typically help the Hindsight fund-raiser sell out early. December 30
One to Watch: The South Side Irish Parade was canceled after a rowdy iteration in 2009, but organizers hope to revise and revive the event in 2012. March
Sports Events
1. Bank of America Chicago Marathon, one of the largest big-city road races in the world, draws 45,000 runners from around the globe. October
2. Arlington Million, the world's first horse race to offer a $1 million prize, typically lures 32,000 horse owners, jockeys, and fans; it's also broadcast on national TV. August
3. Bike the Drive sees 20,000 cyclists pedaling down car-free 15- or 30-mile stretches of Lake Shore Drive to benefit the Active Transportation Alliance. May
4. Susan G. Komen Race for the Cure draws 10,000 runners to Grant Park to raise funds for breast cancer research; a sister race established in 2010 takes place in Lombard the following day. September
5. Chicago Sports Fest, held at McCormick Place and supported by brands like Pepsi and Radio Disney, lets 55,000 guests engage in free activities ranging from fencing to basketball. December
6. AIDS Walk & Run Chicago sees 10,000 participants taking 5K and 10K treks through Grant Park to rake in funds for the AIDS Foundation of Chicago. This year's race follows a new route. October
7. Law Enforcement Torch Run's Polar Plunge enlists 5,100 brave souls to plunge into the frigid waters of Lake Michigan in 17 statewide locations to benefit the Special Olympics. February-March
8. Race to Mackinac, a prestigious affair presented by Veuve Clicquot, sees nearly 350 boats compete in a watery race from Chicago to Mackinac Island. July
9. Pets Are Worth Saving's Run for Their Lives is one of Chicago's largest pet-friendly affairs; the 8K run/4K walk draws around 3,500 animal lovers. September
One to Watch: Bright Pink's Fit Fest lets participants raise funds for cancer awareness in a day filled with sporty activities ranging from yoga to Tabata. The two-year-old event is becoming increasingly popular with a hip, young, and successful female demographic. Spring
Art & Architecture Events
1. Art Chicago/Artropolis lured 50,000 artists, collectors, curators, and art lovers to the Merchandise Mart to see works from 128 international galleries in 2011. April-May
2. NeoCon World's Trade Fair at the Merchandise Mart drew 40,000 contract-furnishings industry pros and offered 140 seminars, 700 exhibitors, and large after-parties. June
3. SOFA, an international exhibition of sculptural objects and functional art, attracts 30,000 art collectors to Navy Pier and showcases works from 70 international galleries. November 4-6
4. Diffa's Dining by Design benefits Design Industries Foundation Fighting AIDS and showcases dining room vignettes dreamed up by architects, fashion designers, and painters. November
5. Up From 6: DesigNight/American Institute of Architects' Chicago Awards drew more than 800 industry pros in 2010—the year before, only 700 guests attended. October 28
6. Diffa Chicago Gala, the unofficial social kickoff for NeoCon, drew 600 design-industry pros and had a rock 'n' roll theme. The Lemonheads sang at its new after-party. June
7. U.S. Green Building Council's Emerald Gala is a dinner-dance that honors eco-minded business leaders, government officials, and building practitioners. It typically has 500 guests. May
8. International Interior Design Association Black Tie Celebration takes place at the opening of NeoCon and has a guest list of about 500 designers and manufacturers. June
Festivals
1. Up From 3: Lollapalooza, the world-famous music fest, celebrated its 20th anniversary in Grant Park with more than 130 acts, including Coldplay and Eminem. The event had its highest-ever attendance, with crowds averaging 90,000 guests per day, and generated roughly $85 million in local spending. Companies such as Gilt City, Google, Playboy, and Adidas hosted affiliated parties and brand activations. The growing festival will host its first Brazil iteration in April 2012. August
2. Taste of Chicago, taken over this year by the Chicago Park District, had 59 food stations and live entertainment by Loretta Lynn; 2.4 million guests attended. Late June or early July
3. Chicago Air and Water Show traditionally lures two million spectators and is known as the largest free airshow and spectator event in North America. August
4. Up From 6: Pitchfork Music Festival—a three-day celebration of independent music—sold out this year, drew sponsors such as Heineken, and will expand to Paris with an inaugural October happening. July
5. Chicago Blues Festival, the world's largest free-admission blues fest, has featured performances by genre icons Buddy Guy and Bonnie Raitt. It drew 500,000 guests this year. June
6. Chicago Jazz Festival, the longest-running of the city's lakefront music festivals, typically draws 200,000 attendees and gets backing from Pepsi, Stella Artois, and Hinckley Springs. September
7. Grant Park Music Festival is the oldest free, outdoor classical music series in the country and was sponsored by American Airlines and Fairmont Chicago. June-August
8. Up From 11: Northalsted Market Days is the largest weekend street fair in the Midwest, features big-name entertainers, and fills six city blocks with 400 food, arts, and crafts vendors. August
9. Up From 12: Chicago Gourmet, presented by Bon Appétit, provides 10,000 guests with samples from 100 high-end restaurants; celebrity chefs give cooking demos and sign books. September
10. New to the List: Randolph Street Market Festival encompasses the popular Chicago Antique and Indie Designer Markets, and has received coverage from national fashion magazines and newspapers. August-October
11. Chicago SummerDance, an 11-week series of free, outdoor dance classes, takes place three nights a week and draws an average of 1,200 participants per session. July-September
12. New to the List: Taste of Lincoln Avenue features entertainment from more than 40 headline acts, a kids' carnival, and sponsors such as Bud Light and Comcast. A crafts fair was new this year. July
13. Printers Row Lit Fest drew 125,000 guests and offered poetry readings, booths from 200 national booksellers, and appearances by renowned authors such as Richard Ford. June
One to Watch: Beer Hoptacular is organized by Jam Productions and drew 4,000 guests at its debut in 2010. The festival focuses on small-batch breweries and is gaining notoriety among beer lovers. November
Theater, Dance & Music Events
1. Lyric Opera's Opening Night Gala Benefit and Opera Ball gets coverage in national publications and backing from companies such as Aon Corporation and the Abbott Fund. October 1
2. Chicago Symphony Orchestra Symphony Ball was taken over in 2010 by the nonprofit's newly created women's board and raised $2 million—nearly double the 2009 take. September 24.
3. The Steppenwolf Theatre Gala, one of Chicago's most high-profile fund-raisers, counts well-known actors and local political figures amid its hundreds of guests. May
4. The Joffrey Ballet Spring Gala had a sold-out crowd of 1,000 guests—including Mayor Rahm Emanuel—and its first-ever live auction this year. May
5. Up From 7: The Goodman Theatre Gala offered a performance by Glee star Matthew Morrison at this year's event, and some 850 guests attended—a significant spike from past years' attendance of around 700. May
6. The Ravinia Festival Gala celebrated the 75th anniversary of Gershwin's appearance on festival grounds and offered a performance by the Chicago Symphony Orchestra. July
7. New to the List: Victory Gardens Theatres' "Chicago Stories" Gala asks Chicago-born celebrities such as Jeff Garlin to pen one-act plays to be performed on site. This year's event took place at the Four Seasons hotel with 350 guests. May
8. The Fantasy of the Opera Gala, the Lyric Opera's midwinter benefit, never shies away from a lavish theme; the evening's centerpiece is a cabaret-style performance from the opera's stars. February
9. Up From 10: Hubbard Street Dance Company's Spotlight Ball had sponsors including Walgreens and USG. Famous choreographer Twyla Tharp attended and was honored with a Spotlight Award. Spring
10. Up From 12: The League of Chicago Theatres Gala is considered a prime networking opportunity for Chicago's theater community and raises funds for services offered to 200 area companies. May
11. Lookingglass Theatre Company's Gglassquerade, held at the InterContinental Hotel, counted ComEd and Northern Trust among its presenting sponsors and company co-founder David Schwimmer among its 300 guests. April
12. Redmoon Theater's Spectacle Lunatique is known for surreal performances and dreamlike visuals, including appetizer trays affixed to candlelit bathtubs and crews of singing skeletons. March
13. About Face Theatre's Wonka Ball raises funds for the company for gay, lesbian, and transgender youth and gets a new theme and venue each year. The 2011 event got a Royal Wedding treatment. April
One to Watch: Chicago Dancing Festival, now in its fifth year, has evolved from a one-day event into a week of free programming. Mayor Emanuel, a famous dance enthusiast, chaired its opening night gala. August
Fashion & Retail Events
1. Up From 6: The School of the Art Institute of Chicago Fashion Show was one of this spring's most buzzed-about happenings, thanks to a high-profile honoree. Starting with a morning dress rehearsal and including two afternoon fashion shows, as well as an evening gala dubbed "The Walk," the event's overall attendance was 2,500. The gala portion honored local fashion legend Ikram Goldman and drew 650 guests, up from last year's 400. Attendees included T:The New York Times Style Magazine editor Sally Singer, Rodarte designers Laura and Kate Mulleavy, and J. Crew creative director Jenna Lyons. Spring 
2. StyleMax displays women's apparel and accessories from more than 4,000 manufacturers and draws an international crowd of buyers. Though official attendance is kept private, organizers say the guest count has risen each year. Winter, spring, summer, and fall
3. Fashion Focus highlights the work of local fashion designers and comprises around 30 free and ticketed events, including runway shows in Millennium Park and shopping events throughout the city. October
4. Macy's Passport Presents Glamorama includes a fall fashion show and celebrity performance at the Chicago Theater; a heavily produced after-party takes place at the State Street store. August
5. New to the List: Joffrey Ballet's Couture & Cocktails, presented by Neiman Marcus, includes a fashion show, a personal appearance from a well-known designer, and a glitzy after-party. September 23
6. New to the List: St. Jude's Dream a Little Dream Luncheon and Fashion Show takes place at the Donald E. Stephens Convention Center and gets backing from Swarovski and Michigan Avenue magazine. Last year, more than 1,300 guests attended; 1,500 are expected this year. November 13
7. Rush University Medical Center's Fashion Show, now in its 85th year, is the longest-running charitable fashion show in North America. October 6
8. The Children's Service Board of Children's Memorial Hospital's Gold Coast Fashion Awards Show draws world-famous designers and is billed as the country's only fashion award show that lets guests act as judges. September 15
9. Fashion Group International's Night of Stars typically draws 250 industry pros and honors talent in categories such as retail, home design, beauty, and accessory design. June
One to Watch: The Costume Council of the Chicago History Museum's Costume Ball returns in October after a several-year hiatus with honoree Ralph Rucci and is slated to become an annual tradition moving forward. Fall
One to Watch: In-Fashion: The Magnificent Mile Shopping Festival, a two-week shopping event presented by MasterCard, offers dozens of in-store parties, trunk shows, and designer and celebrity appearances. The first event took place this year. September
Trade Shows & Conventions
1. The Chicago Auto Show is produced by the Chicago Automobile Trade Association, which bills it as the largest auto show in North America. It features about 1,000 vehicles on display. February
2. The National Restaurant Association Restaurant, Hotel-Motel Show, the largest industry trade show in the western hemisphere, drew 58,000 international registrants this year and inspired city-wide after-parties filled with Food Network celebrities. May
3. The Radiological Society of North America Scientific Assembly and Annual Meeting will have a technical exhibition showcasing wares from 700 companies; organizers expect 60,000 attendees from 100 countries. November 27-December 2
4. The International Home and Housewares Show displays lifestyle goods ranging from high-end coffee makers to laundry baskets, and typically draws 2,000 exhibitors and 60,000 attendees. March
5. Up From 8: Sweets & Snacks Expo signed more than 160 new exhibitors this year and had a total of 540 candy-filled booths. The whimsical show draws coverage from consumer and industry publications alike. May
6. America's Beauty Show drew more than 55,000 industry pros in 2011 and offered master classes, professional workshops, and runway hairstyle shows. March
7. The Chicago Boat, RV & Outdoors Show, the largest event of its kind in the Midwest, offers a 300-vendor showcase of outdoor recreation equipment and draws 55,000 sporty attendees. January
8. Graph Expo is the Americas' largest exhibition and conference for the graphic communications industry; 20 other industry events will colocate with it at McCormick Place this year. September 11-14
One to Watch: The Chicago Comic and Entertainment Expo, established in 2010, drew 27,500 attendees in its inaugural year—34,000 guests made it out this year. Spring
Benefits
1. After School Matters Gala supports the popular charity founded by Chicago's former first lady Maggie Daley. Last year's event drew 2,000 guests and raised a whopping $3.75 million. September
2. Juvenile Diabetes Research Foundation's Chance of a Lifetime Gala had 2,000 guests and 400 volunteers in 2010; the event raised a record-breaking $3.25 million. December 10
3. The American Cancer Society Discovery Ball had a 230-lot silent auction and raised $2 million. The event's board of ambassadors includes major players from corporations such as Aon and Motorola. April
4. Up From 6 AIDS Foundation of Chicago's World of Chocolate asks more than 30 confectioners and pastry chefs to whip up lavish creations for a holiday-themed fund-raiser at the Hilton Chicago. December 1
5. Up From 7: The Chicago Urban League Golden Fellowship Dinner turns 50 this year with a 1,500-guest dinner at the Hilton Chicago. Comedian Steve Harvey will M.C. and Patti LaBelle will perform. November 12
6. New to the List: Chicago Public Library Foundation's Carl Sandburg Literary Awards Dinner featured Oprah Winfrey and Toni Morrison in conversation in 2010 and drew 700 guests, as com- pared with 500 in previous years, forcing the event to move to a larger venue. October
7. Up From 9: The Lincoln Park Zoo Ball was presented by Guggenheim, drew 1,000 guests, and raised more than $1 million with the help of electronic bidding—a new feature for the ball. The 2011 event had a Hollywood-inspired theme, replete with mock paparazzi. July
8. Up From 13: The Shedd Aquarium Gala had 850 guests (compared with 700 the previous year) and raised $1.2 million—quite a spike from 2010's approximate $500,000 take. June
9. Up From 10: Make-a-Wish Foundation's Wish Ball celebrated its 25th anniversary at the University of Illinois at Chicago this year and raised more than $1.1 million. May
10. Ronald McDonald House Charities of Chicagoland and Northwest Indiana's Big Mac Under Glass Gala, featuring the theme "Dream Big," offered an appearance from Ronald McDonald and takeaway gifts in Happy Meal boxes. A silent auction featured 200 lots. May
11. Up From 25: The Parkways Foundation's Galapalooza is quickly becoming one of the city's most talked-about events. It takes place in Grant Park the night before Lollapalooza begins and offers an intimate performance by one of the festival's acts. August
12. Common Threads World Festival is an increasingly popular walk-around tasting that benefits chef Art Smith's charity and draws celebrity chefs from around the country. March
13. New to the List: Advocate Christ Medical Center's Salute Gala has seen steadily increasing attendance: In 2009, the event drew 700 guests, and this year 1,250 attended. May 5
14. Up From 22: Cystic Fibrosis Foundation's Grand Chef's Gala drew 750 guests, up from 650 in 2010, and had a new after-party with mixology bars. January
15. New to the List: N'Digo Foundation Gala took place at Symphony Center with 1,200 guests and a performance by Babyface. Fantasia performed in 2010. June
16. Museum of Science and Industry's Columbian Ball had hefty corporate support in 2010 and raked in $2 million for the museum's annual fund. October 22
17. The Field Museum Gala raised more than $1.3 million in 2010; the event had a "gold" theme to correspond with the museum's then-current exhibition. October
18. The Medical Research Institute Council of the Children's Memorial Hospital's Children's Ball celebrates the council's year of fund-raising activity and is known for lavish and whimsical themes. December 10
19. New to the List: Friends of Prentice Gala raises funds for the Northwestern Memorial Hospital and typically draws an 800-guest crowd of business, civic, and community leaders. June 2
20. The American Heart Association's Heart Ball, featured the theme "Generations of Hope" in 2011. It took place at Navy Pier, drawing more than 800 guests for a heart-healthy dinner and dancing to the City Lights Orchestra. April
21. Brookfield Zoo Whirl, the zoo's largest annual fund-raiser, drew more than 700 guests and had a dolphin-inspired "Whirl on the Shimmering Seas" theme. April
22. The Museum of Science and Industry's Black Creativity Gala pays tribute to the culture, heritage, and contributions of African Americans. This year's event drew 700 guests and had six lavish buffets. January
23. Peggy Notebaert Nature Museum's Butterfly Ball drew 650 guests and raked in $1.53 million. Event Creative's decor included a giant honeycomb hanging over the dance floor. May
24. The Boys & Girls Clubs Summer Ball, a 600-guest event, took place at the Hilton Chicago with a "The Sky's the Limit" theme and raised around $1 million. May
25. The Alzheimer's Association's Rita Hayworth Gala is chaired by Rita Hayworth's daughter Princess Yasmin Aga Khan. Each year, the event takes on a theme inspired by the actress. May
26. The Adler Planetarium's Celestial Ball typically draws 600 guests and raises more than $500,000. This year's event had a "Supernova" theme, and Illinois Tool Works was the corporate honoree. September 10
27. The Chicago Botanic Garden's Harvest Ball kicks off with a Moët & Chandon Champagne reception and also includes a live auction, dinner, and dancing. September 24
28. The Rehabilitation Institute of Chicago's Medicine Ball, held at the Peninsula Chicago for the first time in 2011, sold 450 tickets before invites were even mailed out. May
29. New to the List: Bear Necessities' Bear Tie Ball at Union Station had a tropical theme, drew 500 guests, and raised $450,000 for pediatric cancer research. February
One to Watch: Vital Bridges' Chefs and the City, a walk-around tasting that raises funds for individuals affected by AIDS, has seen increasing buzz and chefs' participation. July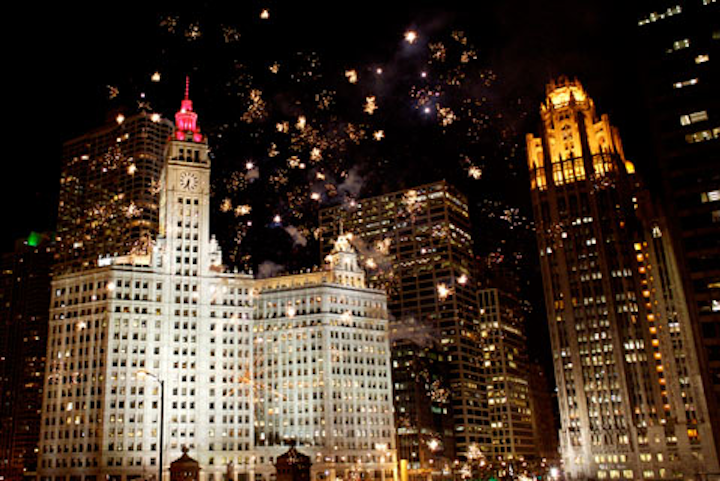 Photo: Mile/Greater North Michigan Avenue Association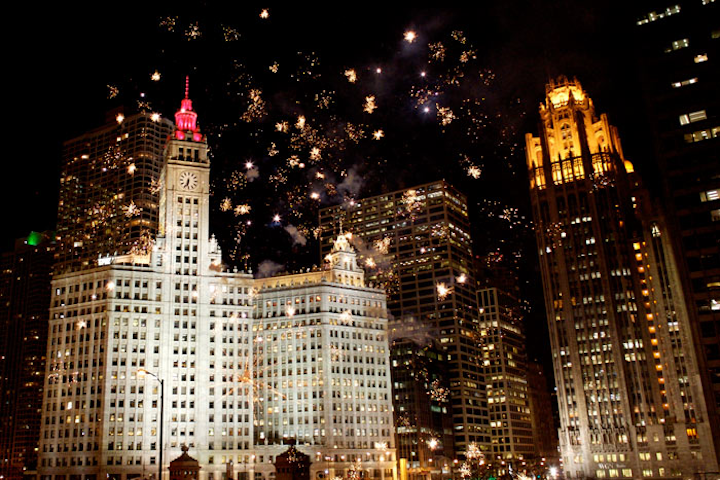 Photo: Mile/Greater North Michigan Avenue Association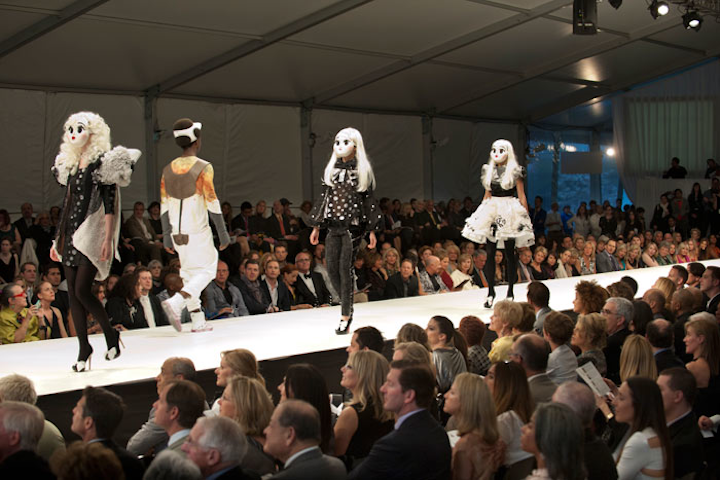 Photo: Robert Carl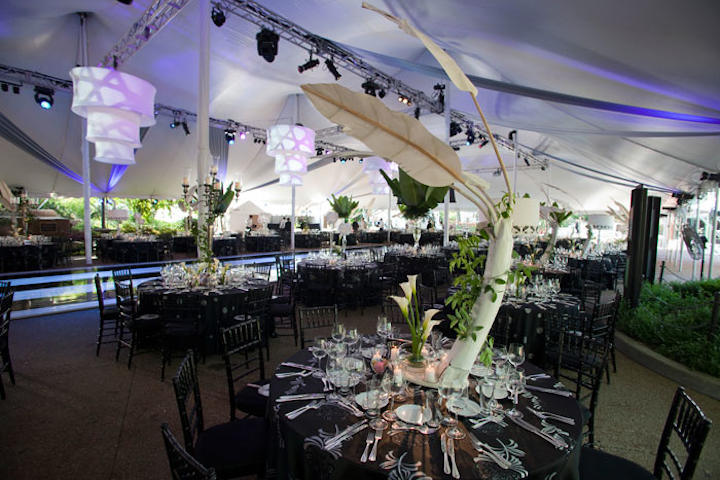 Photo: John Reilly Photography